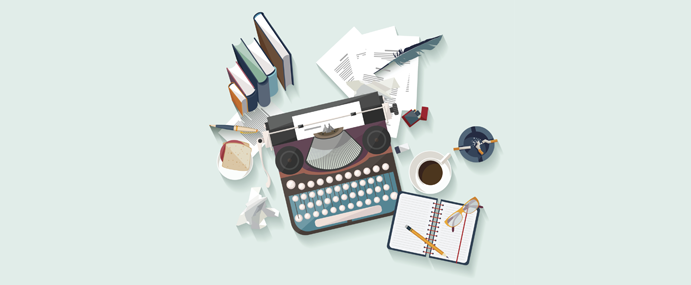 I joined HubSpot in September 2011 as a blogger. At the time, I needed to know how to write and educate through my writing.
Flash forward to today. My content role has evolved eons beyond what I could ever have imagined. To conquer lead gen, I mastered ebook production. To help spread data, I learned how to create infographics. When I write blog posts, that typically means designing a SlideShare or other visual element to accompany the posts.
It's been fun, but it certainly hasn't been easy. These days, content means so much more than just writing. And for those of you who understand that content marketing is a critical component of inbound success, content will need to mean more than just writing for you, too.
But rather than panic about the endless content formats you need to go master, we're here to make it easy for you. In this post, you'll find what I wish I had once upon a content marketer's dream: a full collection of 386+ free, customizable, content creation templates. Let's take a look at what's inside.
Content Planning Templates
A Content Planning/Goal-Setting Template
HubSpot teamed up with Smart Insights to create a content planning template that will help you put together an effective content marketing plan for either your business or those of your clients. These templates will help you complete a SWOT analysis on your content marketing efforts (and develop a plan to improve them), define the right objectives and KPIs for that plan, brainstorm content ideas and map these across your funnel, and create a timeline for your content plans.
A Buyer Persona Template
(Download the buyer persona template here.)
Marketing with buyer personas means marketing smarter. This buyer persona template will help you easily organize your research to create your very own buyer personas. Use it to create beautiful, well-formatted buyer personas that you can share with your entire company, while learning best practices for persona research along the way.
3 Blog Editorial Calendar Templates
Having an editorial calendar for your marketing content will save you a whole lot of time — not to mention sanity — as you plan your content release timeline. We realize there isn't a one-size-fits all solution, so we've created three editorial calendar templates to use at your leisure: one for Google Calendar, one for Excel, and one for Google Sheets. (Read this blog post for a step-by-step guide for using the Google Calendar template.)
2 Social Media Content Calendar Templates (for 6 Social Networks)
With so many different social networks to manage, a social media manager's life becomes a lot easier when they can plan which content to share on each account — and when. This easy-to-use social media content calendar for Microsoft Excel lets you organize your social media activities far in advance. Use it to plan your updates and learn how to properly format your content for the six most popular social networks: Facebook, LinkedIn, Twitter, Instagram, Google+, and Pinterest.
Written Content Templates
5 Blog Post Templates
Here's the thing with blogging: There isn't one, easy template you can fill in to produce a quality content offering. You need to spend some time brainstorming a title, outlining core content, and so on. While our templates are by no means a fill-in-the-blank type template, they'll walk you through the critical steps for creating the following five blog post types:
How-To Post
List-Based Post
Curated Collection Post
SlideShare Presentation Post
Newsjacking Post
We've seen these formats crush it on our blogs, and we would love for you to use them to hit your own goals.
5 Ebook Templates
Year after year, marketers cite lead generation as one of their top content marketing goals for the year. If you want to succeed at lead gen, then you need content offers — like ebooks — to help you get there. Our internal creative design team went to work building five, beautiful ebook templates — in both PowerPoint and InDesign — for you to download, customize, and use.
A Press Release Template
While public relations has adapted to be more lovable and less spammy, press releases can be effective when used correctly. Our press release template takes this into consideration and provides an inbound-optimized version. This means the template can help you script press releases and do so in a format optimized for sharing on your company blog. It's built in Microsoft Word, so you can easily adapt and customize as needed for your PR needs.
50 Call-to-Action Templates
Redesigning your call-to-action buttons can improve clickthrough rates by 1,300% or more. That means visitors will spend more time on your website, and it'll encourage them to become leads. To help you design clickable calls-to-action, we've built 50 pre-designed CTAs for you. These CTAs are super easy to customize, so you don't need to know any fancy design programs — just PowerPoint!
Bonus: There's also a handy free tool in there that lets you track your CTA clicks in real time so you can see the exact number of clicks that your designs are reeling in.
Visual Content Templates
195+ Visual Marketing Templates
Not a designer? Not a problem. We partnered with graphic design software company Canva to create over 195 visual marketing templates that are easy-to-use, work for any industry (finance, dentistry, agriculture, law — we've got 'em all), and are completely free. Best of all, they're ready to edit in Canva's online design tool, which is included for free with this set of templates. The templates include…
Infographics templates
Facebook ad templates
Facebook post templates
Twitter post templates
Email header templates
Blog title templates
Facebook cover photo templates
Twitter header templates
LinkedIn cover photos templates
15 Infographic Templates
I remember my first infographic. It was made on a HubSpot hack night in order to help us hit our lead-gen goals. I spent the entire night learning how to design, trying to figure out how to hack it in PowerPoint, and an abundance of other frustrations.
That experience inspired us to create fifteen, pre-designed infographic templates right in PowerPoint. That way, marketers can skip the frustrations I ran into and start creating the graphics right away. Within each template, we even provide guides to teach you how to use the templates effectively.
100 Social Media Graphics Templates
People are 44% more likely to engage with content on social media that contains pictures. But we know well that creating visual content takes more time and resources — which why we've created these 100 customizable templates for you. These templates are in PowerPoint, so they're very easy to edit — no Photoshop skills required. Simply customize the text on an image, save it, and post it to social media.
3 PowerPoint Templates
PowerPoint can be a powerful tool for lead generation, brand building, and thought leadership. Don't let boring slides stand in the way. You don't have to be a designer to create beautiful slides. To help you get started, we've created three, eye-catching PowerPoint templates so you don't have to start from scratch or rely on standard, old-school styles.
Bonus: We've also included four video tutorials on PowerPoint tricks in there so you can learn how to enhance images, clean up your text, install premium fonts, and so on — right in PowerPoint.
5 SlideShare Templates
Creating a SlideShare presentation in PowerPoint doesn't have to be daunting. With the right and tools at your disposal, you can easily create an engaging, visual presentation — all without fancy design programs, huge budgets, or hiring contractors.
To help you make a SlideShare of your own, we've created some free PowerPoint presentation templates for making awesome SlideShares — so your presentations will look great and be a breeze to put together. (Read this blog post for tip on how you can update and edit the templates to suit your specific needs.)
And there you have it, content marketers: over 386 templates to help you start creating content easily and quickly and further your inbound success. Enjoy!
Editor's Note: This post was originally published in November 2013 and has been updated and for freshness, accuracy, and comprehensiveness.