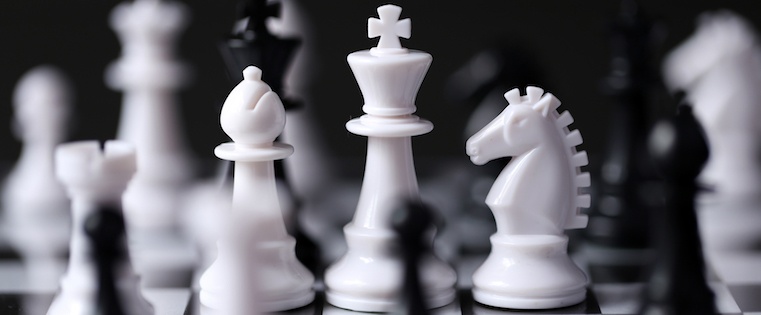 Retention marketing is focused on creating value from customers you already have, rather than solely focusing on acquiring new customers. Retention marketing is most powerful when you customize your strategy based on your own store's lifecycle. While not every tool will work for every business, here are the top retention tools available, and when you should use them.
How to Select Retention Tactics
There is no single retention tactic that is the best for every store. The ideal strategy will depend on the stage your business is in. The later in your journey you are, the more you should be investing in retention marketing.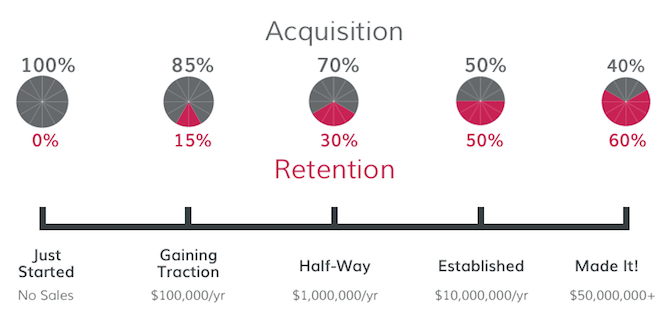 Retention marketing tactics are complementary; you will see the most success when you use a few of them in tandem to develop your own strategy. For example, a loyalty program becomes extremely effective when you pair it with retention emails reminding existing customers of point balances and opportunities to get rewarded. It all fits into a bigger customer retention strategy.
5 Retention Marketing Tactics That Work
These aren't the only retention marketing tactics out there, but these are the tactics that we've seen customers have the most success with, as part of their retention strategy.
1) Amazing Customer Service/Experience
Let's start basic. Your customer service and customer experience are one of the most signficant contributors to customer retention. If a customer didn't enjoy shopping with you, they will not be back. Or, if they had a post-purchase concern that was not addressed, they won't want to shop with you again.
If you're looking into more advanced customer retention tactics, the most important one is to ensure your service and experience are top notch. Looking for inspiration? Check out these tips to improve your customer service.
2) Support Systems
Support systems allow you to provide that top notch service your customers are craving. It also allows you to turn customers with problems into loyal, lifetime customers. Many questions occur after a purchase. By answering them appropriately, you can nurture these customers into a profitable, lifetime customer.
Tools like help desks and live chat systems allow you to add a human touch to the support of your online business. A human touch is exactly what customers need to come back again and again.
Live chat software is one of the easiest ways to give your store a human feel. Customers like to deal with other people not automation, since it makes them feel valued. Depending on the level of support you need to provide, you can start small with limited live chat and move up into larger help desk software when you're working across a larger team.
3) Retention Emails
Many of you are likely already using email marketing to sell your products, but likely not doing it with a retention marketing mentality. Instead of using email to showcase your latest products and sales, strategically use it to encourage past customers to come back and shop again.
For example, if you know your average time between purchases, you can segment your customers based on last purchase date. If customers have gone longer than the average time without purchasing, you can give them an extra nudge to come back and shop again.
The best part of this tactic is you can use your current email service provider to send these retention emails, you just need to target segments of your audience.
4) Personalization
Every merchant should be using personlization in their marketing efforts. No one likes to be put through a generic process, or talked to like they are just an order number, especially if they have bought from you already!
From adding a customer's name to all communication, to personalized product recommendations and cross-sells like those you see on Amazon, there's a ton of ground to cover with personalization. Regardless of the level of personalization you decide to implement, it is crucial to create a customer experience that fosters customer loyalty. After all, a happy engaged shopper is one that has a higher purchase frequency.
5) Loyalty and Reward Programs
A loyalty and rewards program is one of the most effective customer retention tactics at your disposal. It allows you to reward points to shoppers to encourage them to come back. This creates a switching barrier they will need to ignore if they want to choose a competitor in the future.

A rewards program allows you to not only encourage repeat customers, but other profitable actions as well. You can reward points for actions like social shares, social follows, registrations, and referrals. A loyalty program essentially becomes a hub for all your customer retention activities.
Loyalty programs have been popular in retail for a few decades now, for good reason, and they are even more effective when implemented online. Building an online loyalty program is faster than building it in-store, and there are some great tools out there to help you out.
Retention Tools Are Important
Just like you need to invest in acquisition channels, you need to invest in retention tactics for your retention marketing strategy. As you develop your retention strategy and incorporate these tactics, you'll begin to see the returns on your investment with happier, more loyal, customers.