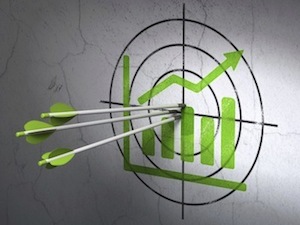 Content marketing alone won't deliver organic traffic. Content marketing employed strategically will deliver the organic traffic you want and need.
But how do you create that refined content strategy? If your goal is to drive organic traffic, what specific, strategic methods should you employ to build the right amount of organic traffic?
In this article, I explain the process for creating a content strategy that drives traffic in detail. It starts with audience research, and is built on determining the best form of content, creating a pattern of frequency, tailoring the style to your audience, and focusing on keywords your audience searches for online.
By engaging in this process, then repeating it, you'll be able to develop a powerful strategy that produces steady amounts of organic traffic. Let's get started.
Step 1: Create buyer personas.
There is only one appropriate place to start this entire effort — researching your target audience. Your content needs to be about stuff your buyers love to learn about. So before you can start creating content, you need to figure out who your target buyers are. What kind of person do you want reading your content? The best way to get a deep understanding of your audience is by creating buyer personas.
Buyer personas are fictional, generalized representations of your ideal customers. They help you understand your customers better, and they make it easier for you to tailor content to the specific needs, behaviors, and concerns of these customers.
Creating a buyer persona requires market research and insights you gather from your customer base. That sounds scary, but I promise it's actually pretty fun.
Check out the simple template below. (You can download it here.) Completing it is simply a matter of filling in a few blanks and answering a few questions.
Here's what a sample buyer persona might look like: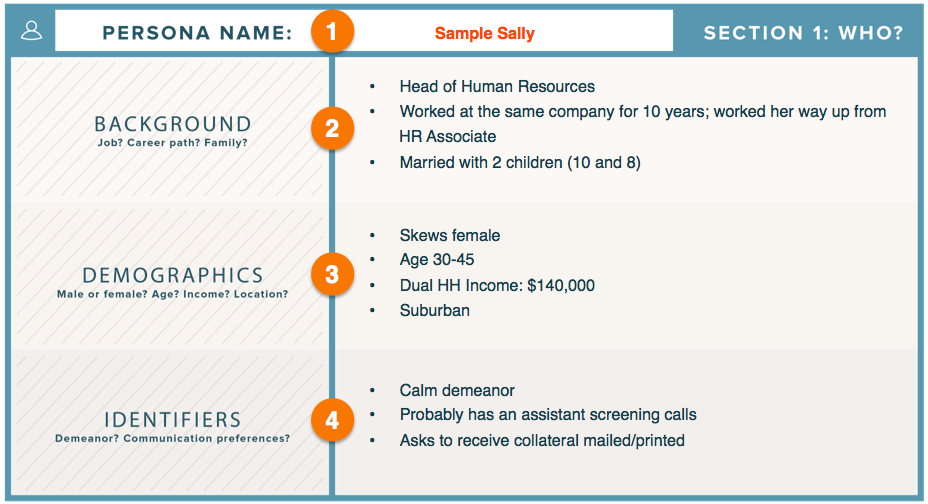 This is only a few questions you'll want to answer about your buyer personas. (Learn how to create detailed buyer personas here.)
Here's a detailed persona example from the Buyer Persona Institute:
The business with the persona above outlined details about Amanda's responsibilities, who she reports to, the basis of her evaluation, and so on.
Step 2: Create a keyword list based on your buyer persona's common search terms.
Your audience defines everything about your content — the substance, the form, the style, and, most importantly, the topic. If you want to get organic traffic from your content marketing, you need to cover topics that your niche is searching for. It's simple:
Your target audience searches for something.
You create content for which they are searching.
You get organic traffic.
The execution is pretty simple, too. You simply need to find out what your audience is searching for. Here's how.
1) Get to know your niche.
First off, you should have a thorough knowledge of the niche you're dealing in. The more advanced your knowledge of your field, the more effective you will become at creating content about that field.
2) Pick five longtail keywords that your audience searches for.
Based on your knowledge of the niche, choose five topics, or longtail keywords, that your target audience searches for most. Since we're discussing topics in a niche, these should be relatively narrow.
For example, "iphone" is not a good keyword. You need far more specificity, because people consume content that is created for their niche. "iPhone photography" is more of a niche. Within that niche, you could have longtail keywords such as "iPhone Photography Tools" or "Landscape Photography for iPhone." Each of these could be used as categories for blog posts.
For example, using those two topics, you can come up with a few blog articles:
Five of the Best Instagram Photo Editing Options to Enhance iPhone Portraits (topic:

iPhone Photography Tools)
Top Ten List of iPhone Editing Tools (topic: iPhone Photography Tools)
Finding the Best Time of Day to Photograph Landscapes for iPhone (topic: Landscape Photography for iPhone)
How to Find Spots to Take Aerial Perspective iPhone Photos (topic: Landscape Photography for iPhone)
Learn more about keyword research for your audience here.
3) Deep dive into some of those topics.
When you hit on a topic your target audience loves, you can afford to spend time and resources creating content that digs deep into that topic. For example, the longtail keyword "iPhone photography tools" can give you a lot of great options for additional topics for ebooks, webinars, podcasts, and so on.
Step 3: Identify which type of content your buyer personas likes best.
The reason you're creating these buyer personas is to determine the kind of content your target audience wants. Most businesses use a wide variety of content types — check out the variety of content types companies use for marketing purposes, from Econsultancy's research:
Companies who are most successful at content marketing use a wider variety of content approaches — an average of 15 different approaches, according to Content Marketing Institute.
Now, you should be willing to use and experiment with different forms of content, but you should also choose one to focus on and be really good at, like BiggerPockets' podcasts. Your audience and your particular niche will gravitate to a certain type of content — and it's this type of content that you should focus more of your content marketing efforts on. Let's dig a little deeper into some of the more common types of content where you could find your niche:
Blogging. I recommend that every business use this variety of content, but for some companies, blogging will take off and become their main source of qualified leads. (If blogging is your niche, make sure you're optimizing your blog posts for search.)
Visuals. Adding infographics and a strong visual push in your content is also important, depending on your audience. A brand like GoPro has a strong visual element, and they have nearly 3 million followers on Instagram. Go figure — they're selling cameras!
Email. Some content experts are focused on email. Personal Finance Advisor and Entrepreneur Ramit Sethi, for example, generates huge amounts of revenue from his engaged email list. Instead of users commenting on blog articles, they simply respond to his emails as a form of interaction. For Sethi, this method is perfect.
Webinars. The webinar method doesn't work for everybody, but some businesses derive a huge amount of value from it.
Social media. Not every company has a blog or a newsletter, but they may be all over social media. I'm aware of companies who have found their target audience on Twitter or on Google+. These companies pour a vast amount of their content efforts on social media.
Video. Videos aren't easy to pull off, and they may require a bit more invesetment of time and resources. But when they're good, they're killer. I've worked with clients whose sole method of content creation was video. Their YouTube channels pulled in revenue, attracted clients, and sold goods and services.
Audio. The heydey of podcasts may have already peaked, but this form of content is still alive and well. One content-driven site, BiggerPockets, caters to real estate professionals — the kind that spend a lot of time in their cars driving around to properties. They boast one of the most popular podcasts on iTunes.
To find out which type of content you should focus on, keep these questions in mind:
What are your buyer personas searching for on Google?
What is the intent behind these searches?
What problems are they trying to solve?
Which type of content makes them stop, click, and consume?
Remember, your audience decides what type of content you produce. You may have a preference for one type of content over another, but you are not your target audience. Allow the consumers of the content to decide what form that content comes in.
Step 4: Over time, develop a personality and style that's attractive to your audience.
Every successful brand has their own style and personality. It's one of the most important, yet unquantifiable aspect of a brand.
Think about your own experiences: You probably find yourself gravitating towards people who are like you. In the same way, people who are similar to you tend to like you and want to hang out with you.
The same thing is true in content marketing, whether B2B or B2C. Consumers of content will gravitate towards a personality that resonates with their own personality and disposition. It's not quite enough to know what kind of content your audience wants — you also need to figure out how they like it styled.
GoPro is a great example of successfully developed style and personality. It caters to an audience who is active, excited, and eager to show off their outdoor experiences, so it intentionally adopted a style of content that's suited toward this audience. Their wildly popular Instagram channel displays user-generated content of people doing a lot of active, exciting things — often involving surfboards, wingsuits, parachutes, or protective headgear.
RedBull takes a similar approach. They're not catering their product to couch potatoes. That's why their YouTube account is both viral and intense. Don't expect calm, relaxing videos — all their content is high energy and intense. They are an energy drink, after all.
Step 5: Settle into a content frequency pattern.
So far, you've figured out who your audience is, what they want, and how they're going to get it. Now, you need to find out how often that's going to happen.
1) Figure out how often to post based on the kind of content you're using.
The frequency of blog posts is going to be different from the frequency of Twitter updates. Generally speaking, the more a content type costs in resources and effort, the less frequent you'll be producing it.
Curata's content marketing pyramid is a helpful way to determine how frequently you should be posting different types of content. It's all about the results you get from the amount of effort you put into that content creation.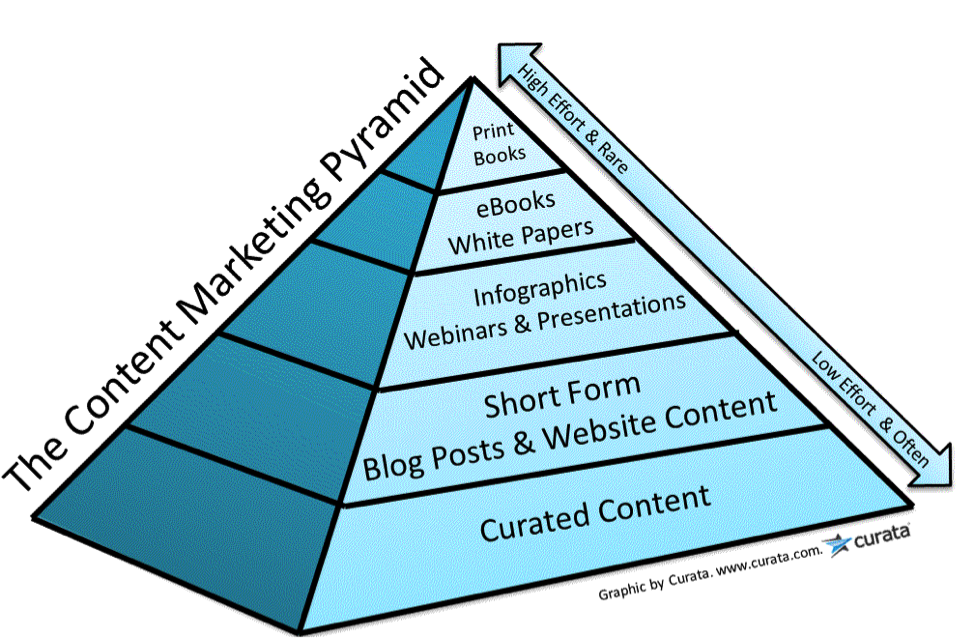 2) Determine posting frequency based on your audience.
You also need to keep your audience in mind. When will they be accessing your content? How frequently? When will they be most likely to see it? When is most convenient for them to attend your webinar?
3) Make a calendar.
Once you've determined the frequency of your content marketing based on type and audience, you need to schedule it. I'm a big fan of automation, both in blogging and social media. Planning things is the best way to execute successfully.
Apps like HubSpot's Social Inbox allow you to target precise times to post on social media.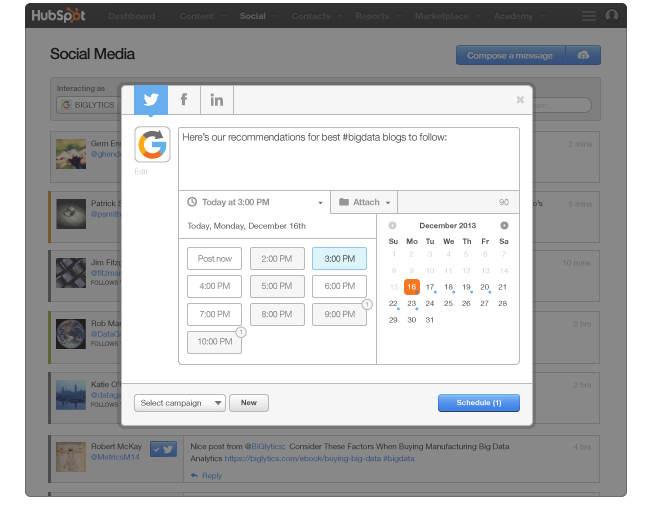 Without a consistent and strategic schedule, you can't expect to attract your target audience and gain organic traffic.
Now what?
Once you've gone through this entire process, do it again. Remember, you're not going to get hundreds of thousands of visitors after just a few weeks of content marketing. Gaining organic traffic is a slow and systematic process. You engage, you refine, you rework, and you keep at it.
What type of content marketing strategies do you use to gain organic traffic?
Image Credit: Outbrain, Content Marketing Institute, Curata