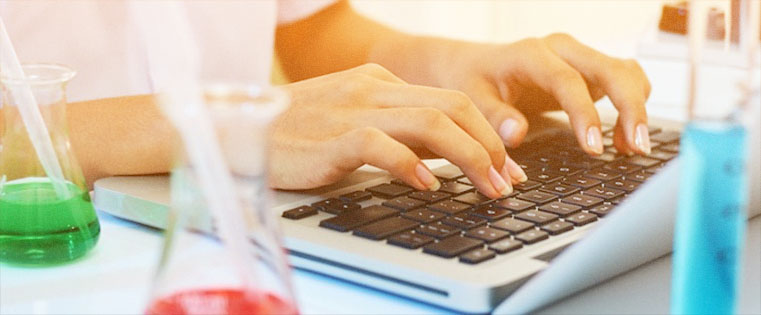 Ever feel like your business is too "niche" to benefit from blogging?
Then consider this: 16% to 20% of searches people ask in Google have never been searched for before. No matter how unique your niche is, it's likely that people are searching for the content you'll create.
The great thing about an inbound marketing tactic like blogging is that it lets you attract the most qualified prospects to your business, wherever they may be. In fact, some of the most dramatic successes we've seen with blogging come from businesses in niche industries.
Take Conversant Bio, for example. They sell human tissue samples to researchers who use them for studies that advance modern medicine. Pretty niche, wouldn't you say?
Well, when Conversant Bio started a blog with the help of HubSpot Partner SmartBug Media and started creating content around disease research, their blog visits went from about 5,000 visits in December 2014 to 34,000 visits per month ten months later in October 2015. Not only that, but they saw the number of quality leads increase by 700%.
As part of HubSpot's 2015 Year in Review, we wanted to celebrate the success of our partners and the impact they've had on their clients businesses. So I caught up with SmartBug Media's founder and CEO Ryan Malone to get the inside scoop on how they approached Conversant Bio's blogging strategy and what they did to impact lead flow so dramatically.
The Strategy Shift
Conversant Bio's target buyer isn't your typical internet surfer. Their buyers are predominantly large pharma researchers who focus on really specific diseases, like lung cancer and leukemia. And it turns out these researchers conduct a lot of their research through search on the web — or at least start their research on the web.
What does that mean for Conversant Bio? That they had the opportunity to attract these researchers to their website via search engines — if only they could rank for those really specific, disease-related keywords.
To help Conversant Bio attract more qualified prospects to their website, the folks at SmartBug Media wanted to help turn them into industry thought leaders and sources of reliable news and educational content around specific disease research and techniques. To do that, though, Conversant Bio would have to shift the way they marketed themselves.
"We made the recommendation that they stop marketing as a tissue sample company, and start marketing as a subject-matter expert in each disease state," Malone told me.
The biggest way they did this? By setting up a blog, and then being really strategic about the topics they wrote about.
"Rather than writing a blog post on 'The 10 Benefits of a Tissue Sample for Research,' we had them start writing about topics like what's happening in blood oncology research or how certain types of cells have become important to blood oncology researchers," said Malone. "Then, we folded in how the clinical and genetic profiling of these skills have helped researchers do better experiments." That's where Conversant Bio's product — those tissue samples — could come in.
Step 1: Increasing Organic Search Through Keyword Research
Before focusing on lead conversion, the folks at SmartBug started with the goal of increasing organic traffic to Conversant Bio's website through the blog. To increase organic traffic, they did keyword research to find actual search terms that people were entering into search engines around specific topics (in their case, specific disease states).
How did they conduct keyword research? By talking to subject-matter experts for each disease state, putting together lists of keyword ideas, and then using keyword research tools (like these) to build out long-tail keywords that they could then tie back to their product. They chose long-tail keywords to solve for lead quality in the long term, since website visitors searching long-tail terms will often be more qualified.
Although the talented writers at SmartBug Media have a fair amount of health care expertise, they spoke with those subject-matter experts to get a better understanding of the type of language their target buyers — those pharmaceutical researchers — were using.
"It was a strategy that allowed us [at SmartBug Media] to move really quickly on those niches," Malone explained. "By talking to those subject-matter experts, we leveraged their expertise to learn the language of the researchers [who made up Conversant Bio's buyer personas], and then combined that with blog title strategy."
Once they did that, they found it fairly easy to actually research and write optimized blog posts around those keywords.
Step 2: Blogging Regularly Using Those Keywords
Once the folks at SmartBug Media had a solid list of long-tail keywords to work from, they began writing optimized blog posts — while continuing to do more keyword research to build a backlog for future posts.
"We would take terminology from subject-matter experts, use them to create a list of targeted blog post titles, give those titles to the writing team, and they would write the blog posts," explained Malone.
For example, if they discovered that a lot of pharmaceutical researchers were searching for the term "breast cancer mutations," they would create a list of blog post titles optimized for that keyword — like this one, titled "Methods to Detect Breast Cancer Mutations in FFPE Samples."
They focused each blog post on one (sometimes two) long-tail keywords, and made sure those keywords showed up in the title of the post, in the body (especially the headers), in the URL, and in the meta description, as is best practice for optimizing blog posts for SEO.
SmartBug's writers started at an entry-level retainer with Conversant Bio, which had them writing between four and six blog posts per month. Although that's fewer monthly posts than we'd normally recommend, they found that these posts began to rank fairly quickly thanks to their industry and super-niche topics.
"Our keywords were so narrowly targeted in an industry where people haven't really embraced inbound yet, so post ranking caught on really quickly," said Malone.
In fact, take a look at Conversant Bio's website traffic below, which Malone says is mostly blog traffic.

SmartBug Media started blogging for Conversant Bio in January 2015, which is when you see traffic begin to increase over time. Traffic growth significant over the next year, peaking in October 2015 at roughly 34,000 visits per month, before the annual holiday traffic dip.
More importantly, you'll notice that organic traffic (represented by green in each bar) constitutes about 70% or more of their overall site traffic. Malone attributes this largely to keyword optimization on the blog.
Not long after Malone and his team began blogging for Conversant Bio, they started creating more sophisticated content around their best keywords in an effort to turn some of those increasing blog visitors into high quality leads.
Step 3: Solving for Leads With Gated Content
Once they got the blog post machine going (with the help of HubSpot's blog editorial planning template), it was time to create content like ebooks they could gate behind landing pages to collect leads.
You see, when SmartBug first started blogging for Conversant Bio, they were ending blog posts with call-to-action buttons leading directly to product pages to relevant tissue samples. For example, for blog posts about breast cancer mutations, they might end with a CTA like this one leading to their product page for the relevant tissue sample:
Image Credit: Conversant Bio
But after only a few months of blogging, they saw their efforts to bring in more traffic was working — and it was time to invest in writing long-form content.
Essentially, their strategy was to write ebooks about the same long-tail keywords they were blogging about so each blog post was paired with an ebook CTA that was highly relevant to what internet searchers were looking for.
"In addition to the traffic increase, the level of specificity in the targeting we did also increased our lead flow," said Malone.
And results were significant: Conversant Bio saw a 250% month-over-month increase in lead growth, with the proportion of marketing qualified leads increasing from 10% to 80% during the same time — an increase of 700%.
"The sales team at Conversant Bio used to get a lot of unqualified leads," said Malone. "They'd get people who had been searching online for some human tissue-related topic that wasn't specific to what they sold, or people who weren't really a fit from a sales perspective.
"But in 2015, the percentage of their lead quality went up sevenfold. The percentage increase marketing qualified leads — from 10% to 80% — happened because those researchers were searching for a very specific, myopic thing."
Step 4: Folding Content Into Well Rounded Campaigns
Paired with social media promotion, lead nurturing, and conversion paths, those optimized blog posts were successfully bringing prospects into Conversant Bio's sales cycle.
Malone says many of the folks who would end up purchasing the product would come in to the blog through organic search, download the ebook, get nurtured via email, and then receive a follow-up from Conversant Bio's sales team.
The result? The ROI for their campaigns was an astounding 3,558%.
None of this would have been possible without the realization that becoming an educational resource for their target buyers was the best way to bring in high quality traffic from search.
"Before the SmartBug-driven inbound marketing campaigns, the majority of our web leads were not well targeted," Luke Doiron, Conversant Bio's chief commercial officer, told SmartBug Media. "We're experiencing significant ROI on our campaigns. Based on our historical customer purchase patterns, we expect the three-year return on this initial six-month investment to be above 14,500%. We're thrilled!"
Want to see who else in the inbound community has seen success? Check out HubSpot's 2015 Year in Review.