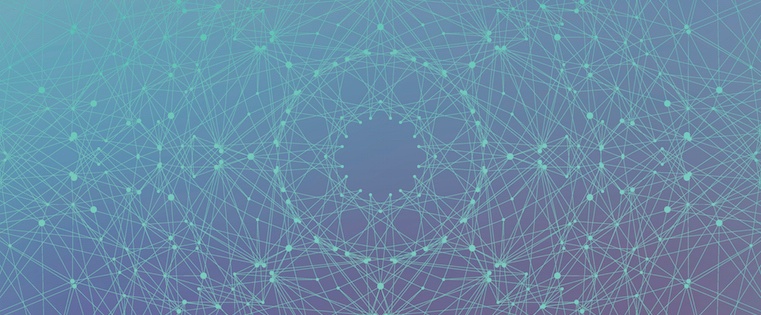 Trying to go viral? It seems like everyone is these days.
That's because having a post take off can benefit your brand's reputation tremendously — just look at how the blue and black dress (or was it white and gold?) affected BuzzFeed's traffic.
While the success of a viral post often hinges on chance, my team at Alexa set out to uncover some of the common characteristics of viral content to help others inform their content strategies.
In doing so, we examined four "viral" posts using our competitive intelligence tool to analyze website traffic, and BuzzSumo and SharedCount to analyze total social media shares. It's also worth mentioning that we chose to focus on smaller sites for the sake of this analysis to get a better idea of how one viral post can affect traffic, reach, and page rank.
Here's some of what we learned …
Measuring the Effects of Virality: An Analysis of 4 Unique Viral Posts
1) "Dad Sings Anti-Bullying Song to Daughter"
Faithtap.com — a social website with interesting and inspiring videos — shared a video of a dad singing an anti-bullying song to his daughter. Within a couple of months, the site's global ranking had jumped by 43%.
Takeaways:
Including a strong emotional hook in your content can help increase the chance for viral success.
Knowing which emotional themes resonate most with your audience and weaving those into your content is important.
Utilizing videos will help grab the audience's attention fast and create a strong emotional response.
2) "14 Quotes That Prove Amy Poehler Gives the World's Best Advice"
Mic.com— a media site geared to millennials — shared a list of empowering quotes from Amy Poehler. The site's reach nearly tripled two weeks after the article went live.
Takeaways:
Writing catchy and compelling headlines can pique curiosity in social audiences.
Placing pop culture references in your content can help boost virality.
Sticking with universally popular topics is a great bet.
3) "A Mom's Social Media Post Shatters Lives"
Creativity-online.com — a sibling of Advertising Age that showcases creative content — posted an AT&T advertisement about the dangers of texting and driving. Over the next couple of months, the site's global ranking increased 29%.
Takeaways:
Utilizing an element of surprise is extremely effective for grabbing the audience's attention.
Incorporating current cultural and social issues into your comment will add interest.
Including a broadly understood and relatable topic will ensure extensive audience reach.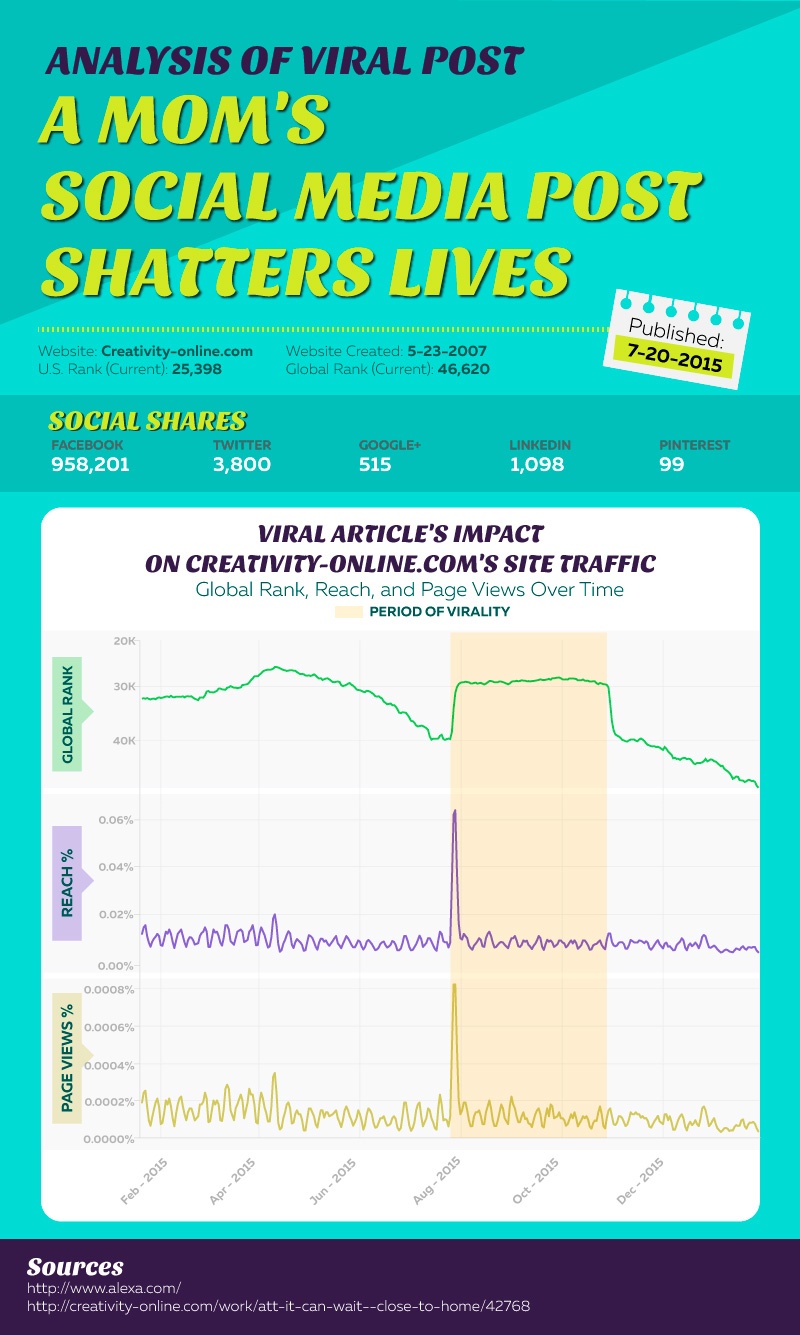 4) "No, It's Not Your Opinion. You're Just Wrong"
HoustonPress.com — a Houston-based entertainment source — shared an opinion piece about how, well, you just might be wrong. More than 36,000 people shared it on Facebook.
Takeaways:
Surprising and shocking audiences can help to ensure success.
Controversial and polarizing content often sparks discussion.
Making sure your content topic appeals to a wide audience will increase viral potential.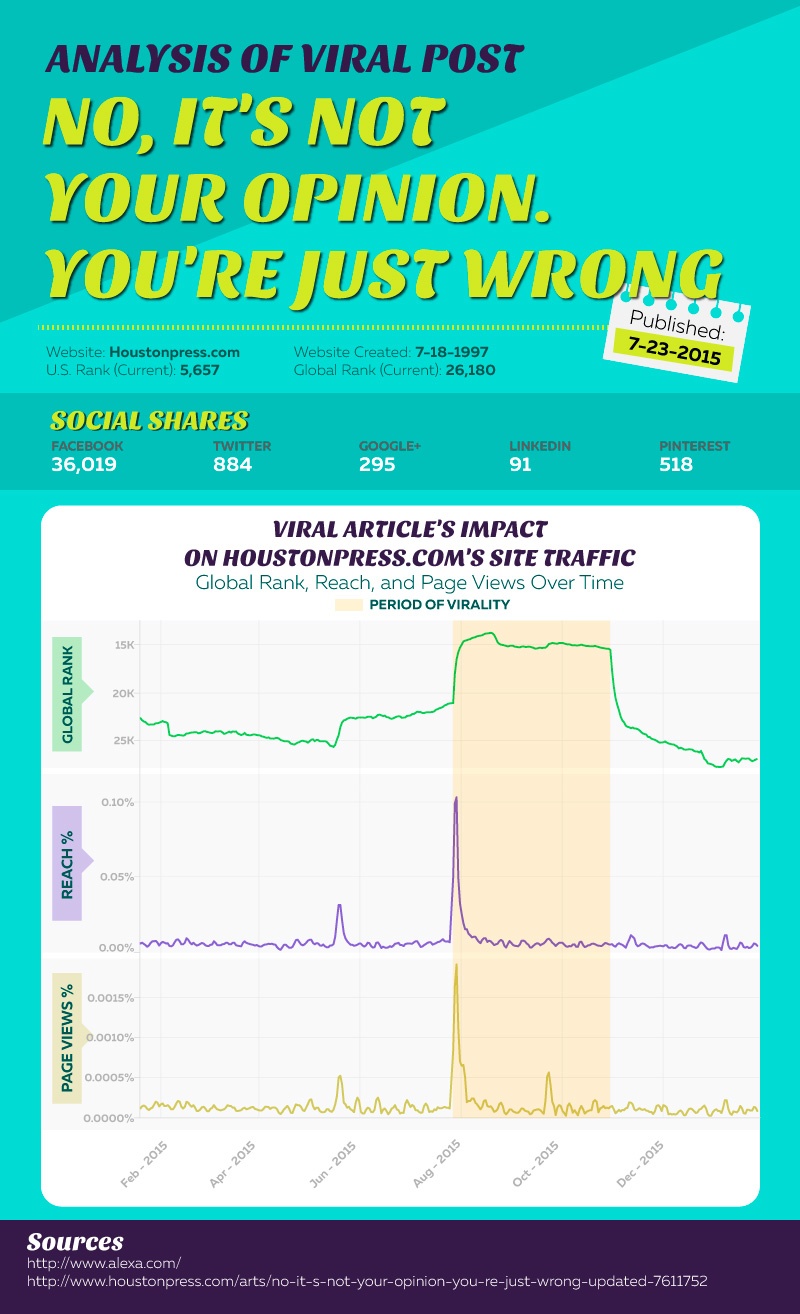 3 Quick Tips for Creating More Sharable Content
1) Emotional content strikes a chord.
Emotions play a big role in our decision-making, but there's a fine line between piquing interest and being misleading. Readers are wary of clickbait, and an over-the-top headline can feel like exploitation. However, when used properly, emotional content serves as a way to provide value. Your audience wants to feel a connection to content, and as long as it's relevant, emotional content can help you establish just that.
The emotion you choose to tap into is entirely up to you. While the video from Faithtap demonstrates how to leverage feel-good emotions, content that makes people feel uneasy can also have an impact — as demonstrated by the terrifying advertisement from AT&T shared by Creativity-online.com.
2) Know your audience.
There's no one-size-fits-all formula for creating highly sharable content. In fact, what you create will have a lot to do with who you're creating it for.
For example, a list of celebrity quotes like the one published on Mic.com might not fare as well on a website with an older audience and a more serious focus. But for their audience, it was a perfect fit: Mic's audience is primarily made up of women between the ages of 18 and 44, and Poehler, known for her roles on "Saturday Night Live" and "Parks and Recreation," is something of a millennial icon.
3) Breaking the rules isn't always a bad thing.
When it comes to viral content, don't be afraid to think and work outside of the box.
The AT&T film mentioned earlier is nearly four minutes long — a risky move when 33% of video viewers lose interest after just 30 seconds. Yet, the video had a profound impact on its hosting website: Three days after it went live, the site's reach skyrocketed sevenfold, and page views increased eightfold.
And what about the "No, It's Not Your Opinion. You're Just Wrong" article? Pretty edgy and controversial title, wouldn't you say? Well, it worked: The 1,200-word opinion piece was shared more than 36,000 times on Facebook.
Moral of the story: Think boldly, but be sure to act accordingly. When you're creating content, always keep your audience's best interest in mind. Don't deceive them. And don't offend them. Instead, focus on creating something they can connect with — something they'll want to share with a friend, or two, or three …
What tips do you have for creating "viral" content? Share them with us in the comments section below.