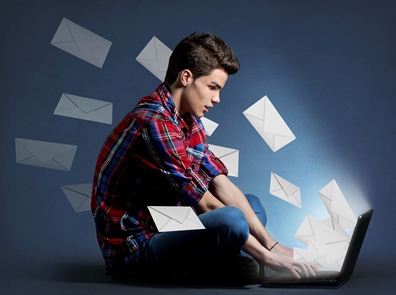 As part of my 2014 goal to gain 50,000 new subscribers, I set out to find a better way to do guest posting.
I was already using tools to making it easy for anyone to sign up to my newsletter via my own blog, but I needed to find a way to make it easier someone reading my guest post to sign up.
From start to finish, a guest post is a lot of work. If you're like me, you spend more time writing a guest post than any other post — it just takes longer than a typical post on my site. But that time I would invest wasn't paying off. I found that I only to gained a handful of email subscribers with each post — the whole reason I offered to guest post in the first place.
I've found a simple trick that makes my posts more effective and takes just a few minutes to implement. Best of all, it helped me grow my email list without a ton of additional work.
What I Did Differently
The typical guest posting advice still applies: Make sure your post is valuable, and have a great byline that includes a link to a page where they can learn more about you.

But I found that this wasn't enough.
It is all too easy for a reader to be interested in the guest writer, click over to their website, look around and leave, never to be seen again. Truthfully, in the past, I optimized my site in other ways to focus on email collection (here's how I changed my Homepage to get a 300% increase in sign ups), but it still wasn't getting me the reuslts I needed to justify guest posting.
And I couldn't just copy what other people were doing. When I see guest posts they tend to fall into one of two categories:
No real attempt to get the readers to follow or connect with the writer (byline only)

Too aggressive asks (tons of links back to their site, a giant incentive, etc)
I didn't want to be in either category.
So here was the solution I came up with: A tailored landing page with a bonus piece of content that doesn't require an email address to get access.
In the post, I offered up a unique piece of content to the reader. To get that piece of content, they had to click on a dedicated landing page link. The landing page:
Specifically mentions the audience

Provides the free bonus content with no catch

Offers an opportunity to sign up to my email list
Each landing page is very basic. Here's an example: http://okdork.com/hubspot/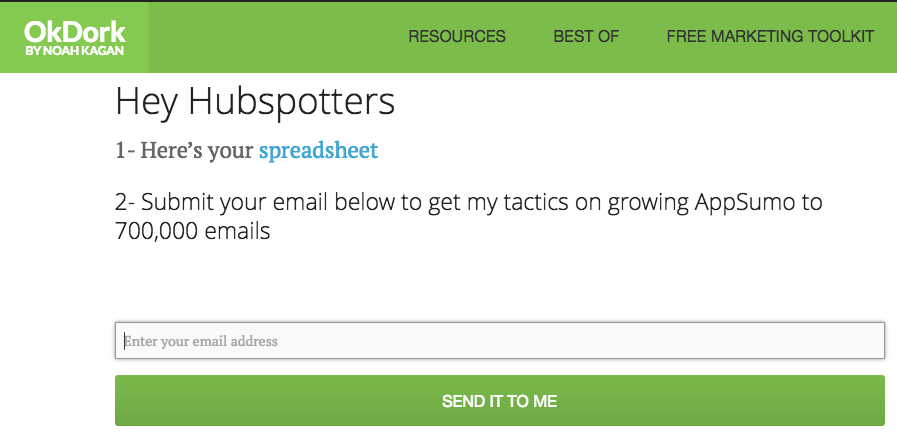 Want to try this out for yourself? I'll walk you through the most important parts of this conversion strategy so you can try it the next time you're guest posting.
1) Create Beneficial Content Specific to the Audience
When you guest post, always create (or re-purpose) a piece of content that adds an additional benefit to your guest post. You already give away free content after your own blog posts — so why not try this same concept on external posts?
Here are a few examples of great bonus content:
A spreadsheet with built in formulas.

A cheatsheet that summarizes the key points and questions people have on a topic related to your blog post.

A checklist that breaks down the steps to doing something related to your blog post.
Make the bonus content easy to use and well designed. For example, if it's an spreadsheet, make the design simple and include instructions.
2) Provide Bonus Content With No Catch
It's tempting to require an email address to give away bonus content, and that is a great strategy on your own blog. "Content Upgrades" that require an email to unlock are a proven method that I regularly use at OkDork for my own posts and for guest posters that write on my blog.
But I find that with large external site, guest posting is so regular that their readers don't care about signing up for your email list — there'll be someone else asking them to do the same thing tomorrow.
The alternative to this is to create a unique landing page with the bonus content freely available — it's just a click to open the PDF or spreadsheet. (Tip: Make sure that the bonus content opens in a new window or tab.)
3) Make It Easy to Say Yes
Now if you're providing great content without forcing someone to give their email address before they know its great, you have a huge opportunity to make a friend for life — or at least a dedicated email subscriber.
Just below the bonus content, I always include a short blurb about my email list, the benefits, and a sign up field. That way, they can see the content and decide for themselves whether it's worth hearing from me more often.
The best part of this entire strategy is that when someone submits their email address, you know they want to hear from you. They already have what they came for, but still want to hear more from you.
Bonus Benefit: Easy ROI Tracking
In addition to getting more email subscribers, this strategy also makes tracking the success (or failure) of each guest post easier. I can easily see how many email subscribers I'm getting from each blog by comparing the traffic to the landing page vs. total new subscribers.
And that's it folks. This is my quick, effective secret to growing a healthy, responsive email list when guest blogging.
If you have questions about this strategy and how I grew my personal email list by 50,000 in 2014, check out this on-demand webinar. It's a 60 minute walk through of how OkDork.com grew it's email list using strategies and tools available to anyone.