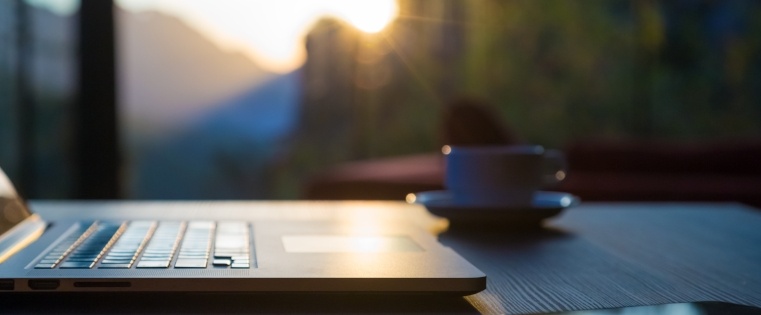 Live chat technology has been around for a while. And while customers increasingly demand immediate attention, businesses have been relatively slow to adopt a live chat strategy – particularly in the SMB space, where deals are still built on relationships.
Live chat is often solely thought of as a customer support tool and tends to be overlooked from a sales and conversion perspective.
Why Engagement Matters
Forrester data shows that 55% of US online adults are likely to abandon their online purchase if they can't find a quick answer to their question. 77% say that valuing their time is the most important thing a company can do to provide them with good online customer service.
Sure, customers can call an 800 number, send an email or fill out a contact form when they run into hiccups in their decision-making or purchasing process, but for every second that it takes a business to respond, the customer's likelihood to purchase exponentially decreases.
Live chat fills that void, providing an immediate line of communication to get customers' questions answered without leaving the page or picking up another device.
99% of first time website visitors are not ready to buy. A marketer's job is to recognize their prospects' intent, nurture them through their education and evaluation stages and deliver high quality leads to their sales team so they can close the deal.
Depending on your goals, users may or may not flow through your funnel as you'd like. While it does make sense for businesses to build sophisticated conversion paths, launch personalized email/website nurturing campaigns and use A/B testing to refine website copy and calls-to-action, the overwhelming majority of businesses are missing a key step in between – simply talking to their visitors.
Live chat allows you to pull up a virtual stool and talk to your website visitors at their peak point of interest.
So how do you begin evaluating whether live chat is a good fit for your sales and marketing objectives? We've gathered 9 inspiring examples showcasing some creative ways that businesses are leveraging live chat in their environments. Take a look and try to think of how you might mimic or adapt these strategies to enhance your customer experience and drive growth within your organization.
1) Betterment: New Client Onboarding Assistance
Betterment, a leading online investment advisor, uses targeted proactive chat invitations to engage with top tier clients when they sign up for a new account. Dealing with people's money demands the utmost credibility and trust.
Rather than solely relying on their established UX flow to move clients down their investment funnel, proactive chat offers the opportunity for advisors to provide instant, personalized financial services to new clients so they can invest with confidence.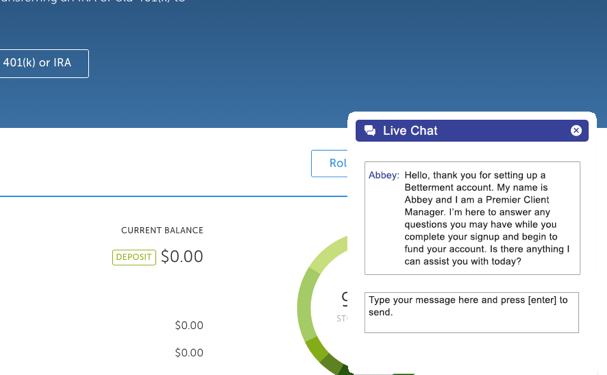 2) SnapEngage: Proactive Chat on 404 Page
There are few things more frustrating than not being able to find what you're looking for, and arriving at a 404 page often results in visitors exiting a website. Rather than providing a list of suggested links that may or may not be relevant to their visitors' search, SnapEngage immediately fires an automated proactive chat invitation when website visitors land on their 404 page so they can quickly guide them to the content they're looking for.
3) Canyon: Multilingual Chat Support
Canyon Bicycles has a popular following around the globe, supporting a diverse set of customers speaking different languages. They use intelligent chat routing rules to immediately connect customers to the most appropriate members of their sales and support teams in their visitors' preferred language.
4) Petplan: Facebook Fan Page Chat
"With 1.09 billion people logging in daily (a 16% increase year-over-year), [Facebook] is still the most popular social network around. Not to mention, Facebook owns 77% of all social logins." (Check out How to Use Facebook for Business: 25 Facebook Marketing Tips and Tricks)
Petplan Pet Insurance has a 'Chat with us' tab on their Facebook page, allowing fans to communicate with their team in real-time without leaving Facebook, and serving as yet another lead generating channel for their sales and marketing teams.
U.S. Patriot Tactical uses SMS-to-Chat services, allowing clients to start a live chat with their support team via a simple text message. They display their 'Text-to-Chat' phone number on their website, order receipts and packing slips to quickly facilitate communications around order inquiries, status and returns.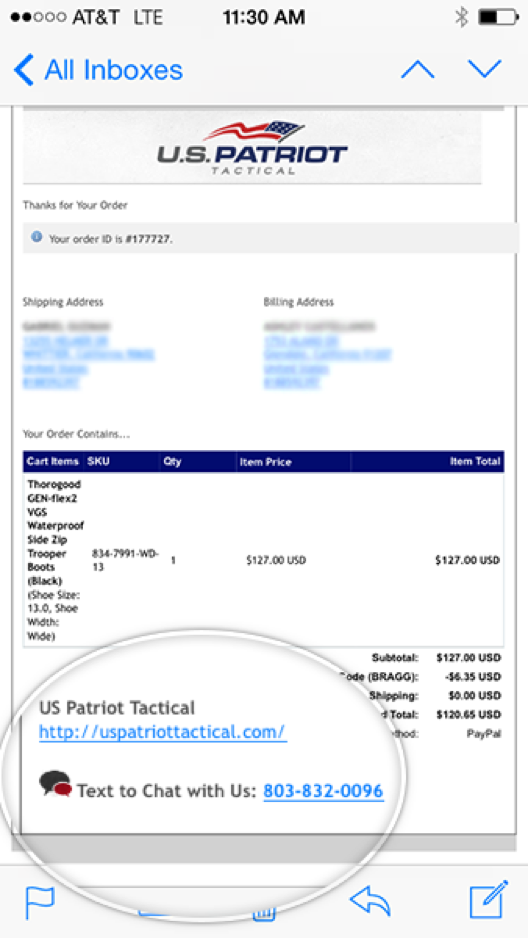 6) Ruffwear: Targeted Proactive Chat Invitations
Ruffwear not only uses creative [dog] agent photos to engage with visitors; they also trigger targeted proactive chat invitations specific to visitors' needs on particular pages of their website (i.e. Dog Boots Fit Guide). Their helpful messages provide a good balance between self-help resources and the opportunity to receive personalized support with the click of a button.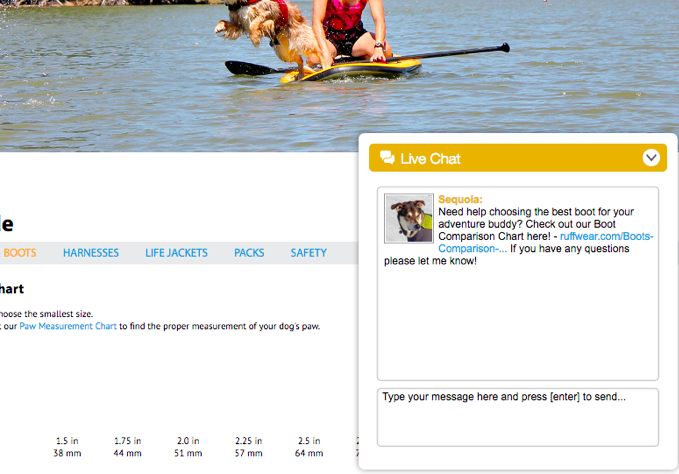 7) Aid In Recovery: Real-Time Online Counseling
Aid In Recovery uses live chat to offer immediate assistance and assessment for people struggling with addiction. Operating in an environment where every second counts, Aid In Recovery relies on chat to get patients the help they need, the moment they ask.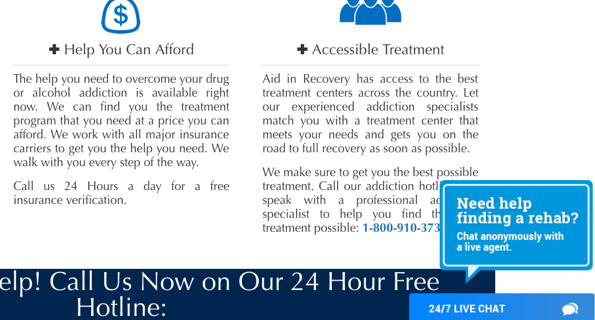 Maids In Black uses a simple pre-chat form to gather basic information and offer visitors the opportunity to send an email or connect with a live chat agent. Keeping the form short with only a couple fields eases the path to engagement for visitors while also allowing the Maids In Black team to route chats and emails to the appropriate teams.
9) Mavenlink: Advanced Lead Qualification
Mavenlink relies on live chat to serve as a powerful front-line lead qualification tool for their marketing and sales teams. They pass an extensive list of contact details and custom operator variables (recorded by agents during a chat) to their CRM so they can appropriately assign leads and assign follow-up tasks to their sales team after a chat closes.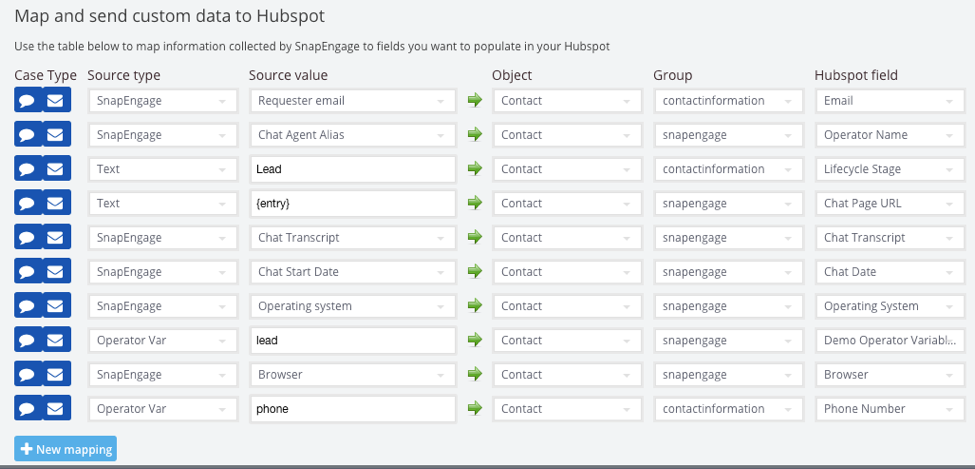 That's it! What companies do you see using live chat in a creative, useful way?
Want to learn more about leveraging live chat to turn your website visitors into actionable leads? Download the free ebook by SnapEngage.