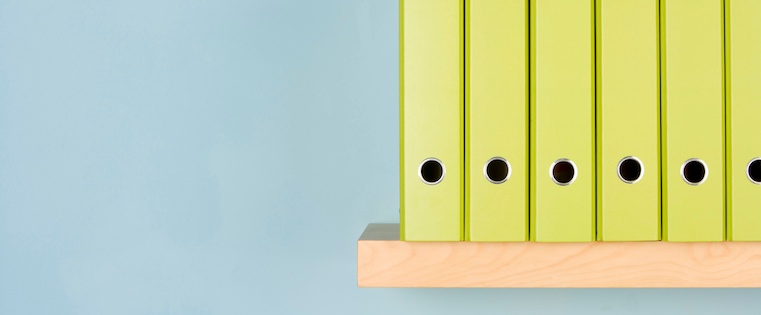 Often times, the greatest challenge marketers face when creating content isn't the actual writing, publishing, or promoting. Instead, it's the other related tasks — brainstorming, scheduling, and coordinating moving parts — that wind up causing us stress.
This is where tools like Trello come in.
We've talked about Trello before, like in this post on tools to help you organize, develop, and share your ideas (see #3). And why shouldn't we? Here at HubSpot, all different teams have used it for years for everything from project management to our blog's editorial calendar. It's worked very well for us, and we want to share the love.
There are a ton of different ways you and your team can use Trello for work, and what works for you may not work for others, and vice versa. That's why we've rounded up eight useful ways to organize your Trello board.
What is Trello?
Trello is a well-known app that's especially good for tracking and visualizing progress. Using their card-based layout, you can create a card for every idea, blog posts, piece of a project, and so on. Then, within each of these cards, you can jot notes, assign them to others, organize them into categories or lists, create task lists and checklists within cards, color-code them, attach files … the list goes on.
While boards can be organized in many ways, here's an example of what one looks like:
Image Credit: Trello
Once you click into one of those cards, you can label them, add a due date, add "members" to the card to assign tasks, and so on.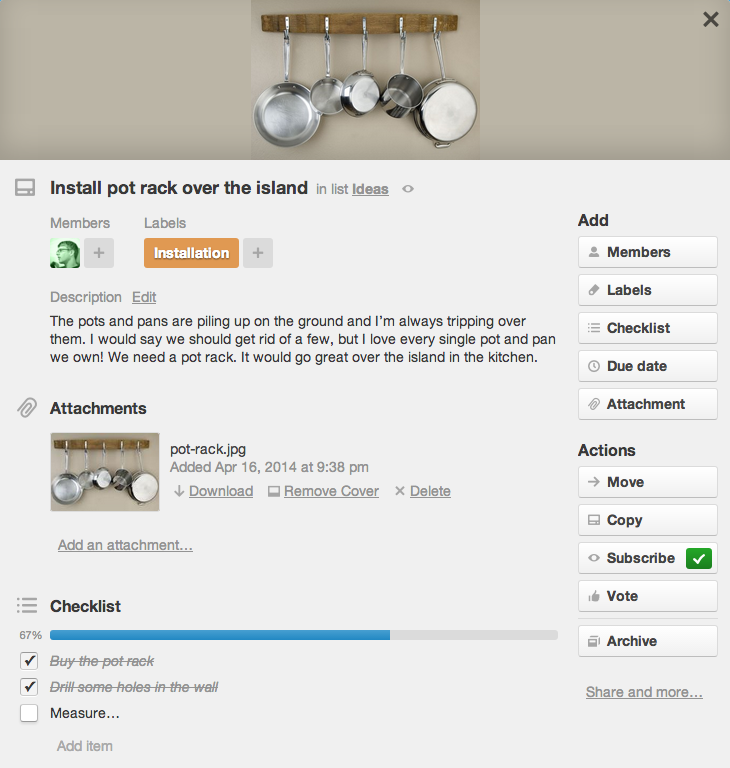 Image Credit: Trello
Another great feature? The calendar. If you enable the free calendar "power-up" (much like Labs in Gmail), then you'll be able to assign everything in a calendar view that makes organizing due dates much easier. (To learn more about Trello's capabilities, you can take the tour here.)
For now, let's move on to some different ways you can structure your Trello board.
8 Creative Ways to Manage Your Tasks & Projects Using Trello Boards
1) Organize Your Personal To-Do List
There are a lot of great tools out there to help you manage your personal to-do list. If you tend to be a more visual person, Trello could be a great choice for you.
Why? Because it lets you drag, drop, color-code, and manipulate to-do list items in a way that many of the other tools don't. For your day-to-day list items, you might keep different lists for projects assigned to you by different clients. Or, you could organize them based on priority, as in the example below:
Image Credit: Cloud Coach
For all you bloggers out there, I use the drag-and-drop feature to track blog post ideas and progress. To do this, I named columns things like, "Idea Backlog," "In Queue," "Research/Interview Stage," "Draft in Progress," "In Editorial," "Scheduled," and "Published." (Okay fine, the real name of last column was "DUNZO." To each her own.)
If you're hoping to access your to-do list from your mobile devices, Trello has apps you can download for iPhone, iPad, Android phones, tablets, watches, and Kindle Fire tablets.
2) Manage an Ongoing Project
Trello markets itself as a collaboration tool — and that's probably what it's best for. If you're managing a project, it's an awesome tool for organizing all the moving parts of a project, including people, due dates, and progress tracking.
In Trello's extensive free product, you can invite as many people as you want to your board. To divvy up tasks, all you have to do is add members or drag-and-drop people to cards. Everyone can see the whole board, but folks who are added to cards will be notified of their assignment.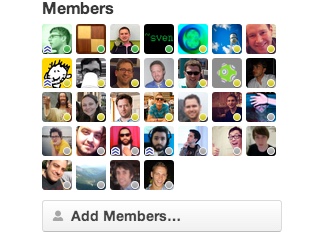 Image Credit: Trello
You can also start discussions using comments and attachments within each card. So if you want to add a quick note (or a not-so-quick note), then you can write 'em in there — and even mention another member to make sure they get notified. Add files by uploading them from your computer, Google Drive, Dropbox, Box, or OneDrive.
Plus, Trello works in real-time — so when someone moves a card, it'll move on your own board instantly. This means you never have to refresh your browser to see the latest updates.
If the project's top secret, all you have to do is put the project's "board" on private. All the information and data you put on there is guaranteed private and secure — and the folks at Trello keep encrypted, off-site backups of all the data in case something crazy happens.
3) Reflect on Lessons Learned
Once a project — or even a week at work — is finished, you and your team can always benefit from reflecting on what went well, what didn't go so well, and what you can do to improve the process going forward. This is sometimes called a "retrospective." It's all in the name of continuous improvement.
While many people choose to take notes during these retrospective meetings using a good ol' whiteboard, Trello can actually be a great digital tool that'll eliminate the need to type up and send out disjointed notes later. It's also convenient for folks who have remote teams in different cities and time zones because it allows you to make the feedback visible to everyone, at any time.
That's exactly why Mitchel Seaman used Trello for retrospective meetings for his remote team, which he wrote about in this post on Medium.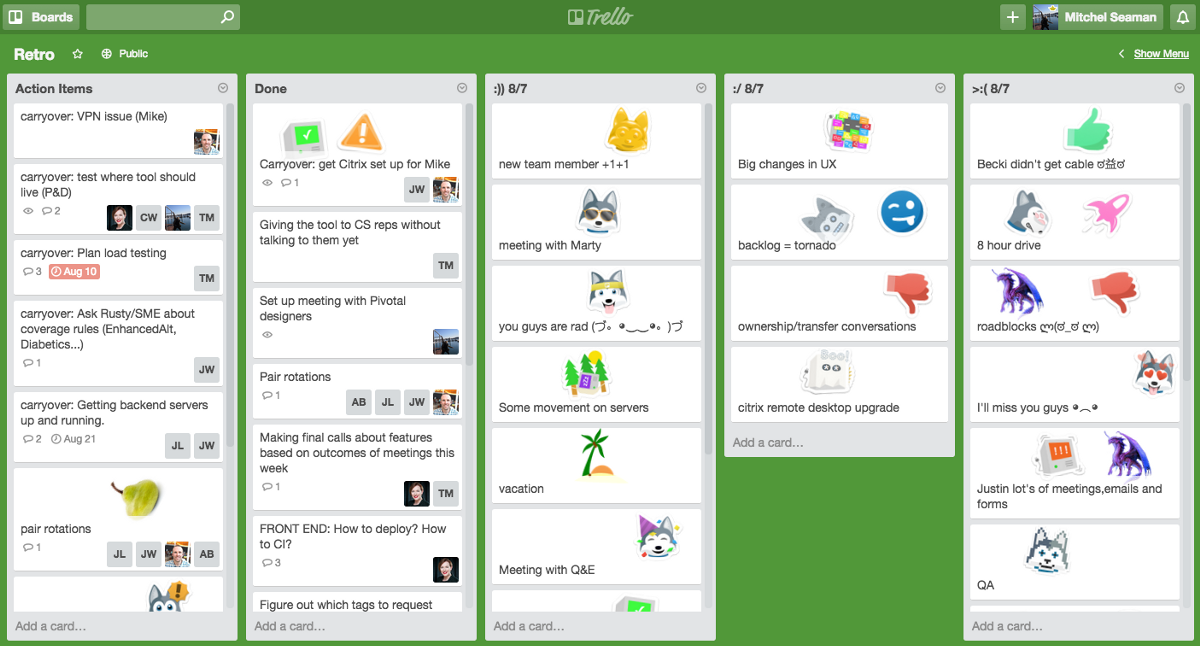 Image Credit: Mitchel Seaman
His system involves voting: Throughout the week, members of the team can go into the board and post cards denoting what's going well and what's going poorly as it happens. Then, folks can go in and vote on things to talk about during a weekly retrospective meeting, discuss them, and keep track of action items.
While Trello does have a voting feature (which you can enable by going to Menu > Power Ups > Voting), it requires people to click into a card, and then click the Vote button. To make it so folks don't have to click into a card, Seaman uses stickers instead — which, he says, also makes it "way more fun."
Image Credit: Mitchel Seaman
Before the meeting, whoever's running it will drag the top-voted items to the top of each list. During the meeting, each top-voted item is discussed one-by-one. Cards that are actionable can be moved to the "Action Items" column. That "Action Items" column never moves, and you can even assign people to it and give due dates.
Once the meeting's over, the lists are archived and a new one is created for the coming week. (Note: Even when you archive a list, it's not gone forever. You can still search for items within it and retrieve entire old lists when you want to.) You can read the whole article here.
4) Brainstorm Ideas
Coming up with fresh, new ideas isn't easy. And even if you take the time to brainstorm, it can be tough to get started. Where do you begin? How do you create enough ideas? How do you sort the great from the good from the bad when you're done?
Trello just so happens to be a great tool to help you brainstorm — and then organize your ideas once the brainstorm is over. Using their card-based layout, you can create a card for every idea and even jot additional notes in there, attach files, and so on.
Once the brainstorm is over, you can color-code them based on priority, like using green for high priority, yellow for medium priority, and red for low priority. If you want to use that board to assign topics to content creators, you can add members to each card to assign it to them — and attach due dates, too.
5) Keep an Editorial Calendar
Your blogging team could be one person, it could involve tens of contributors, or it could be somewhere in between. No matter how many people are writing for your blog, it's crucial to have an editorial calendar to keep track of which blog posts you plan to publish when.
In fact, here at HubSpot, we use Trello (among other tools, like Google Calendar and HubSpot's built-in content calendar) to organize our own blog's editorial calendar. And we aren't the only ones — news sites like Mashable, ReadWrite, and The Changelog use Trello as an editorial calendar, too, according to Trello's blog.
You can create a Trello board for your editorial calendar in several ones. One way is to create columns based on a single post's progress, like in the example below: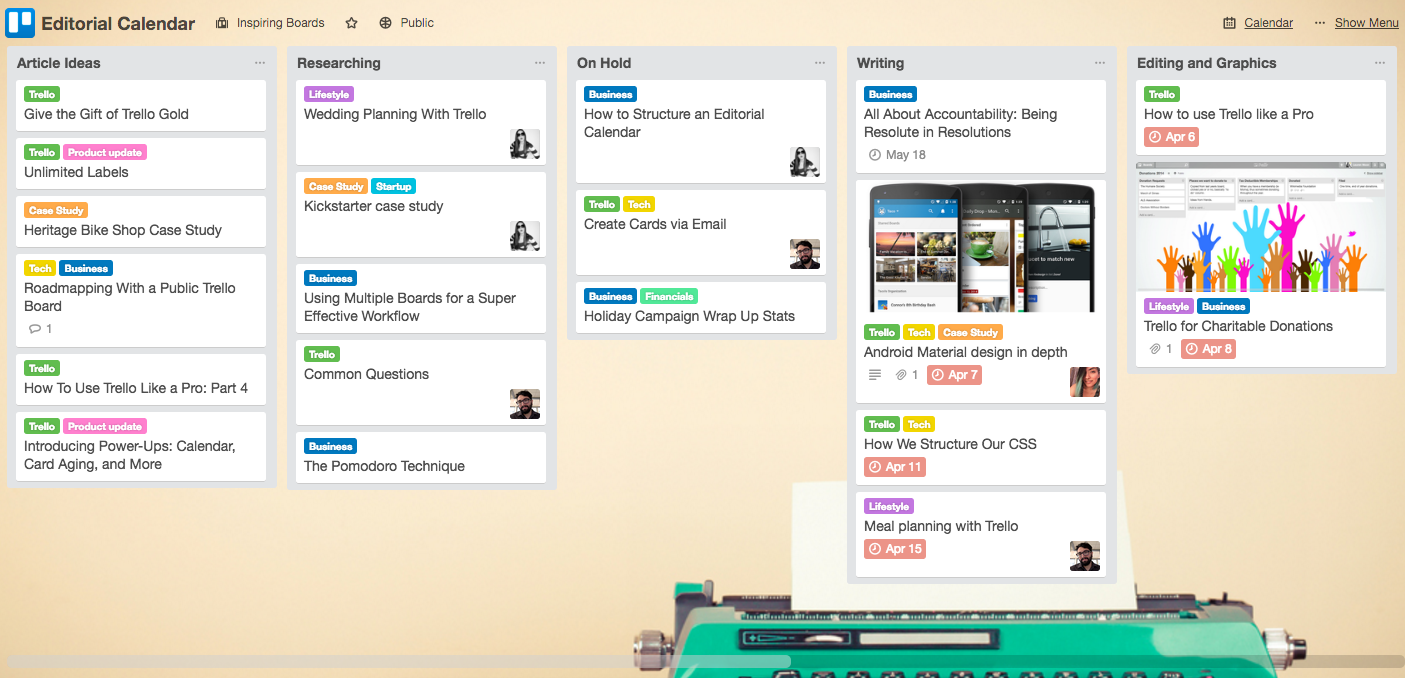 In this example, each card represents a single blog post, and you can move it along the progress bar by moving it from "Article Ideas" to "Researching" to "On Hold" to "Writing" to "Editing and Graphics" — all the way to when it's published. While it's in progress, you can add notes into each card, assign writers by adding members, and so on, until it reaches that "Published" list.
Another way to organize blog posts for your calendar is by creating columns based on post type. If this is the way you like to brainstorm your blog posts, you can simply brainstorm in the Trello board, assign writers and add notes as needed, and use the "Calendar" feature to plan out the actual editorial calendar.
To add the "Calendar" feature, simply go to Menu > Power Ups > Enable Calendar.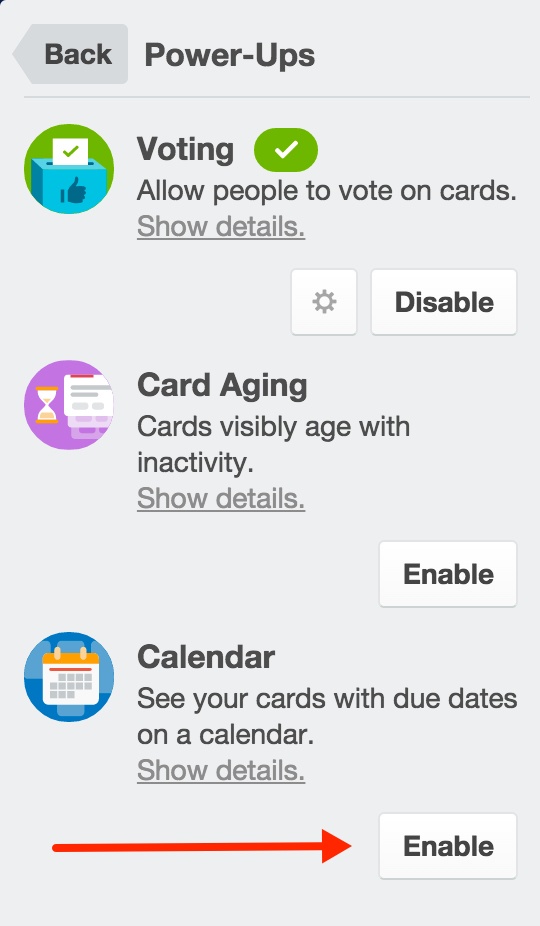 Image Credit: Trello
Once you've enabled the calendar, you can view it by clicking the "Calendar" link in the top right of your board.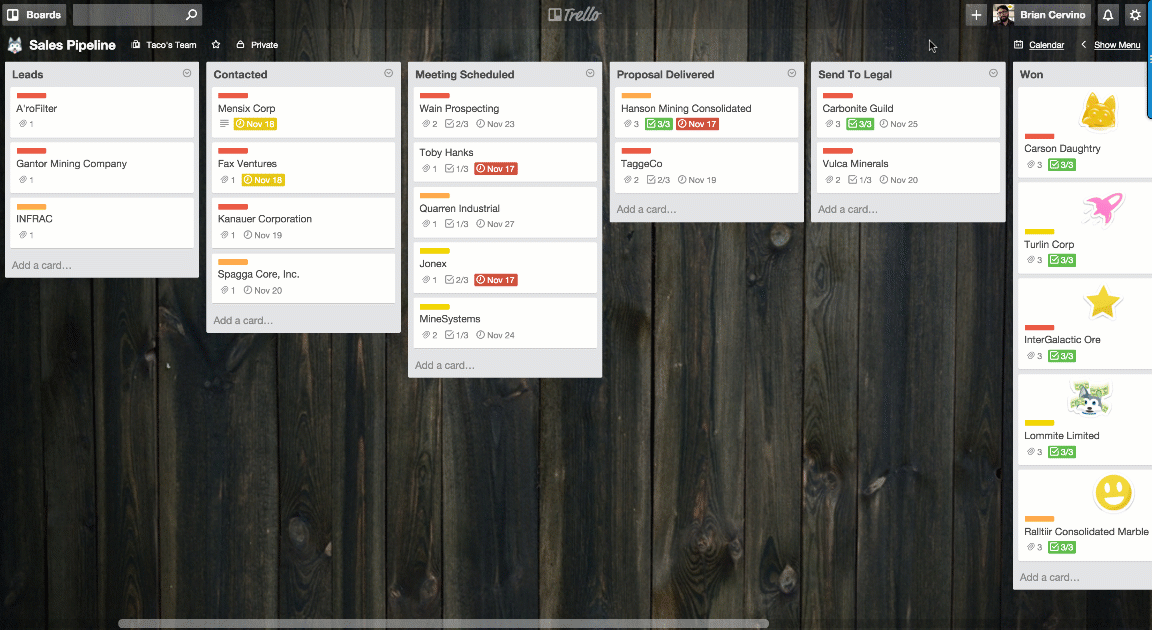 Image Credit: Trello
If you want to use an editorial calendar, but would rather not use Trello, download our free editorial calendar templates here.
6) Plan a Promotion or Launch
A lot of moving parts go into launching a new marketing campaign, and usually, a lot of people are involved — sometimes from different teams and even different time zones. If you're not totally organized for the launch, this means a lot of opportunities for things to slip through the cracks.
Trello is really good for keeping track of all those moving parts for a launch. When you create a new board for your promotional plan, you can create lists to categorize each part of the plan. Then, you can put cards under those lists and fill them in with things like blog posts, kickback emails, creating click-to-tweets, and so on.
You can label each of these cards "Pre-Launch," "Launch Day," or "Post-Launch," add members, set due dates, and use the notes within each card to give details, update members of your team, start discussions, and so on. It's a great way to keep track of what's going out when, and who's responsible for it.
7) Do User Research
If you've done user research before, you know that all those user interviews usually end up in a series of unorganized notes that are tedious to sift through, organize, and find patterns in later. One innovative way to organize these notes and find those patterns faster is by using Trello.
I can't take credit for this idea: I came across this post on Medium from David Ghent, a product designer at Pivotal Labs. Ghent uses Trello to synthesize user research and minimize the time spent organizing Post-It notes onto a board. If you use Trello cards instead of Post-It notes, he says, you'll come out with a digital version of your user research that'll make skimming, referencing, and sharing your learnings later much easier.
Here's what it looks like. (You can see the larger version by opening the full article.)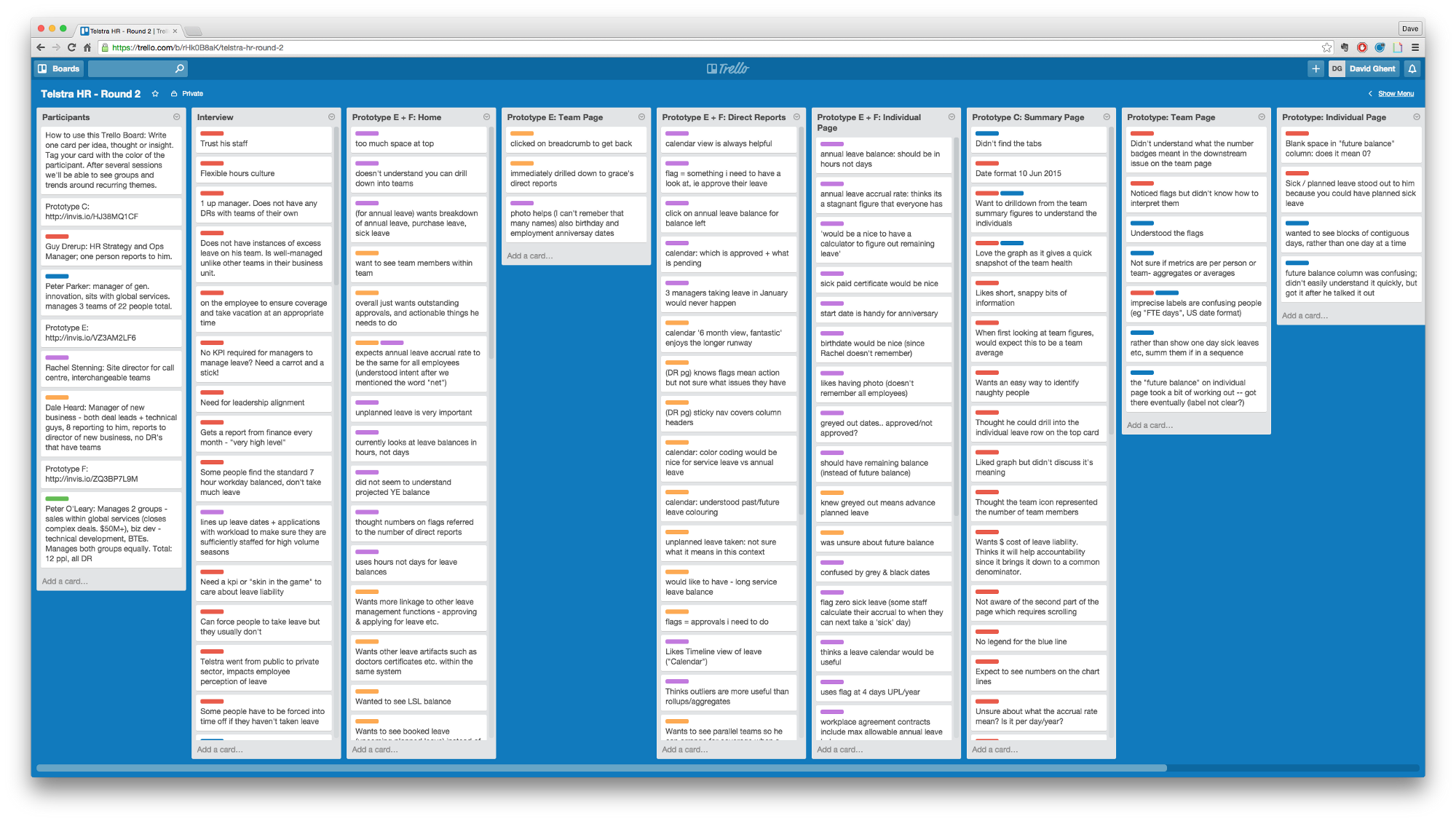 Image Credit: Product Labs on Medium
The process starts with setting up a Trello board before your very first user interview. The first column will be your list of users, and you'll attach a specific color to each user. That color will be used to mark their comments throughout the board.
Then, you'll label each column based on your area of focus. "If it's an interaction test, each new column title can be 'Page X,'" he writes. "If you're at more of a generative stage, then each column could be titled 'Stage X Behaviors,' and so on."
When you get into your interviews, you'll type notes directly into cards on the Trello board (under the right column if you can, although you can always do it later) — with the right color label added to show which user said it.
After each interview, you can sort your notes into the correct columns. As you do this with more and more interviews, you can start grouping commonalities by dragging the different cards into the same columns.
"You'll start to see stacks of cards with multiple color labels show up in the same spot. Viola! Patterns." You can read the whole article here.
8) Organize a Scrum or Sprint
If your team operates using the sprint or Scrum philosophy, Trello is a pretty decent free option to help you and your team move through tasks more quickly with greater agility. (Learn more about the Scrum philosophy here.)
The team over at internet marketing agency The Magistrate uses Trello to organize their Scrum workflow better and faster. To make Trello work for the Scrum, they create one board per client, which they share with that client.
Then, they use the same, general framework to start off each project. The framework consists of six columns: "Resources," "Sprint Planning," "Current Sprint," "Blocked," "QA," and "Done." Here's what it looks like:

What do each of these columns mean, exactly? Here's how they define it, according to their blog:
Resources: Assets that will be used in the execution of client deliverables/tasks. As well, we will store our recurring items in the resources list. Recurring items may be assigned a due date.
Sprint Planning: This is the column where we all begin planning for the next sprint* without interfering with current sprint activities. More detail can be gathered and applied and projects can be broken down into their final, pre-sprint format. Sprint planning items will be sorted in two ways: 1) From top to bottom, highest priority to lowest. 2) By color. Green = Approved, which means planned and ready for an upcoming sprint. I will explain Trello labels soon.
Current Sprint: The Current Sprint is the work that needs to be done right now, or by the end of the sprint, which for us runs 7 days from start to finish, Friday to Thursday.
Blocked: Some force (external usually) has made it impossible to continue with this task. We will move it into blocked, until the blockade has been lifted, or the next sprint.
QA: Quality assurance (sometimes called QC or Quality Check). Once the task has been completed, the card will be dragged from current sprint to QA. It will be reviewed, and dragged to done when confirmed indeed done.
Done: Done means delivered and working (bug free, ideally). If it were a car, it would be ready for driving. Be strict about this.
Here's a video to show you what it looks like in action:
They also share their Trello boards with their clients to hold themselves more accountable while encouraging transparency.
"Together, Trello and the Scrum framework help our internet marketing agency stay organized, and provide a level of transparency and accountability to our clients that I haven't seen anywhere," CEO Adam Steele told Trello.
How do you use Trello to organize yourself or your team? Share with us in the comments.