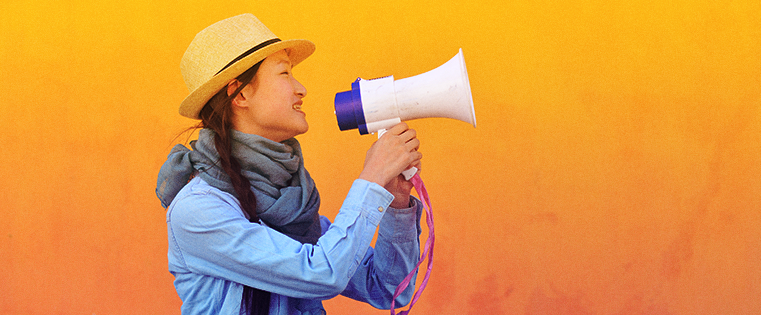 Content marketing presents two great challenges: Feeding the content beast and successfully using it to develop a trusting relationship with your prospects. Your students can help your inbound strategy meet both challenges.
In fact, your students are one of your school's greatest natural resources for inbound marketing content. They have a first-hand perspective. They know how to speak to your prospect authentically. They're social and they love to share.
They're probably ready to be some of your school's most effective ambassadors if you just ask. Why not ask them to write content for different marketing campaigns? Here are four ways you can invite your students to share their experiences with future students.
1) Social Media Warriors
Students can post content on their own profiles and accounts as part of an organized social media campaign. If you have some branded hashtags or priority hashtags you use to increase awareness, run a side campaign to let students know about them. Don't have any? Create some. Have some student advocates set off a to get one of your hashtags trending.
Having students advocate for your school via their own profiles can be especially helpful in accessing some of the social media chat apps popular with teens where your school may not have its own presence. They can also be resources on the booming niche of ask-and-answer social apps. Student social media activity on their own accounts also expands the reach of your school to prospective students who don't already have your school on their radar.
Students can also participate directly in your school's social media accounts. You can let students use one of your social media accounts to promote an event. They could, for instance, run a Q&A on Twitter or Facebook.
They're also perfect for running with "Day in the Life" campaigns. They can create Snapchat stories, Facebook albums, or completely take over your school's Instagram account for a day. Make it more fun and exciting — inject a sense of urgency with a competition among departments or student activity groups to see which one can get the most traction.
2) Emails
Your email nurturing campaigns are your workhorses, moving curious prospects into the applicant bucket. Have a campaign with emails signed by actual students. You can use an email alias so the email looks like it's being sent from students without exposing their email addresses to the world. Using an email alias keeps the email in your marketing system so you can track its metrics and see who's interacting with it.
Connect student-written emails to specific questions or actions by prospective students. How about a student-written email that gets sent out after someone schedules a campus tour online? Students can share their favorite not-to-be-missed places on campus. Or a student's email can tell a personal story, perhaps about their own decision process that lead them to enroll at your school. (That'll be great intel for you as well!).
In a previous post, you learned . With custom lists in place, you can create emails in which various students speak to their particular challenge or interest. Include a CTA where they can hear more from these students or others with similar interests and experiences.
And a link to a blog post perhaps…
3) Guest Blog Posts
You always need fresh, fantastic blog content, right? Pick some topics from your editorial calendar or from the concerns list for some of your student personas. Ask students who are actively involved in addressing those concerns, or majoring in subjects that relate to them to write articles for your blog. They'll always have something new to add to the topic, even if just it's an expression of their personal experience.
You can also ask student advocates for topic suggestions. They will probably know about hot topics that haven't bubbled up yet to you. Are students frustrated with their generation's reputation as bad future employees? Maybe they want to talk about a new food program they started to help working students with families.
Promote select student-written blog posts with an email sent to the relevant segment of your email list. Once you have a collection of student-written blog posts, curate them into "Student Voices" eBook or Flipboard.
Remember that sending too much email can be a problem too! You don't want to be viewed as intrusive or pushy. You want to be friendly and helpful. Be sure to time your emails with that in mind.
4) Rotating Content Forum
Create spaces on your website and newsletter for rotating content written by students. Make it a regular feature. Does your school have a website section covering research happening at your school? Carve out a section where a student who's participating in one of the research projects talks about his work on it, or his thoughts why this research is important.
On your campus life section, have a monthly spotlight on one of your school's student-run organizations. You know students are already posting social media content while attending school events. Reserve a section that shares screenshots of some of their best posts.
In time, readers will start to anticipate each new student contribution. Every update will be another opportunity to get some more social media and email content promotion out of it. And of course, these are prime content for repurposing as well.
Peers Trust Their Peers
Word of mouth marketing is a powerful tool. We know that people put a high degree of trust in online reviews. It only makes sense. People want to hear from people like themselves who've been there and done that.
But don't leave it to chance. Design a strategy for what sort of student-created content works in your current marketing framework and how you'll go about getting it.
From the perspective of a potential applicant, no one has more credibility on life at your school than your current students. Their voices drive prospects through the fast lane of relationship-building. So clear the way. Make it easy. Most of all — make it fun!