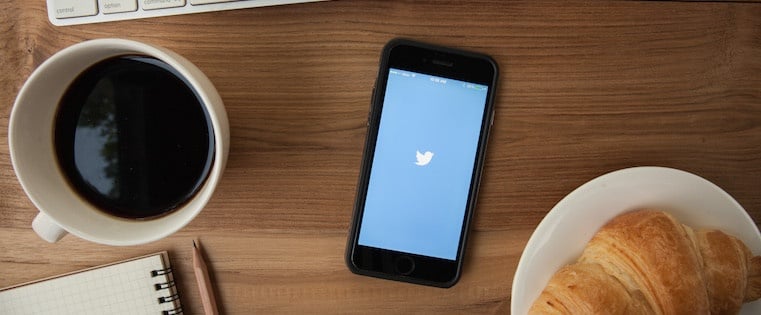 When it was first created, Twitter was designed mostly for individuals. It was a place for people to share succinct versions of their thoughts and ideas with the world.
As it grew in popularity, brands jumped on board and began using the platform to communicate with consumers. Over the past decade, it's become a go-to platform for engaging with fans and increasing brand exposure.
Brands that tweet out quality content tend to see a lot of success on Twitter. But what exactly does quality brand content on Twitter look like?
Below is a list of 10 brands — even those in seemingly "boring" industries — that are consistently tweeting out great content. (And to learn more about how to succeed on Twitter, download our introductory guide to Twitter for business.)
10 of the Best Brands on Twitter
1) JetBlue

When it comes to brands who "do it all" Twitter, JetBlue takes the cake. From their Twitter description (below) to their team of dedicated customer service professionals that answers every single question tweeted their way, the folks at JetBlue consistently go above and beyond to delight customers on Twitter.
I'll never forget what their Manager of Customer Commitment Laurie Meacham told me in an interview back in 2014:
We're all about people, and being on social media is just a natural extension of that. It's no different than any other part of the airline."
As a consumer, when you tweet at a company that has over 16,000 employees, you may not expect a response very quickly (if at all). But JetBlue is on another level — and they've done a fantastic job differentiating themselves on Twitter by finding clever ways to exceed our expectations.
Just take a look at their reply tweets to see what I mean — and read this blog post for a deeper dive into JetBlue's unique Twitter strategy.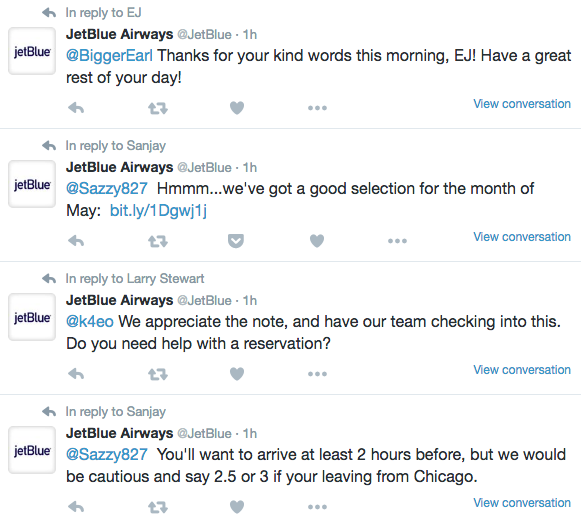 2) Innocent Drinks
We've long admired Innocent Drinks for their consistently lovable branding. While they may be a smoothie and juice brand, they stay far away from pushily promoting their products.
In fact, most of their social media posts aren't about smoothies or drinks at all. Instead, they use social media to foster their silly, fun, clever, and creative brand personality.
"We want to tell people about us in the most engaging way we can," said Community Manager Helena Langdon told Audiense in an interview. "It's our goal to make our pages a place on social media where people want to visit and enjoy seeing in their timelines, then people won't mind when we try to sell them drinks every now and again."
Today's forecast:
9am: blue skies, sunny, 7°C
2pm: black skies, hail then snow then light shower of frogs, -11°C
7pm: sunny again, 17°C

— innocent drinks (@innocent)
April 27, 2016
Here's another example:
We interrupt our relentless smoothie-based marketing messages to bring you this photo of a baby skunk. pic.twitter.com/n77B6PoDnk

— innocent drinks (@innocent)
February 19, 2015
It's this approach to Twitter that makes them stand out from the crowd — and it certainly works for their audience. Their head of digital and communities Joe McEwan says that people really connect with their brand because they talk like human beings, without jargon or "technical mumbo jumbo."
"It helped to set us apart," he said, "and it got people talking about us. It's completely ingrained in the company that we should look to talk to people wherever they might be."
3) Major League Baseball (MLB)
The MLB (Major League Baseball) is a complex system of teams, players, statistics, trades, and more. Instead of housing all these activities under a single Twitter handle, they've done a great job segmenting different parts of the game into different Twitter handles. (And they list all their affiliated Twitter handles in their cover photos — a very nice touch.)
Their @MLBStatOfTheDay handle, for example, is for the statistics nerds out there, pairing interesting statistics with relevant video clips.
.@RedSox averaged 10.4 runs/game during homestand – 3rd-best mark by any team on a homestand of 7+ games since 1900. pic.twitter.com/jV71yv4xaF

— MLB Stat of the Day (@MLBStatoftheDay)
May 16, 2016
Meanwhile, @MLBReplays tweets each challenge a coach makes against an umpire's call and its result. @MLBRosterMoves, sponsored by moving company Penske, sends a tweet every time a player is added or removed from a team's roster.
My favorite MLB Twitter account, though, is @MLBGIFs. The concept is brilliant in its simplicity: Each tweet features a GIF paired with a funny one-liner. These GIFs capture some of the cool, funny, and weird moments that take place during a baseball game — everything from diving catches to dancing fans to high-fiving players.
Here are two examples:
Just keep running … pic.twitter.com/vQdL8IZ1a3

— MLB GIFS (@MLBGIFs)
May 10, 2016
And:
When you close out the road trip on a high note. pic.twitter.com/OgPepYDqlZ

— MLB GIFS (@MLBGIFs)
May 16, 2016
GIFs are shareable, relatable, and delightful — and MLB really nailed it by creating a separate Twitter handle to embrace them. (Want to learn how to create your own animated GIFs in Photoshop? Read this blog post for a tutorial.)
4) DiGiorno Pizza

DiGiorno Pizza is one of the funniest (and definitely one of the strangest) brands to follow on Twitter. Their tweets are usually about pizza, but not in the uber-promotional way you'd expect.
For example, do you remember that time in 2013 when DiGiorno Pizza live-tweeted NBC's The Sound of Music and broke the internet? Here, let me jog your memory:
DOUGH a crust an unbaked crust
RAY, a guy that likes pizza
ME a pizza liked by a guy named ray
FAH no idea what fah is
SO so
LA a city
T tee

— DiGiorno Pizza (@DiGiornoPizza)
December 6, 2013
The entire thing was weird and hilarious. It was also a great example of a brand hopping on a popular hashtag (in this case, #TheSoundofMusicLive) to chime in on the already-popular conversation. In the two hours of live-tweeting, the company tweeted 38 times, garnered over 44 million social impressions for that week, and picked up over 4,000 new followers.
Most of their tweets are funny odes to pizza — and some of them still have that same crazy, erratic voice they used in the live-tweeting, which'll often leave you totally confused and laughing hysterically all at the same time.
???????
??????
?????
????
???
??
?

Art

— DiGiorno Pizza (@DiGiornoPizza)
April 7, 2016
Thank you autocorrect

❤=? pic.twitter.com/dqZoo1O0dG

— DiGiorno Pizza (@DiGiornoPizza)
May 17, 2016
5) General Electric
What General Electric sells (appliances, lighting, electronics, etc.) doesn't have nearly as broad of an appeal as pizza, but that doesn't mean their tweets have to be unappealing.
GE lives in the technology and innovation space — a space where far too many companies resort to using Twitter simply to promote themselves and their content.
That's where GE differentiates itself in the tech space on Twitter. They've found a perfect balance of thought leadership and authenticity. They use Twitter to teach their followers what they're doing; for example, they're fantastic at breaking down the complex concepts and terminology they work with into simple language.
Below, they showcased one of their sports research studies by handpicking one of the coolest, most accessible parts of their research and showcasing it in an engaging way:
As the tallest QB in the draft, Paxton Lynch's height gives him an incredible ? advantage on the field #DraftScience pic.twitter.com/mgianWA8vK

— General Electric (@generalelectric)
April 29, 2016
We also love that they don't take themselves too seriously on Twitter. Instead of marketing themselves as a big, inaccessible tech company, they're great at keeping their Twitter content human and relatable.
Yes, we are just looking for an excuse to build jet packs.https://t.co/cjmiX6xxwS

— General Electric (@generalelectric)
May 13, 2016
Reinforced carbon fiber joints make this umbrella stronger than your average GE engineer. pic.twitter.com/b4FUWNd3k2

— General Electric (@generalelectric)
May 13, 2016
6) Charmin
The social media marketers behind Charmin's Twitter account are masters of social engagement. First of all, their tweets always feature their fun, lighthearted, and toilet humor-centric brand voice. In 2014, TIME named them "the sassiest brand on Twitter."
In addition to tweeting out fun content, they're constantly using Twitter to ask their followers to answer questions, respond to folks who tweet at them, and jump in on trending hashtags — like the #DontWorryBoutAThingCuz hashtag below.
#DontWorryBoutAThingCuz we got your back-side.https://t.co/B8N8PfYDXk

— Charmin (@Charmin)
May 13, 2016
They've also created a number of successful hashtags that encourage their followers to engage with them on Twitter. Their most famous is #TweetFromTheSeat, in which followers can send tweets while sitting on the toilet. The hashtag earned them a Shorty Award in 2014 — and we love the description they included in their entry:
40% of young adults admit to using social media in the bathroom (and those are just the people who admit to it). At our core, Charmin is all about giving people a better bathroom experience and it is important to us that this translates to how we engage with consumers on Twitter. And of course, we love potty humor."
Another hashtag they use to engage with fans and followers is #CharminAsks. Here's a fun example:
#CharminAsks: Should you answer the phone while answering nature's call? pic.twitter.com/WgsYde3vx6

— Charmin (@Charmin)
April 21, 2016
7) Massachusetts Institute of Technology (MIT)
Like the MLB, the marketing team at MIT runs a number of different Twitter accounts. Their main @MIT feed is great — in fact, it was #1 on our list of the best universities on Twitter for delivering diverse content, from research studies to nerdy anecdotes, that is catered to their niche audience.
But their other accounts are great too. Specifically, they've created Twitter handles for each of their target personas: @FYEatMIT for first-year students, @MISTIatMIT for matching MIT undergraduates with internship, teaching, and research opportunities, @MITGradStudents for (you guessed it) graduate students, and more.
You're almost done and you're doing great #finalsweek #YouGotThis pic.twitter.com/yX2ABDUz5M

— First Year at MIT (@FYEatMIT)
May 19, 2016
Along with tweeting out helpful content, the Twitter descriptions they've written for each handle make it very clear what each Twitter account is all about. Here are three examples from the three handles I mentioned above (and here are 38 more examples of great Twitter bios for more inspiration).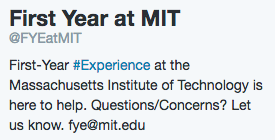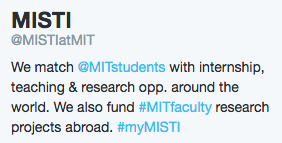 8) LinkedIn
While JetBlue uses their main @JetBlue Twitter account to handle customer service, LinkedIn actually uses a separate account called @LinkedInHelp. The folks at LinkedIn don't use this account in the traditional sense, and its goals certainly don't revolve around gaining new followers. Instead, the purpose of the account is to give LinkedIn users an easy way get their questions answered quickly through Twitter.
If you scroll through that account's main Twitter feed, you'll see it's basically all retweets of praise and thank-yous from delighted customers — which is great social proof for anyone who finds themself on the page and wondering whether they're actually responsive.
The LinkedIn Help page is controlled by an extremely responsive support and communications team, who is always offering help to those who seek it. Since the questions are being answered on Twitter, this can be a valuable resource for those to see answers to similar questions they may have.
LinkedIn isn't the only brand with dedicated customer service and support Twitter handles. Examples from other brands include @NikeSupport from Nike, @AskTarget from Target, and @HubSpotSupport from HubSpot.
9) Maersk Line
Think you can't have a cool Twitter account just because your industry is "boring"? When you see Maersk Line's Twitter page, you might change your mind. Let's be honest: Container shipping isn't the sexiest of industries. And yet, their social media team has found a way to find the beauty therein.
How? The tweets from Maersk Line are centered around their products at work. For the most part, this means gorgeous photos. It all starts with their beautiful cover photo, which plays with light and reflections at sunset. (Here are 20 more examples of great Twitter cover photos from brands for more inspiration.)
Most of their tweets include images as well — a great move for engagement, as Buffer reported that tweets with images received 150% more retweets than tweets without images for its user base.
Maersk Line is back in Liverpool after a 10-year hiatus! Read about the new SLX service: https://t.co/xMQXiJelSP pic.twitter.com/kHCVCxCzIh

— Maersk Line (@MaerskLine)
April 18, 2016
In addition to photos, they pair links to their own reports with graphics to make the less "sexy" tweets more engaging and more noticeable in the Twitter feed.
Global plans for your seafood business? Meet our reefer experts at Seafood Expo 2016: https://t.co/iz15mOqDYP pic.twitter.com/WtFCteulKu

— Maersk Line (@MaerskLine)
April 28, 2016
To easily make similar images for your own Twitter feed, download these 100 customizable social media image templates in PowerPoint.
10) Forrester
Forrester, a research company known for their innovative reports and analyses aimed at global business and technology leaders, is another company that makes an art out of cramming a lot of meaning into 140 characters.
How to let go of perfection:
1. Admit imperfection
2. Ruthlessly automate
3. Align teams
4. Measure, reflect & apply data #FORRDigital

— Forrester (@forrester)
May 11, 2016
Most of their tweets include cool information or statistics from their studies that are interesting to their target followers. They do a great job of tweeting out an interesting statistic or tidbit, including a relevant image that makes that piece of information stick out in the feed, and then link to the larger study. Folks scrolling through their feed who find that information interesting might be enticed to learn more by clicking the link.
Think about emotional qualities and their implications. –@anjalilai #FORRDigital #ForresterData pic.twitter.com/RzfjrsQpkJ

— Forrester (@forrester)
May 10, 2016
What are your favorite brands on Twitter? Share with us in the comments.