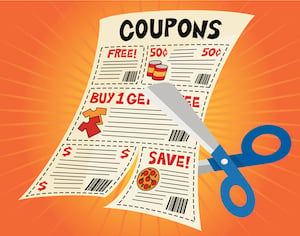 My gym is located next to a Walgreens and across the street from a CVS. When I need headache medication, more shampoo, or a pair of scissors, I always plan my trips to the pharmacy after a sweat session. Which pharmacy do you think I go to?
You might think that I'd go right next door, as Walgreens sometimes has lower prices and it's a more convenient location. But, every single time I need to buy something at a pharmacy, I wait patiently for the "walk" signal and cross the street to go to CVS. It's become a routine.
Why? Thanks to the CVS ExtraCare Rewards program, I might have a few 20% off coupons or "Extra Bucks" that get credited toward my total. These coupons make me feel good, like I'm saving money — and I've happily become loyal to CVS over the years because of them.
That being said, it's quite possible I'm not saving money at all. In fact, I might even be spending more — but, mostly because of the ExtraCare Rewards, I cross the street every time.
That's how powerful coupons can be for customer retention — just one of their many uses. They can also promote new products, help get feedback from your target market, and attract new customers. And online couponing is only going up — the use of online coupons has increased 13% since 2011.
To learn more about the data behind customer spending and the value of coupons in digital campaigns, check out this infographic from Creative Guerrilla Marketing.