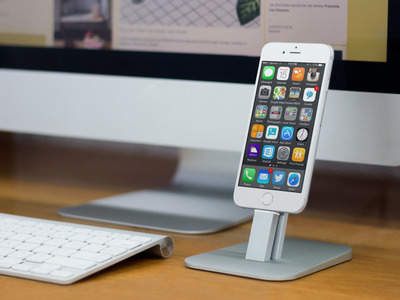 Want to track your packages with the swipe of your finger? Now you can. Need to split a complicated dinner bill? It's no longer the end-of-meal buzz kill.
It's been an exciting year for mobile apps. Not only have some of our favorite apps gone through redesigns and other changes, but a ton of new apps have been created to make our lives easier.
Here are some of my favorite apps that have made a difference in my life this past year whether through better organization, helpful tips, or teaching me something new.
1) Flight Tonight
Whether you need to fly home for a family emergency or you're just plain spontaneous, you've probably needed to book a last-minute flight at some point in your life. Flight Tonight allows you to type in an airport name and see all of the available upcoming flights to destinations all over the world. It's a way to quickly see and assess all your options in one place.
Here's what the it looks like once you've plugged in your home airport:
And here's what a list of available flights to different cities looks like:
(Download Flight Tonight for iOS.)
2) IFTTT
Ever wished you could tell your computer or mobile device to do something really, really specific? Like email you when there's a new file in your Dropbox, or text you the local weather forecast every morning at 6:00 a.m.
Good news, folks: You can do almost any command of this nature you can think of using an app called IFTTT, or "If This, Then That." In a nutshell, IFTTT lets you set up triggers for different events. For example, instead of spending all of your time manually going through the news or your social media accounts, you can get alerted by the things that are really important to you.
The crazy thing about this app is how easy it is to set up. The main screen walks you through the setup by letting you choose the first part of your "if" statement, and then allowing you to choose the "then" statement, aka what happens after a trigger is set off.
Here's the "if" statement:
And the "then" statement:
(Download IFTTT for iOS or download IFTTT for Android.)
3) Yahoo! Weather
There are dozens of weather apps out there; iPhones even have a default weather app. So why take the extra time to download Yahoo! Weather?
Yahoo! Weather is one of the most beautifully designed and easy-to-use apps I've ever, ever seen. It provides more information than your typical weather app, but understands the order in which the information will be the most valuable to the user.
The app shows off a gorgeous picture of the area (pulled in from Flickr) and displays hourly weather, the forecast for the week, a map, the chance of precipitation, wind and pressure rates, the sunrise and sunset times, and more. You can easily add more locations and then swipe from location to location. This is one of those apps that anyone can use without instruction.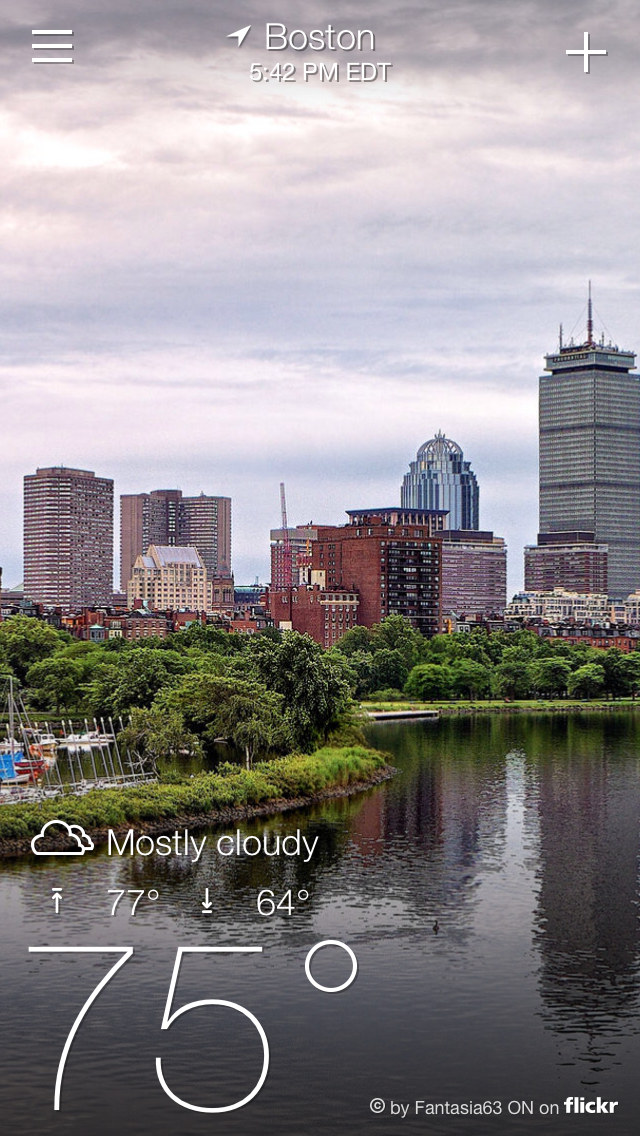 (Download Yahoo Weather for iOS or download Yahoo Weather for Android.)
4) Swarm
Anyone who knows me knows that I'm all about checking in to different places on my phone. When Foursquare split into Swarm & Foursquare back in May, I was pretty torn at first — until I realized that both of these apps significantly improved my experience of checking in (Swarm) and exploring new places (Foursquare).
Swarm allows you to connect with friends and family and check in to different locations. Whereas Foursquare focuses on checking in to certain locations more than any of your friends, Swarm focuses on checking in to similar places more than your friends. For example, I that my friends have checked into the gym more times than I have. It will do the same for restaurants and bars in general, instead of specific restaurants and bars. (Warning: May increase FOMO.)
Here, I'm adding a kind of status update and tagging my friends: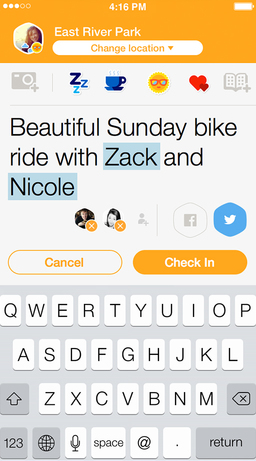 And here, I can see which of my friends are close by:
(
Download Swarm for iOS or
download Swarm for Android.)
5) Foursquare (newest version)
Foursquare is no longer used to check in and share your location with friends. The newest version of Foursquare is meant to help you explore new places in your current location.
Foursquare provides recommendations for new places to try out based on other people you follow or topics you have said you are interested in. For example, I specified that I like Thai food, so Foursquare always lets me know when there is a Thai food restaurant nearby.
And if you want to check in to one of the locations you have just learned about through Foursquare, it will bring you into Swarm, making the experience between the two apps seamless.
(Download Foursquare for iOS or download Foursquare for Android.)
6) Billr
We've all been there: You're enjoying a delicious meal with a great group of friends, and then suddenly, the bill arrives, the momentum of the conversation is crushed, and everyone scrambles to figure out how much everyone owes. Maybe you have an accountant friend who splits the bill for you, or maybe you have Billr.
Billr allows you to split a check for up to 16 people. Did five of your friends share an appetizer? No problem — you can easily split courses based on select people in your party. After you type in what everyone ate and drank, you can see what everyone owes both before and after tip and tax are included.
And, for that skeptical friend, you can text or email the split bill information to anyone when you are done. Dinner with large groups has never been more awesome.
Here's what the app looks like when you're assigning items to different people: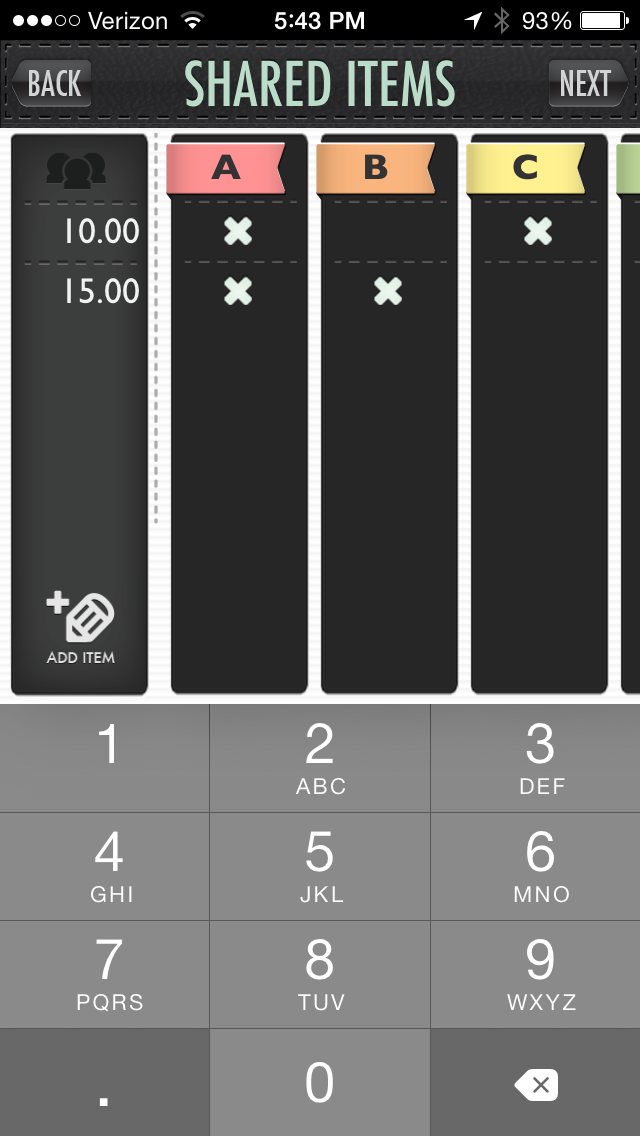 Your final result will look something like this:
7) Slice
Whenever I order something online, I obsess over the tracking number to see when I will receive the package. If you've ever ordered a new phone online, you know what I'm talking about. Slice makes this so much easier.
Slice will search through your emails for any order confirmations or tracking codes. It will then populate with information on when you should expect your packages, when they are out for delivery, and when they have been delivered. No need to type in long tracking numbers — all you have to do is connect your emails, and you're set.
Here's what your list of pending orders looks like:
And the details of an individual order:
(Download Slice for iOS or download Slice for Android.)
8) Tempo Smart Calendar
Yes, if you have a smartphone, it probably came with a default calendar app — but it's probably not that good. There are also some incredible calendar apps out there that let you do so much more than just view your events, and Tempo Smart Calendar is among the best.
Tempo pulls in information from your emails and connected social media accounts. If you have information about an upcoming flight, Tempo will pull that information right into your calendar to make it easy to access. Here's what a daily view of your calendar might look like:
By pulling in your social media information you can see how you are connected to people you may be meeting with. Simply click on the image next to a person's name who you may have an upcoming appointment with and view tweets from them, Facebook interactions, shared connections on LinkedIn, and more. This feature will save you the time it usually takes to get background on people you are meeting with.
(Download Tempo Smart Calendar for iOS.)
9) Sunrise
Sunrise is another calendar app with a beautiful design and is easy to use. From the main calendar view, you can see what all of your meetings are, whom they are with (with nice, handy headshots of the people you are meeting with), where the meeting is located, and even who has accepted the meeting. You can choose to look at your calendar as a list view or in a three-day view, similar to how Google Calendar appears.
Adding new events is easier than ever. To invite other people to your meeting, simply connect the contacts from your phone, and you will see a list of anyone else you can invite. Not only is it visually appearing to look at this app, but it's easy to organize your schedule and book meetings efficiently.
(Download Sunrise for iOS or download Sunrise for Android.)
10) Swype
Swype has been around for a while on Android devices, but it was finally released to eager iOS users in September 2014. This app is a replacement for your native keyboard.
The beauty of it is that you can write text messages or emails much quicker. Instead of typing on your smartphone's keyboard as you would on any other keyboard, you can drag your finger from key to key to form your words. Believe it or not, you can actually create your messages a lot faster than if you were typing individually.
(Download Swype for iOS or download Swype for Android.)
11) Snapguide
Snapguide is kind of like Pinterest, except it includes how-to steps with each item. Basically, it lets you explore anything you may want to learn how to do yourself. This could be a new recipe, decorations for your house, an arts and crafts project, or even new games and tricks.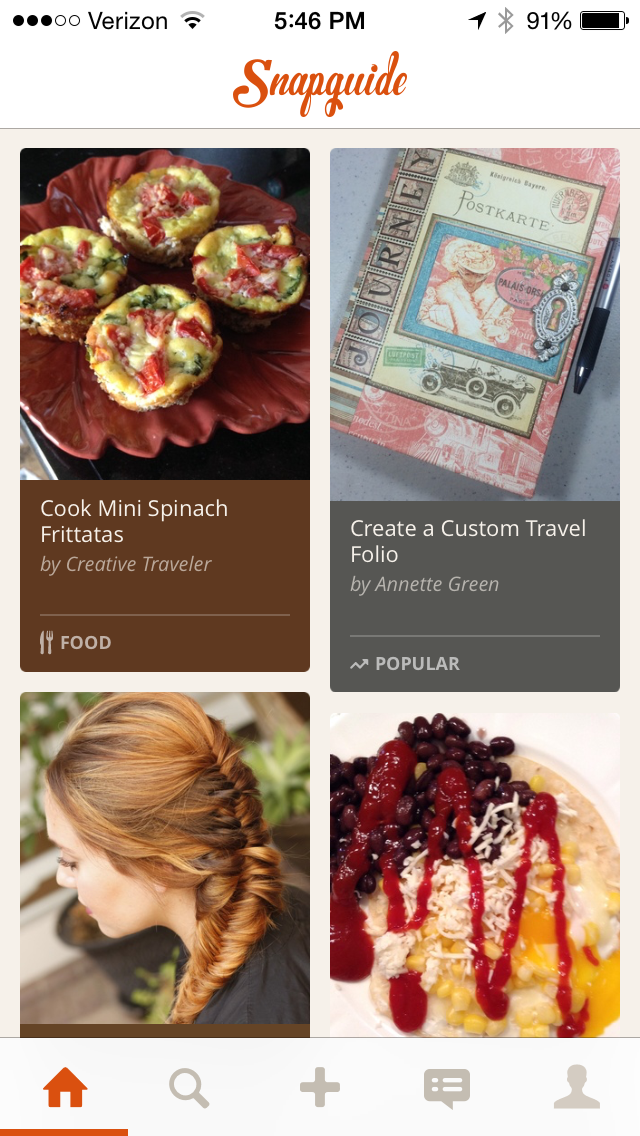 Once you click into a category, you are brought to how-to guides for that particular category. You can choose to learn anything you want, and are then brought through step-by-step instructions with large images on how to complete the project.
12) Splitwise
Do you share expenses with someone? Maybe a roommate, or a few friends you went away with for a weekend? It can be complicated to keep track of who paid for what and who owes whom. Enter Splitwise.
Splitwise lets you keep track of all of your expenses that you share with others. All you have to do is enter the name of your expense, the dollar amount, how much you paid versus your friends, and then categorize the expenses. Splitwise will automatically calculate who owes whom what.
Here's what your home page might look like: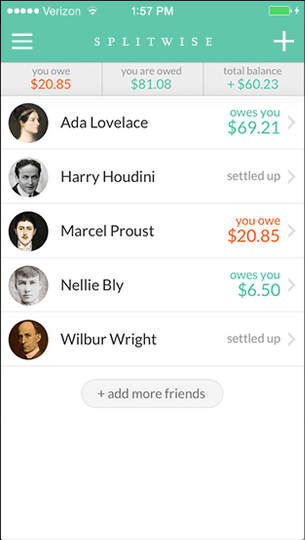 And here is a history or "feed" of what you and another individual have paid and owed each other:
(Download Splitwise for iOS or download Splitwise for Android.)
13) EasilyDo
Similar to Sunrise, EasilyDo is an app that organizes your calendar making it easier to book meetings, check your schedule, and even get directions to meetings in your calendar. One of the great things about this app is that it will alert you if you have duplicate contacts on your phone and help you de-dupe to ensure you have the most up-to-date information. It will even pull in information from your email about package deliveries and flight itinerary.
The best part about this app is how it intelligently pulls in important information from your inbox to make sure you are as organized as possible.
(Download EasilyDo for iOS or download EasilyDo for Android.)
14) AnyList
AnyList is the dream app for anyone who cooks a lot and likes to coordinate grocery lists with other people. You can share grocery lists with other people who are using the app to help communicate what you have picked up at the store for your household.
In the app, you can store your favorite recipes including a picture of the dish, ingredients you need to make the dish, and any notes you want to remember. But the best part is: You can quickly add the ingredients from any recipe to your grocery list with literally the tap of a button. So once you add a recipe into your app, adding the ingredients is easy peasy.
But wait … it gets better. (Can you tell I like this one?) Once you are on the main grocery list part of the app, AnyList will actually organize the items you need to purchase into categories based on where items are around the grocery store. The categories include bakery, beverages, dairy, deli, frozen foods, grains, pasta and sides, household and cleaning, produce, snacks, and more. This makes it easy for you to navigate the grocery store, check items off your list, and see in real-time what you versus your roommates are purchasing.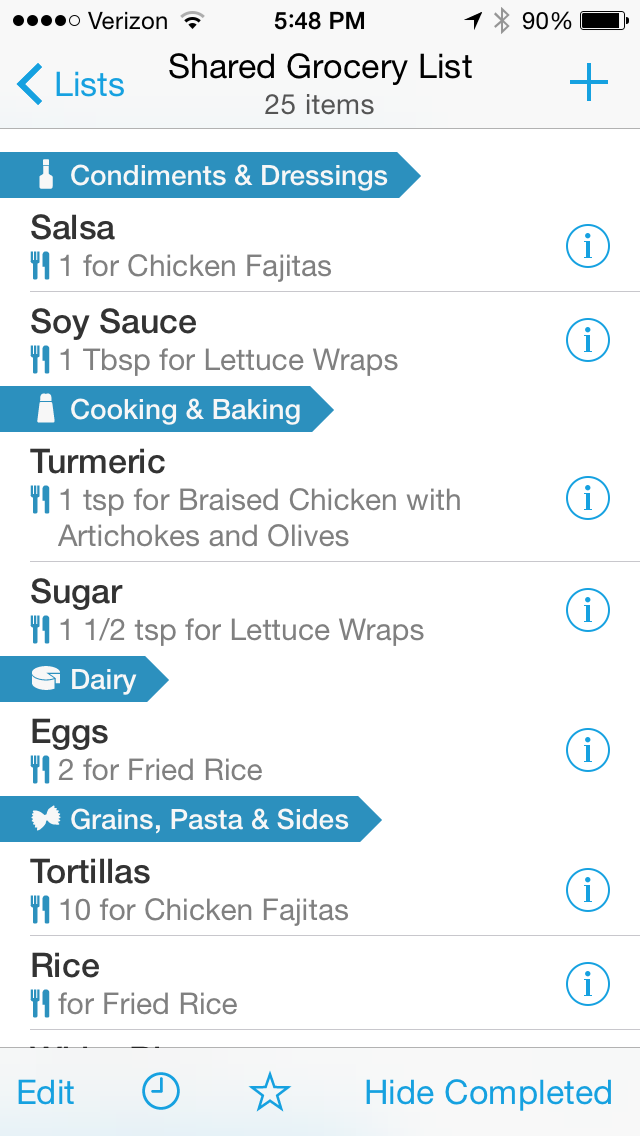 15) Venmo
One time, I was at a restaurant with a friend who had never heard of Venmo. When it came time to split the bill and she had no cash, she said, "I wish there was a way to text people money!" Well, that's in essence what Venmo does.
Venmo allows you to transfer money to friends quickly, easily, and securely. Simply connect your bank account to the app or transfer money into a Venmo account, and you will be able to send money back and forth with your friends with only a few clicks.
You may be thinking: Doesn't PayPal do that? Yes, you're right — there are definitely other similar apps out there, but Venmo's popularity has grown because of how easy it is to use and how easy it is to keep track of your expenses on the main screen.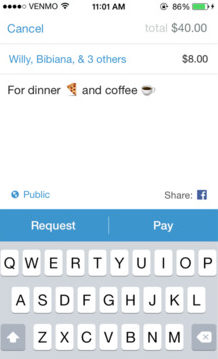 (Download Venmo for iOS or download Venmo for Android.)
P.S. Try out the HubSpot app on any Apple device or Android device to stay up to date with everything going on in your HubSpot account from your social media accounts to an analytics dashboard to everything you need to know about your contacts and leads.