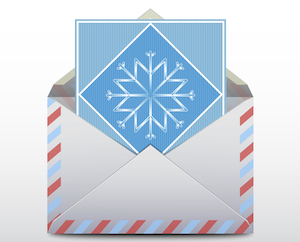 It seems like we only just unpacked our fall sweaters, but believe it or not, it's time for marketers like us to think jingle bells, not jack-o'-lanterns. While consumers are prepping their candy bowls for trick-or-treaters, we should be pouring ourselves a hearty glass of eggnog and planning out our holiday email campaigns.
Email continues to be one of the most important communication channels in 2014, but competition for your readers' attention is getting tighter every year, especially during the holiday season. In fact, email volume was 13% higher during the 2013 holiday season compared to the 2012 holiday season.
Allow plenty of time for brainstorming, strategizing, and goal-setting now to be ready for the Black Friday and Cyber Monday rush. Here are some tips to get you started.
Getting Into the Holiday Spirit
Personalize your email messaging.
Your customers aren't all the same. Try segmenting emails by user engagement or behavior to create a truly customized experience. Not only will this make your customers feel like you understand their likes and preferences, but it will also elevate their brand affinity, increasing the likelihood of turning them into loyal, repeat customers.
Pair coupons with welcome emails.
Adding new names to your database? Give your new customers a little gift with your welcome email. After all, welcome email campaigns with coupons have 2.5x higher transaction rates than those without.
Send coupons to current customers.
Your customers want to hear from you about exclusive deals and other ways they can save money while spending money with you. In a 2013 survey by Wanderful Media, 82% of Black Friday shoppers wanted to receive email updates about Black Friday sales.
Send your email subscribers coupons and deals — even small ones. Check out the results of my own company's research in the table below — we found that coupons offering $10 off or 20% off to cause a higher clickthrough rate than other promotional mailings. So before cutting into your product margins or service costs, consider smaller coupons and discounts.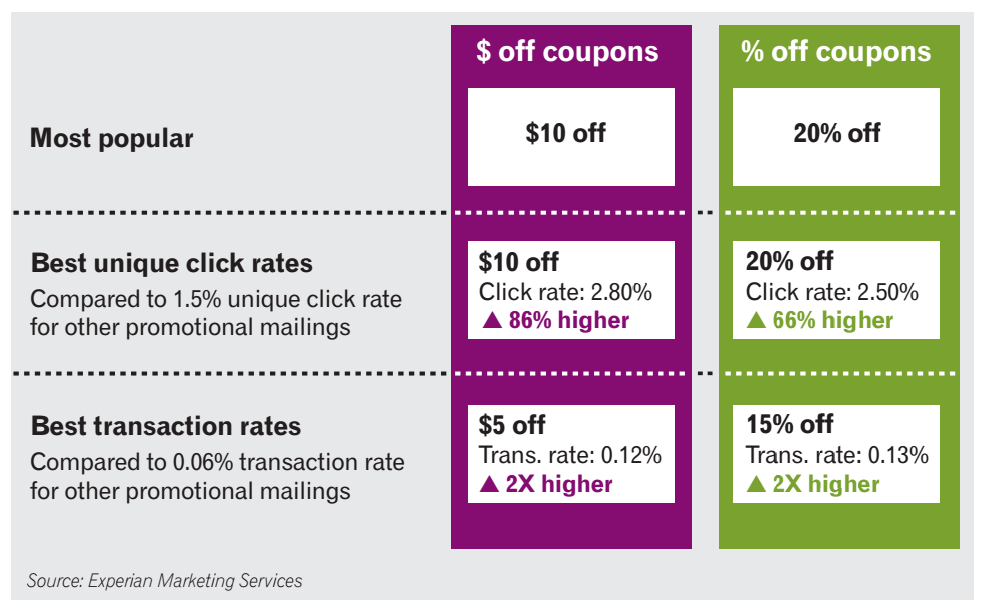 Consider weekend emails.
During Q4 of 2013, emails sent on Saturdays and Sundays boasted some of the highest open and clickthrough rates. Similarly, emails sent later at night tended to be most engaging.
Try A/B testing different days and times to determine what works best for your audience. (Learn how to A/B test your emails here.)
Give your customers the gift of valuable, seasonal content.
Stay top-of-mind during the busy holiday season by providing useful, relevant content targeted to your audience. Consider incorporating holiday themes into your messaging for increased engagement — kind of like we did with this post.
Make Your List, Check It Twice
Your email campaign can only be effective if your messages are hitting inboxes — and did you know that approximately 2% of email addresses are abandoned, blocked, or changed each month? Compounding these invalid emails month-over-month can become a huge problem when you're gearing up for your holiday campaigns. To rise above the problem of email address decay, try these tips:
Don't buy lists.
With increased pressure to perform, you might want to try to dramatically increase the size of your database to communicate with as many customers and prospects as possible. While purchasing a list may seem tempting, they are typically of unreliable quality. Stick to email addressed you collect through permission-based, opt-in methods for your holiday campaigns.
Watch your reputation.
Increased volume of emails being sent around the holidays can lead to sender reputation vulnerability. Like your personal credit score impacts your ability to take out loans, your sender reputation with a given Internet Service Provider (ISP) can affect your ability to reach a subscriber's inbox. Confirming that the addresses in your list are valid before sending a large holiday campaign will help combat these common email challenges that are magnified during this time of year.
Manage bounces.
While managing sender reputation is an ongoing effort even beyond the holidays, a quick fix at this time of year is to eliminate hard bounces. Remove any hard bounces from your database immediately to avoid negatively impacting your sender reputation.
Deck the Halls With Data
The only way to improve your marketing efforts — including around the holidays — is to track and assess your performance. By leveraging data that is available to you through things like marketing automation software, you can decide what's working and what's not.
Some important metrics that you should track for your holiday campaigns include:
Unique open rates
Unique clickthrough rates
Transaction rates
Revenue per email
Average order values
While this data should be tracked year round, it is especially critical for holiday forecasting as you tweak and develop your holiday campaigns each year. Monitoring these metrics will help give insight into what's working, and give an indication of what needs to be changed for next year.
What does your company do to prepare for the holiday email rush? Share with us in the comments below!