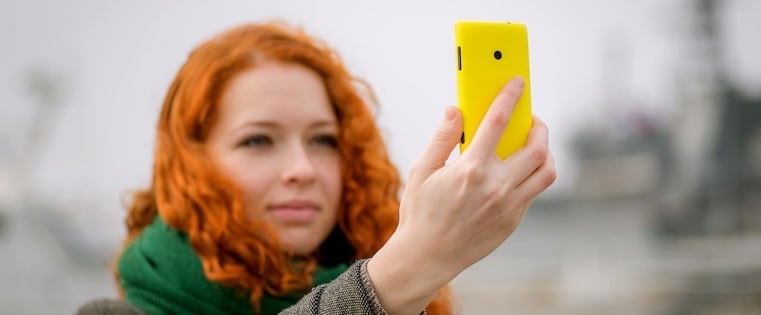 Back in 2011, Snapchat was synonymous with risqué teen behavior. News coverage repeatedly warned parents of the damaging effects the platform might have, and as a result, the success trajectory wasn't looking good.
Since then, Snapchat has evolved into something so much more. And while it's certainly not the cornerstone of every marketing strategy just yet, the channel has earned a reputation for fast growth and innovation.
Snapchat is now known as a platform for individuals and brands — one that allows users to create quick, lighthearted, and even educational video content without using valuable production resources. For brands, this means a new opportunity to show off their culture, share knowledge, and connect with their audience in a new and exciting way.
After reporting more than 100 million daily active users, and over 8 billion video views a day, we decided to give it a go: The official HubSpot Snapchat account launched in March 2016. And while we're still getting our feet wet, we've already learned a lot about executing and iterating a successful Snapchat business strategy.
To help you get started, we've detailed everything we've learned (so far) below. We'll start by going over the basics — how to set up an account, create a Snap, leverage effects, etc. — and jump into some tips after that.
How to Setup Your Snapchat Account
The first thing you'll need to do is download the app — available for iOS and Android — and create an account by entering your email, a username, and a password.
When creating a username, keep in mind that you've only got one shot: Snapchat does not allow you to change your username once you set it.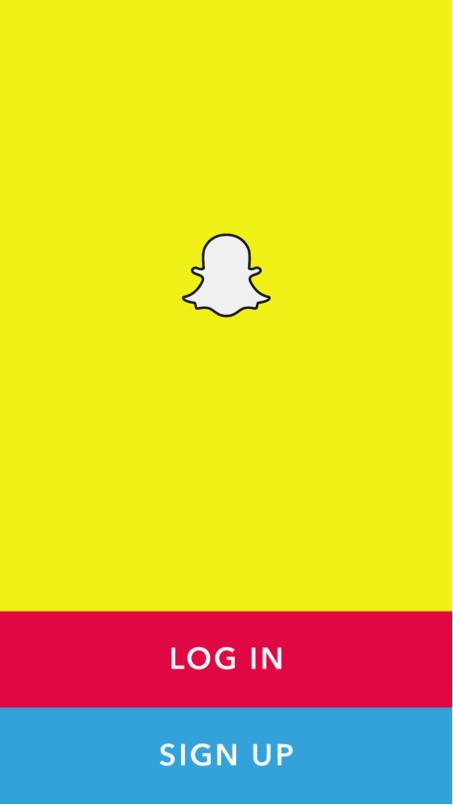 ↓
Once your account is created, you'll want to take care of a few housekeeping things:
Set up a profile picture. Tap the at the top of the camera screen, then tap your Snapcode to open the camera. Point and shoot!
Adjust your privacy settings. Tap the at the top of the

camera

screen, then tap the 'Settings' icon in the top right-hand corner. Under the 'Who Can…' section, adjust your preferences accordingly.
Add Friends. Tap the at the top of the

camera

screen, then tap the 'Add Friends' option. From here you'll have the option to add friends by username, address book, Snapcode, or location.
Snaps vs. Stories: What's the Difference?
Snap
A direct message from one account to one (or several) other accounts. These messages disappear immediately after viewing, and can contain photos, videos, or images uploaded from your phone.
How to Create and Send Snaps
To send a photo Snap, open up the camera screen and tap

or the anywhere on the screen to capture the photo. To send a video Snap, hold

.
If you want to experiment with Snapchat Lenses — animations that can be overlaid on top of your selfie — simply press and hold your face until the Lens option appears below. You can then swipe left to browse through the options, like the one below.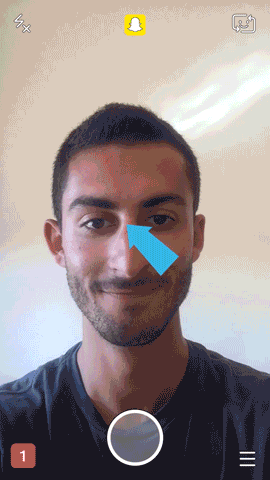 Image Credit: Snapchat
(Note: Snapchat also offers Sponsored Lenses — like the Gatorade one featured in #4 on this list — but it'll cost you. According to Financial Times, a Sponsored Lens could cost up to $750K in certain situations.)
Once you've got a photo or video, you have a few options before you hit send: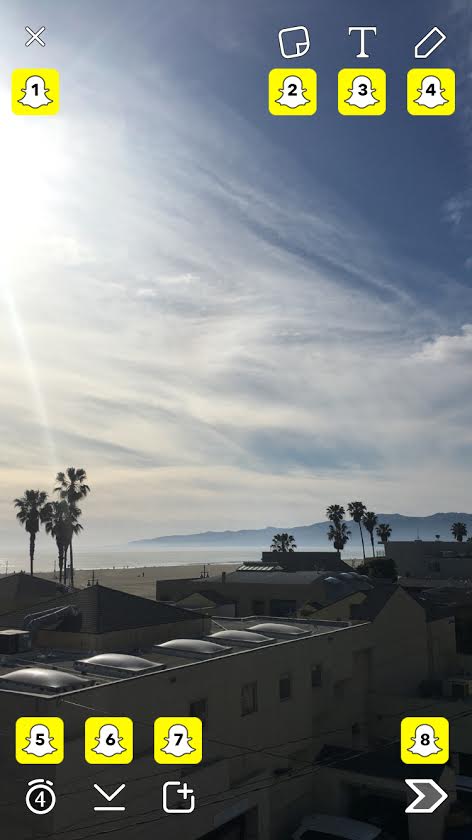 Image Credit: Snapchat
1) Discard your Snap.
2) Add emojis.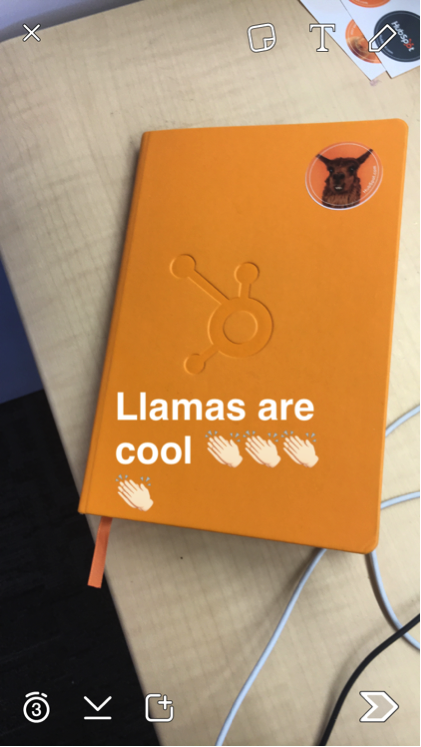 3) Add a caption.

4) Doodle!

5) Set a timeframe for your Snap.
6) Save your photo to your Camera Roll.
7) Add a Snap to your Story.
8) Select recipients and share your Snap.
Want to add filters, the time, the weather, or your current speed to a Snap? Swipe left or right on the preview screen to browse your options. You'll also notice something called Geofilters appear as you swipe through. On-Demand Geofilters are available to businesses and individuals for purchase.
These special filters can be use for an event, business, or specific location — brand logos and trade-marks are permitted.
How to View a Snap
To view a Snap that has been sent to you, swipe right on your camera screen and tap once on the Snap. If you have several Snaps from the same friend, they'll play like a flipbook.
Helpful tips:
To skip a Snap, tap the screen once.
To exit, swipe down.
Story
This is a photo or video that is viewable to all of your friends for 24 hours. You can create multiple photos/videos shown in succession to create a longer story. Most brands utilize this feature, as it allows you to reach a larger audience.
How to Create a Snapchat Story
To create a Story on Snapchat, follow the process for creating a Snap above. When you're ready to send it, tap

and select 'My Story.'
How to View a Snapchat Story
To view a user's story, swipe left on your camera screen and scroll down to 'Recent Updates.' Tap a user's name once to open their story. (To view your own Story, tap 'My Story.')
Stories are available for 24 hours (unless they are deleted). During that 24-hour period, you can watch the Story as many times as you want.
Helpful tips:
To skip to the next Snap in a Story, tap the screen once.
To skip to the next Story, swipe left.
To exit, swipe down.
To save a Story, follow the instructions here.
How to Use Snapchat for Business: 6 Tips From HubSpot's Snapchat Playbook
1) First, create a personal Snapchat account.
Before you begin Snapchatting on behalf of your brand, you may want to create a personal account to mess around with. Follow accounts your audience might follow. Add your friends and family. Just start using it. While this isn't a formal prerequisite, it can help you understand the intricacies and nuances of how real people use the platform — which will ultimately help you make better decisions and create better content.
At HubSpot, we've found the best performing content looks and feels like the native content being created by the average Snapchat user. So use your personal account to play around with the front facing camera, explore different filter options, and dress up your Snaps with doodles and emojis. The more Snaps you send and engage with, the better your understanding of how the platform works will be.
2) Create a plan for measurement.
Here's the truth: Talk to any social media manager and they'll tell you Snapchat analytics are a pain in the rear. At the end of the day, you're limited to views (

), screenshots (
), and replies. That's it.
You can't even get a total follower count: Snapchat replaces what would be your follower count with a score that reflects the sum of the messages you send and receive.
All this aside, you can use context to put things into perspective. Here are a few tips we've picked up along the way to help us better understand our Snapchat performance:
Looking at your retention rate (what percentage of people watch each frame of your story) will allow you to compare stories to each other. Which are performing better? We've learned there's a sweet spot around 90 seconds — any longer than that, and people start to lose steam.
Looking at the percentage of people that dropped off after the second Snap will help you gauge general interest. If 30% of our audience dropped off after the second Snap, we probably missed the mark.
Reviewing qualitative feedback can help you better understand your success. If people are sending you chats telling you they love your latest post, you're probably on the right track.
Another tricky part about Snapchat analytics? In order to accurately collect numbers, you need to log in and write them down or screenshot them exactly 24 hours after you took the first Snap. Otherwise, they disappear forever. (We learned this the hard way. A few times.) You can find your views & engagements on the "Stories" screen.
At HubSpot, we record the following information on each Story:
Story Title: What are you calling this Story?
Number of Snaps: How many individual Snaps are in your Story?
Length of Story: How long is your Story from start to finish?
Views on first Snap
Views on last Snap
Retention rate: What percentage of people who start your Story view through the end?
Engagements: How many people screenshot a Snap and send a direct message in reply?
3) Source content and ideas from your team.
Finding the time to come up with creative, engaging content ideas for Snapchat can be a big challenge — especially if you're the only person on the job.
To combat this, we turned to our collective team to gain perspective and source ideas. This is an especially interesting tip if you work at a company with global offices, as it can help you piece together interesting stories from all over the world.
Here's how we approached this outreach:
First, we sent out a company-wide email asking for anyone who wanted to be featured on Snapchat. This gave us a massive list of people who were interested in being on camera or creating Stories themselves.
We then created an internal Slack channel for all those who were interested. We used this platform to ask for volunteers for specific shoots and to source general ideas.
If you're struggling to gain internal support, you might want to consider explaining how certain teams could benefit from getting involved with the company Snapchat account. For example, our social media team is working closely with the culture team to highlight our company culture. By creating stories that showcase what life is like at HubSpot, they can get the word out about our culture, while also helping us lighten our daily content load.
4) Focus on variety.
If you want to maintain an engaged audience, it's important that you commit to consistently posting great Snapchat content. What makes a Snap or Story great? For starters: Variety. Snapchat users like to consume stories and information in different formats, and the app provides a lot of room for creative application.
For example, here are a few ideas and formats we're currently testing:
Video vs. stills

Graphics/drawing/emojis

Selfie cam style video vs. point and shoot

Sound vs. no sound
By testing different types of content, we can start setting up some best practices that we can share across the company. Here are some early findings:
Short videos rule. Our highest performing videos are all under 60 seconds long.
Pay attention to timing. Things like newsjacks or live coverage of major company events tends to perform well.
Cast a wider net. We've incorporated content from our Sydney and Dublin offices, which helps us build out a global perspective. This initiative has been really well received by our Snapchat audience.
Looking for inspiration? Check out what 10 of the best brands on Snapchat are doing to engage their audience.
5) Look for creative ways to build your audience.
On most social networks, it's easy to browse around and find stuff that might be interesting to you. For example, on Instagram you might search for a particular hashtag or look for photos tagged with a specific location. Snapchat, however, does not make "discoverability" easy. And as a result, building an audience requires you to get a little creative.
When we launched HubSpot's Snapchat account, we leveraged other company channels — blog posts, social media, etc. — to attract followers. As a result, we got some momentum going. Trouble is, keeping that growth moving has proved to be a challenge.
To avoid stalling out once the initial excitement has faded, we recommend developing a long-term promotional plan to keep your audience up-to-date on what's to come.
Some more tips for increasing your reach:
Leverage partners or influencers. Invite others to be featured on your account, and ask them to spread the word to their network.
Newsjack. We've done a few "HubSpot Hot Takes," which is essentially our version of a quick reaction to industry news. This has gotten our account mentioned by people on other social platforms, which helps spread the word.
Join the conversation. Find an opportunity to get involved in a relevant event and leverage that audience. We recently did a takeover from Social Media Marketing World, highlighting some speakers, sessions, and key learnings from the conference. We posted about the takeover using the #SMMW16 hashtag and saw a noticeable spike in followers that day.
6) Don't get too caught up with perfection.
This one is hard for many content creators to stomach: We like to edit, adjust, tweak until the last second. But if you're doing Snapchat right, it's not gonna be perfect.
Stories should feel quick, off the cuff, and not overly produced. In fact, one of our highest performing stories was just a quick video of me sitting in a chair reacting to a Facebook platform announcement in real time. I saw the press release, ran to an empty room, and fired off a few quick snaps explaining the change. That's it.
Keep in mind that the photos won't be professional-grade … and they don't have to be. Your focus should be on finding a way to create authentic, compelling moments and stories, so try not to overthink it.
Have you seen success on Snapchat? What does your strategy look like? Share your experiences below.