On Tuesday, Instagram introduced Instagram Stories, a new feature with remarkable similarities to Snapchat.
Stories provides Instagram users with a place to share posts at a higher frequency. While Instagram photos are typically reserved for perfectly composed shots, Stories allows you to share the little moments that may not be as picture-perfect.
Instagram is positioning this feature as a solution to overposting. Stories live in a separate space, and you can post as frequently as you want without worrying about over saturating your friends' feeds or filling the grid on your profile page.
So how do you build a Story? And what does this mean for your strategy? Don't worry. We've got you covered.
How to
Use

Instagram Stories

Ready to get started? We'll walk you through the basic steps for building your first Instagram Story, and fill you in on some cool features along the way.
1) Tap the plus sign in the upper left corner of your screen to get started.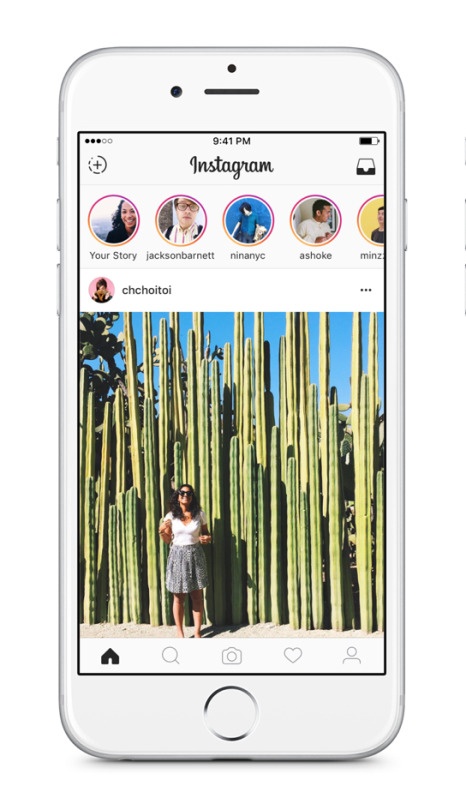 Image Credit: Instagram
2) Take your photo by tapping the round button, or take a video by pressing down for up to 10 seconds.
The thunderbolt icon turns on the flash, and the two arrows allow you to switch between the front and forward facing cameras.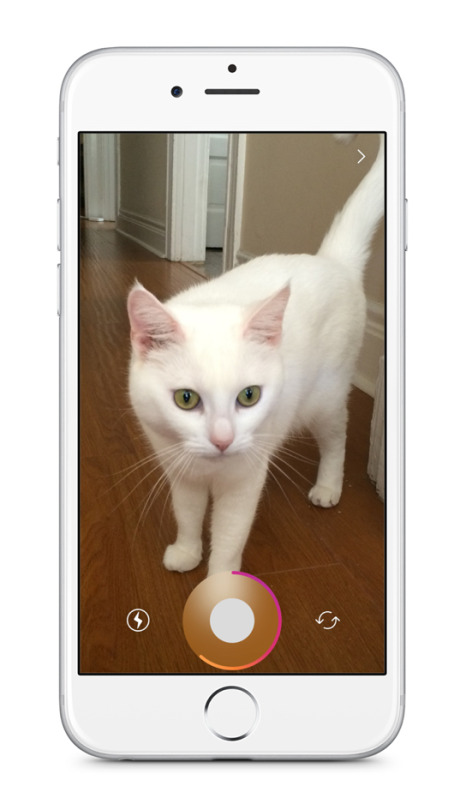 Image Credit: Instagram
Want to upload something from your camera roll? You can. Simply swipe down to chose your photo or video. This includes Boomerangs and Hyperlapses.
3) Select one of the three pen type options to doodle on your photo, add an emoji using your keyboard, or swipe right to select a simple color filter.
Image Credit: Instagram
Pro Tip: While it may seem like it at first glance, you're not limited to the colors that appear at the bottom of the screen. To open up more advanced color options simply press and hold one of the colors to pull up this screen:
4) When you're done, tap the checkmark icon to share.
Your Story will appear here, at the top of your friends' feeds. It'll also be visible on your profile page by tapping your profile picture.
Image Credit: Instagram
Once your Story is live, you can save your masterpiece by opening it and tapping the three dots on the bottom right, then selecting "Save Photo."
6) Check out who saw your Story by swiping up when viewing the photo or video.
Realized someone's seeing those photos who shouldn't be? Tap the "X" next to their name to block them from seeing anything you add to your Story.
Image Credit: Instagram
Want to keep your stuff private? You can adjust your privacy settings by going to your profile and selecting the "Settings" icon in the upper right. From there, you can chose to hide your Story from certain users, and restrict who can reply to your messages.
Wait, Isn't That the Same Thing as Snapchat?
One only needs to look as far as the name to realize Stories is a Snapchat competitor. Similarities include photo/video functionality, a 24-hour window before the content disappears, basic filters, and the doodle tool.
However, there are a few advantages Snapchat has right out of the gate. For one, Instagram Stories is lacking Snapchat's new "memories" feature, and there's no screenshot notification. Not to mention, there are no stickers in Stories, and the filters leave something to be desired. And facial recognition — one of the most addictive Snapchat features — is noticeably absent. (If you can't turn yourself into a bee, why bother?)
However, Instagram Stories does have one big advantage over Snapchat: As part of the larger Facebook/Instagram umbrella, they have less of a hurdle to jump in regards to adoption. Snapchat's 150 million daily active users look like chump change compared to Instagram's 300 million. Snapchat has much more ground to cover, while Instagram already has a captive audience.
What Marketers Need to Know About Instagram Stories
If you have an active audience base on Instagram, you should jump on Stories quickly. You have the opportunity to create ephemeral, lighthearted, Snapchat-like content without the challenge of building up a Snapchat audience or launching a new channel.
In addition to the built-in audience, you also have the opportunity for increased discoverability. The content you produce on Snapchat needs to be promoted regularly across other channels or else no one will see it. On Instagram, there are hashtags, geotags, and the Discover section to increase your chances of being found. Snapchat content can disappear into the void unless someone knows exactly what to look for.
If you've wanted to experiment with Snapchat-style content without making the leap, this is your chance.
But will it stick?
It's worth noting that Stories is the complete opposite of Instagram's current value proposition. Each social network has its differentiating factor, and Instagram has always been a place to showcase the most beautiful, curated version of your life. Stories is at the other end of that spectrum: ephemeral, unpolished, and silly.
And the way we see it, Stories is part of a larger shift we're seeing towards ephemeral content — a format that Snapchat has seen a ton of success with thus far. Now, rather than painstakingly adjusting the colors and shadow on each picture, Instagram users have the opportunity to embrace and create content that's transient. As a result, the stakes aren't as high — especially considering Stories can't even be "Liked."
Between the lack of public feedback and the time limitations, Instagram Stories take the pressure out of sharing content on the platform. So regardless of which platform ends up leading the pack, the popularity of ephemeral content won't be slowing down anytime soon.
So can these two conflicting ideals live in harmony within one platform? And if so, will users adopt Stories and abandon Snapchat?
Chances of Stories catching on is much higher because it's housed within the Instagram platform, and not the Facebook platform. The demographic overlap between Snapchat and Instagram makes it much more likely users will simply migrate their goofy stories to the other platform. But only if Instagram gets on the facial recognition game, and quickly. Millennials love that puppy filter.
Are you experimenting with Instagram Stories? What do you like? What don't you like? Share your thoughts in the comments below.