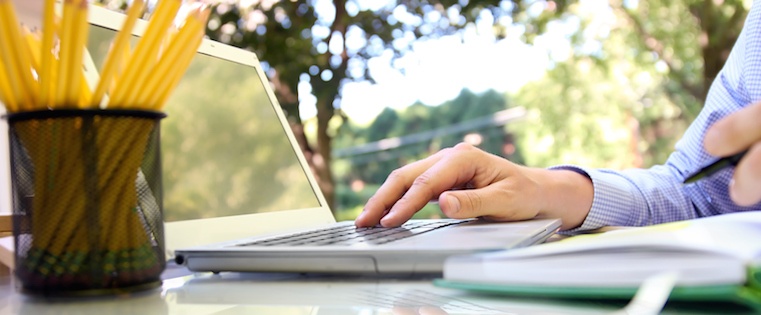 The holy grail of content marketing and SEO is to be ranked in the top 10 on Google for a high volume search term.
If you accomplish that, your site will enjoy long-lasting, inexpensive organic traffic — which is an absolutely wonderful thing. That said, SEO is very much a rich get richer game.
So what happens if you are the poor in this scenario? How can you break into the top 10?
Unfortunately, great content isn't always enough. In most cases, you need links from authoritative sites pointing to your content. But how can you build these initial links to help boost your content into the top 10 if no one knows who you are?
Over the past several months, I've been experimenting with building links from educational (.edu) resources. Using this approach, I've been able to push my blog into the top 10 on Google for several competitive and high volume search terms.
Want to know exactly how I did this? Keep reading.
The EDU Resource Link-Building Framework
In July of 2015, my company started prioritizing content marketing and blogging.
Through the first five months, we blogged a lot, but we were really only targeting low-competition, long-tail keywords with very little search volume. Not too surprisingly, despite our aggressive blogging, we were getting very few visitors from organic search.
In January 2016, we published a post: "100+ Job Boards For Job Seekers and Recruiters." With this post, we tried something new: We targeted the keyword "job boards" — which gets 10,000 searches a month and has high-authority sites like ZipRecruiter, Indeed, and Monster ranking in the top positions.
Despite the competition, after applying the EDU resource link-building framework, over the next several months the number of referring domains and backlinks shot up.

Because of this, we moved into the top 10 results for the search terms "job boards," "top job boards," and "best job boards."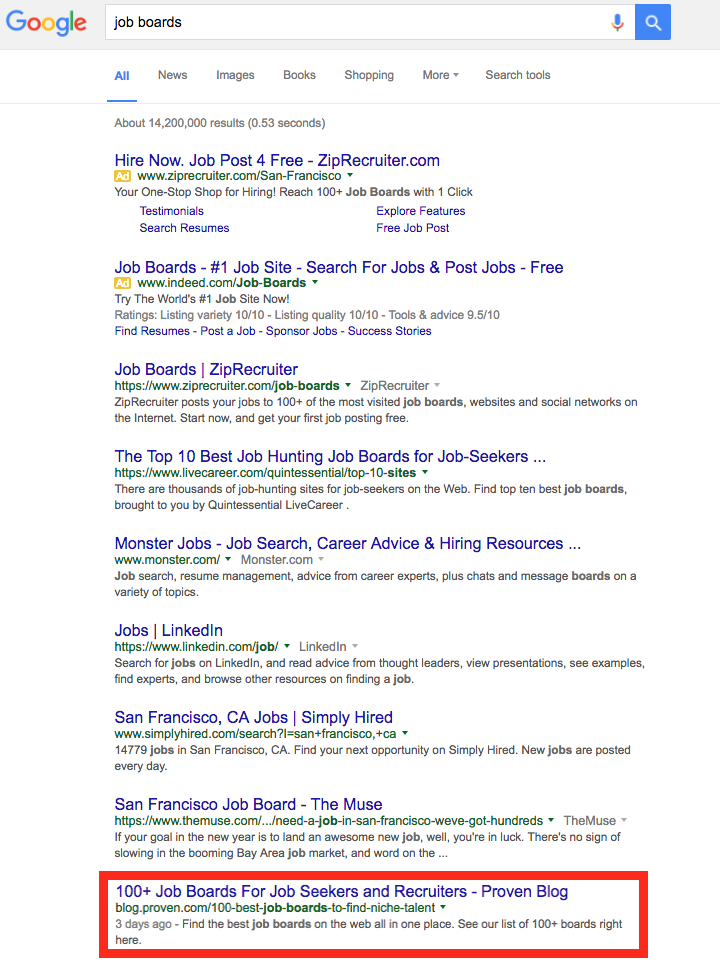 And our organic traffic to this post grew 85% over April and May.
So, what is this technique and how can you do this for your site?
How does it work?
Almost every university, college, and community college has a collection of websites with resources available for faculty, staff and students. These are usually simple pages with lots of links that a department or staff member has created.
For example, check out the site below created by Dr. Mark Gellis and hosted by Kettering University: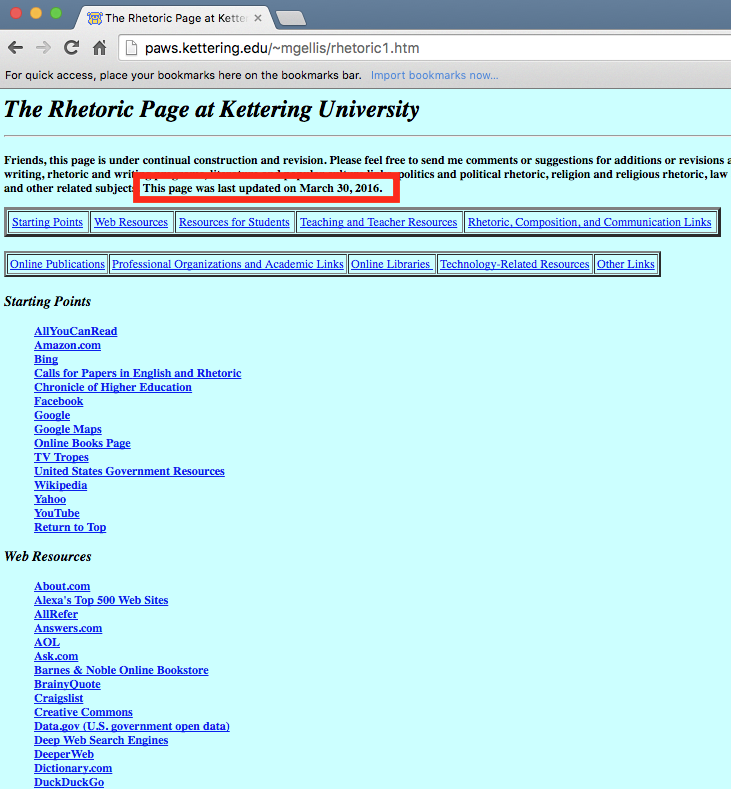 This page perhaps looks a little old fashioned, but it's chock-full of helpful links and is actively updated. Best of all, the domain has a domain authority (DA) of 59.
And there are tons of pages like this.
The EDU resource link-building framework is a step-by-step process for finding resource pages like this and for getting links from them.
In what follows, I will show you exactly how to do this.
How to Build Valuable EDU Links in 4 Steps
Before I break down the details for each of these steps, here's an overview of the framework:
Step 1: Create a spreadsheet to keep track of your resources.
Step 2: Find matching EDU resources.
Step 3: Evaluate links and collect emails.
Step 4: Reach out and get your links.
There you have it. Looks simple enough. Let's get into how to execute each of these steps.
Step 1: Create a spreadsheet to keep track of your resources.
Before we get into finding and collecting matching EDU resources, we need a place to store all the backlink gold we are going to collect in Step #3 of the framework.
Using Google Docs, create a spreadsheet with the following fields:
URL – This will be the URL for each resource page we collect.
Contact Method – This will be either an email or perhaps the URL to a contact form.
Name – The name of the best contact.
Contact Date 1 – This will be the date that we contact the owner of the resource.
Response? – For keeping track of whether you heard back from this resource contact.
Contact Date 2 – This will be the date of our follow up email to the resource owner.
Notes – Here we will keep track of anything that may be important regarding our conversation with the resource owner.

Step 2: Finding matching EDU resources.
Now that we have our data collection spreadsheet setup, we need to go find some resources.
We are going to use Google to find potential matching resources. To do so, use a combination of the following queries to identify potential matches:
"keyword" intitle:resources
"keyword" intitle:resources intitle:submit
site:*.edu "keyword" resources
Your keyword does not have to perfectly match the article you are trying to get links to. If your content is really specific, you may want to move up the topic hierarchy and use something a little more general. For example, let's say you wrote an article about HMO versus PPO health insurance, then you will probably get better results searching for a more general term like "health care."
However, it is important that the EDU resources you find here are relevant to your article. Relevancy is one of the most important characteristics for quality backlinks.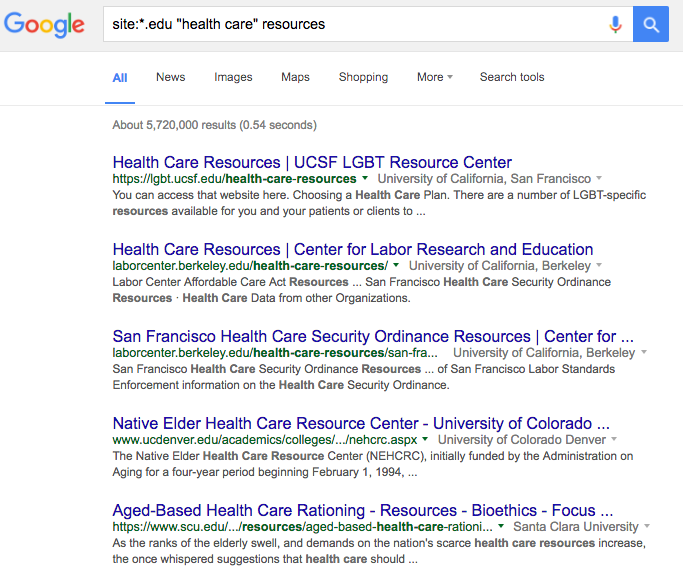 Step 3: Evaluate links and collect emails.
This is the most labor-intensive part of this framework, and unfortunately there's not really a better method than brute force.
Evaluating Links
You will need to open each search result and check to see if it's a resource page that is a likely fit for a link to your site. If the page looks like it has potential, then add the site to your spreadsheet, filling in the URL column.
One thing to note here: The number of outbound links from the EDU page does impact the quality of a potential backlink. Fewer links is better, so prioritize those resources.
Collecting Emails
Next, you need to figure out who to contact.
Sometimes, you'll get lucky, and the owner of the page will have an email available directly on that resource page. If you do not see an email readily available, then the next thing to look for is a "Contact" or "Contact Us" link. This will usually be available in the top navigation bar, side navigation or bottom navigation menu.
Sometimes this will take you to a contact form instead of an email. This is fine, just add the URL of the form into the spreadsheet under the "Contact Method" column.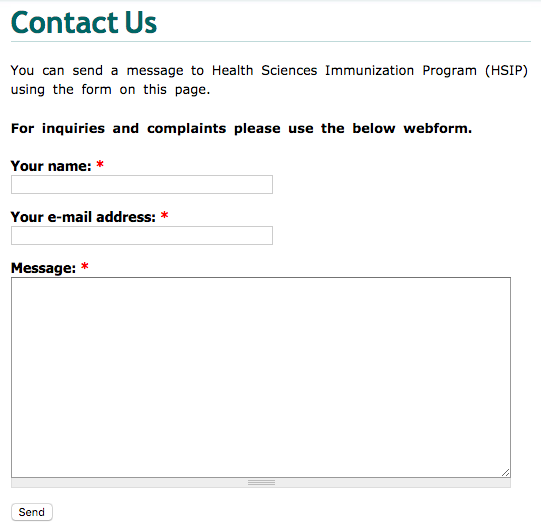 If you are still not able to find a way to contact the EDU, then also take a look for links to things like About Us, Staff, or Directory listings. These will often lead you to an email contact or contact form. Make sure you also keep track of the contact name if you find one — although it's not strictly necessary.
You can try using a tool like BuzzMarker to speed up this process. It's a Chrome plugin that will crawl a page you are on looking for emails. However, I find in comparison to a human eye, BuzzMarker is going to miss a lot of link building opportunities.
Step 4: Reach out and get your links.
In this final step, we are going to go back to our spreadsheet and go through each contact and reach out to them. This is the tricky part, as you want to be sure that your outreach and intent is very clear. No one wants to help out a scam artist looking to build shady links, so be sure to highlight the fact that you've done your homework, and that the suggestion you're providing is both relevant and valuable.
To help you understand what that type of outreach looks like, check out the templates I use below:
1st Email:
Subject: Your Resource Page
Hi NAME,
I stumbled across your site URL while doing some research on TOPIC.
I wanted to give you a heads up about an article I recently published: YOUR PAGE
I think it could be a good resource for your page. If you are still updating this site, I wanted to see if you'd be willing to consider adding my article as a resource?
Either way, keep up the awesome work!
Cheers,
YOUR NAME
If I do not receive a response within two days, then I send a follow-up email, which will be a response to my original email. The second email is essential. I always get a better response rate on this email because people feel guilty about ignoring my first email.
2nd Email:
Subject: RE: Your Resource Page
Hi NAME,
I just wanted to send a quick follow up and see if you had an opportunity to look at that post I sent you. If not, no problem.
If you do a get a few minutes, I'd love to hear whether you think it might be an appropriate resource for your career resources.
Details here: YOUR PAGE
All the best,
YOUR NAME
Note the language I used here: Phrases like "If not, no problem" and "whether you think it might be an appropriate resource" help to demonstrate that you're just trying to help them, not spam them.
You can use my exact templates or craft your own, but here are a couple of best practices for EDU outreach to keep in mind:
Keep your email short and to the point.
Resource pages are created for outbound utility links. As long as your page is a good fit, the author of the page should appreciate your suggested link. Don't be too shy about asking for a link but don't be too pushy.
Make sure you keep track of your responses because a lot of the time you may receive a soft commitment to reviewing your post or linking to you.
Follow up and re-open the conversation with any soft commitments a month or two later. I did this recently, and was able to score a couple more links.
Using the exact templates above for the outreach I did for "100+ Job Boards For Job Seekers and Recruiters," I received a 17% response rate, built 8 EDU backlinks, and got social media shares to the students of two different universities.
Why Does This Work?
There are a few different reasons why this is so effective …
High Domain Authority: Most of these EDU sites have been around for many years and as a result have great domain authority. This is important because since the quality of the sites from Google's eyes is good, it doesn't take that many links to have a major impact on your search rankings.
Low Friction: Often these pages are controlled by a single person, so once you get them to agree to add your link, the turnaround is quite fast.
Easy Ask: The resource pages you are collecting with this framework are setup for outgoing links. Provided you are giving the owner something that will be of value to their audience, they will be happy to link to you because you are making their page better.
Time to Test It Out
You may be thinking that this seems like a lot of work to score a handful of backlinks, but the reality is, it is a lot of work if you want to rank in the top 10 on Google.
It doesn't happen by magic. It takes consistent, proactive effort. And if you want to build long-lasting search value with the content you produce, you have to focus on content promotion.
I believe that EDU resource link building is one of the most effective means to do this. Within a few months of using this framework, we have increased our organic traffic by a factor of 10 with a handful of blog posts. And now you can do the same.
I'd love to hear your thoughts or questions, so share them in the comments below or reach out via Twitter: @seanfalconer.