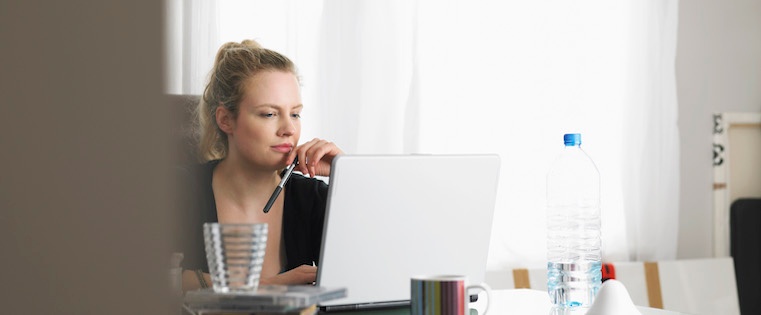 A major career change — like becoming your own boss, switching to a new industry, or taking on a completely different job — can be extremely rewarding.
But it's also usually hard, stressful, and risky.
That's why being all in is essential. After all, you don't want to wake up in a cold sweat one month after quitting your job, wondering if you just made a terrible mistake.
How do you know whether you're truly making the right decision?
Simple: Do your research.
These six ideas will let you test-drive your future career, so you can turn in your two weeks notice (or not) with confidence.
How to Figure Out If You're Ready for a Career Change
1) Shadow someone with your "perfect" job.
It's easy to assume you'll love something when you're on the sidelines, rather than in the game.
For example, you might get a kick out of shooting videos with your friends on the weekends — but when you decide to quit your current role and become a video producer, you discover writing, shooting, and editing five original videos every single week isn't so much fun.
Or maybe you love planning parties — but not when you're an event manager dealing with unreasonable requests and rude clients.
To avoid post-transition regret, shadow someone who has the job you're considering. You can get an accurate, detailed look at how you'd be spending your time: The good, the bad, and the ugly. With this information in hand, you can confidently decide whether the career is a good fit.
If you already know someone who fits the bill, ask them if they'd let you follow them around on a typical day. However, if you don't have any immediate contacts, you can use LinkedIn to find a second or third connection — then ask your mutual connection for an intro using this template.
Still no luck? Try attending a conference, meet up, or event for professionals with your potential job. You're almost certain to meet a couple candidates for shadowing.
2) Create an MVP.
Tech companies test their assumptions by creating a "minimum viable product" (or, the most basic version of their idea possible) and releasing it to the public. If the MVP is a hit, the company builds the full version. If the MVP flops, the team pivots or moves on to something new.
When you're thinking about switching careers or following your passion full-time, making your own MVP lets you gauge how successful you'll be without risking it all.
To give you an idea, let's say you wanted to be a freelance writer. Your MVP could be pitching 10 publications and tracking how many positive responses you get. If you only hear back from one editor, you might decide to keep your day job while working on your pitching skills — or you might decide the idea of freelancing doesn't sound so appealing, after all.
On the other hand, if five editors love your pitch, that's a good sign your freelance writing career would take off and you should pursue it full-time.
3) Take an online course.
When it comes to life-altering decisions, the more you know, the better. An online course that's related to your potential new career won't just boost your skills — it'll also give you more insight into whether you'll enjoy that career.
For example, someone who's considering coding school might test the waters by enrolling in multiple programming courses. If she's still enthusiastic after five months and four classes, she should probably sign up for a coding school. (Check out this list of handy coding resources here.)
Luckily, you've got no shortage of online classes to choose from. Coursera and EdX both offer hundreds of free courses from top universities on topics like data science, project management, and programming. Skillshare is a great resource for creative classes, such as graphic design or music production.
And of course, HubSpot offers a free marketing certification course that'll teach you the fundamentals of inbound marketing. You'll even get a spiffy certificate once you pass.
4) Go on an informational interview (with no ulterior motives).
Let's be real: Informational interviews are often excuses to meet influential or important people disguised as opportunities to "learn more about X industry or role."
But at this specific juncture of your life, learning more about an industry or role is exactly what you need.
After you've found a couple people with your potential job, ask them for a meeting like you normally would. However, spend twice as much time preparing — you want to show up with a carefully selected list of questions that'll help you understand things like: What their day-to-day looks like, the tasks they like the most and the least, how they'd suggest transitioning in, which skills they use most frequently, and so on.
Having thoughtful, specific questions will show the other person you're seriously interested in learning more, not just looking to network. As a result, they'll probably be as helpful as they can.
Pondering a career change or transition is confusing, stressful, and scary — and it's easy to get so caught up in the details that you can no longer see the bigger picture.
That's where this career assessment comes in. After you answer a short series of questions about your strengths, interests, working style, and current satisfaction level, it'll help you identify what your next step should be.
And because the quiz can surface patterns you may've missed, that step might surprise you. For example, you might be on the verge of quitting your job to become a full-time photographer — but when your suggested next step is to expand your skills, you realize your unhappiness comes from a lack of growth, not the job itself.
6) Make a "sacrifices" list.
Before you take the plunge, it's important to recognize what you'll be giving up. Professional pivots usually come with pay cuts — if you're going into a brand-new career, you'll probably be taking a more junior position with a smaller salary than your present role and salary, and if you're becoming your own boss, making less money (at least in the beginning) is almost inevitable.
First, estimate your future income; then, make a list of what you'll need to cut.
Imagine you want to become a digital designer — which means taking an entry-level position with a 30% smaller paycheck. To live within your means, you might have to move into a cheaper neighborhood, say 'no' to trips with your friends, slash your monthly 401(k) contribution, or cut your monthly food and restaurant bill in half.
If you're truly invested in a design career, these sacrifices still won't be fun — but they'll be tolerable. If, on the other hand, this lifestyle sounds like it would make you miserable, you should re-think the switch.
(Psst: If you're in marketing, you can get an instant look into how much your peers are making with our free marketing salary grader.)
These experiments might validate your decision, or they might convince you to turn back. Either way, you'll get the insights you need to be all in.
Have you ever made a major career change? How did you approach the decision? Share your thoughts in the comments below.