This post originally appeared on the Insiders section of Inbound Hub. To read more content like this, subscribe to Insiders.
Done right, infographics are powerful tools that marry intuitive design with compelling data. They're intended to present information quickly and clearly — but often, they fall flat.
How do you make sure yours doesn't? While there's no specific formula for creating a viral infographic, you can pick up some tips by looking at successful infographics.
To help show you what makes a great infographic, here are a few delightful examples from 2014. Some are funny, some more serious, but one thing is for sure: Each of these examples is equally inspiring. From static to animated, interactive to responsive, let's take a look into some fascinating infographics from this past year.
Static Infographics
A common form of infographics today is static infographics. While these pieces aren't clickable and moveable, they still present a set of data in an easy-to-digest format. Here are a couple of great examples:
Using data gathered by Mason Currey that compares routines and daily rituals of hundreds of creatives, Info We Trust designed a selection of the creative routines. The differences in routines from creative greats like Beethoven and Dickens are both amazing to know and see visualized.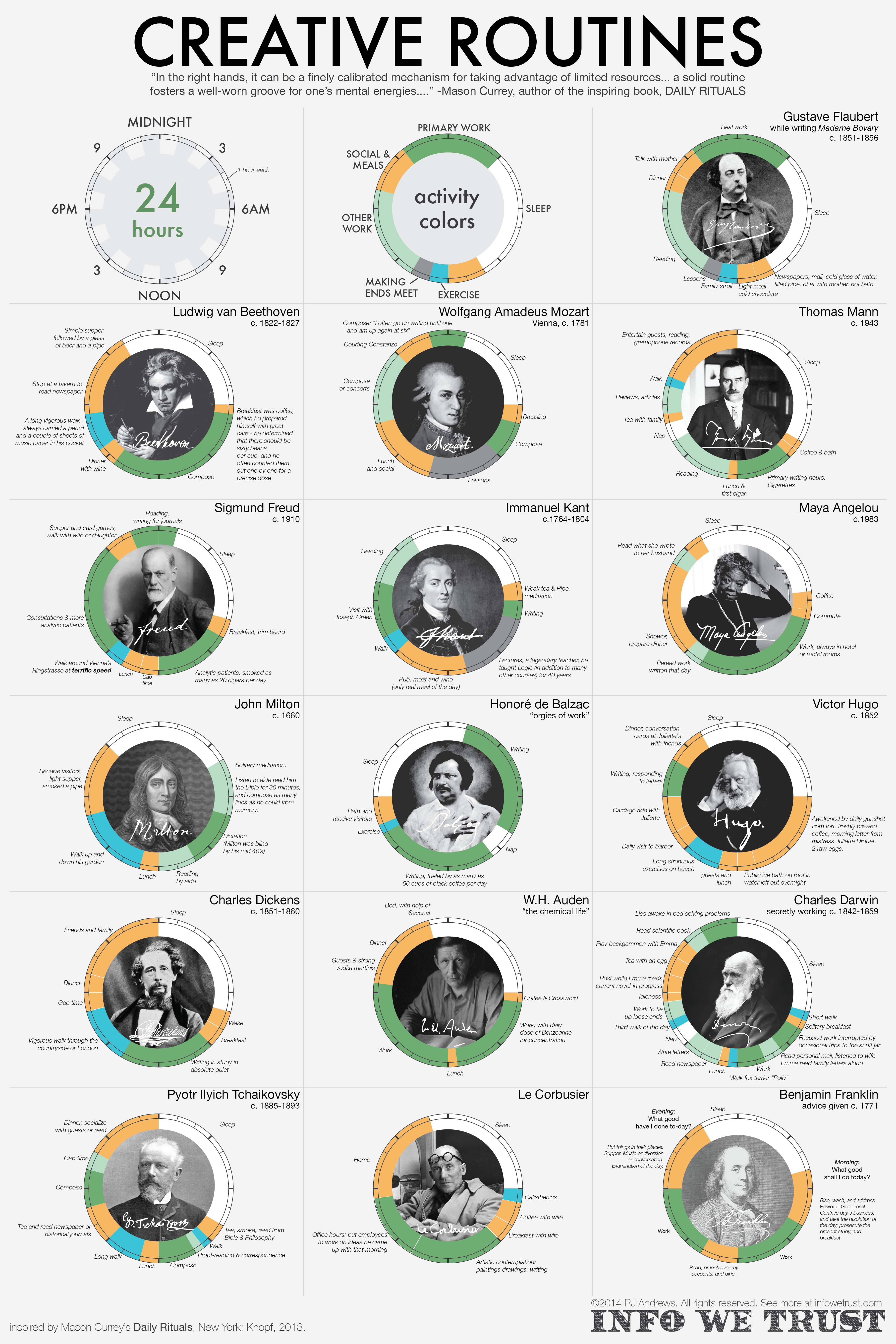 It's not a secret that sports and data go hand-in-hand, which is why many sports teams are starting to visualize their data with infographics. Here was a fun infographic take on the Green Bay Packers' 2014 schedule by Statographics.


Animated Infographics
From adding subtle animation to an otherwise static piece to creating videos with moving parts, using animation can be a key part in helping illustrate different ideas and data sets.
Sometimes simplicity can be key when dealing with visualizing data, as we can see here in this animated chart of butterfly species of North America created by Eleanor Lutz. The moving butterfly animations help add the perfect amount of "life" into this simple and beautiful piece.
Interactive Infographics
To quote our latest ebook, Why Interactive Infographics?, "concise text, precise design and logical graphics assemble to make better sense of raw data. Simple as that. With the internet, we can add now add interactivity to what once were unchanging representations of information." Here are a few exciting and enticing examples of interactive infographics.
This interactive infographic by Akita explains how data travels around the globe between more than 3 billion internet users. With fun scrolling features and clickable subpoints, it helps make the complicated routes more digestible to grasp for readers.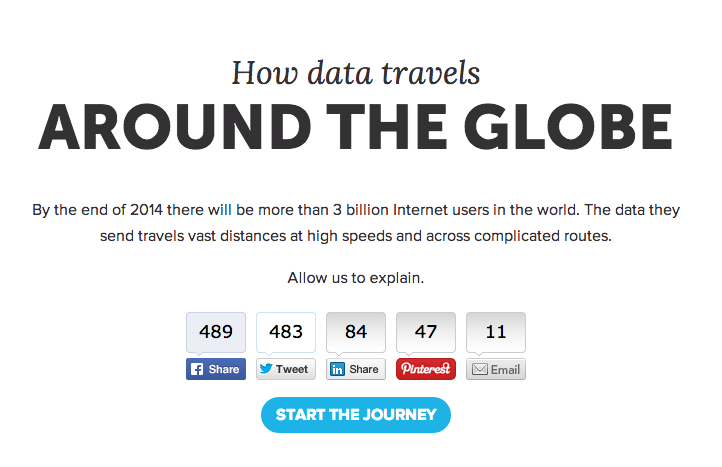 5) From Plaza to Bedrock
In 2013, this interactive piece by The National September 11 Memorial & Museum was made to show the backstory behind the construction of the memorial and museum. A new 2014 update to the piece added both audio and video pieces for viewers to interact with as they learn all about the build and design of the memorial.


This interesting data project dives deep into the selfie phenomenon and analyzes them by "theoretic, artistic, and quantitative methods." Viewers can also play with the dataset in the dashboard and see how results change.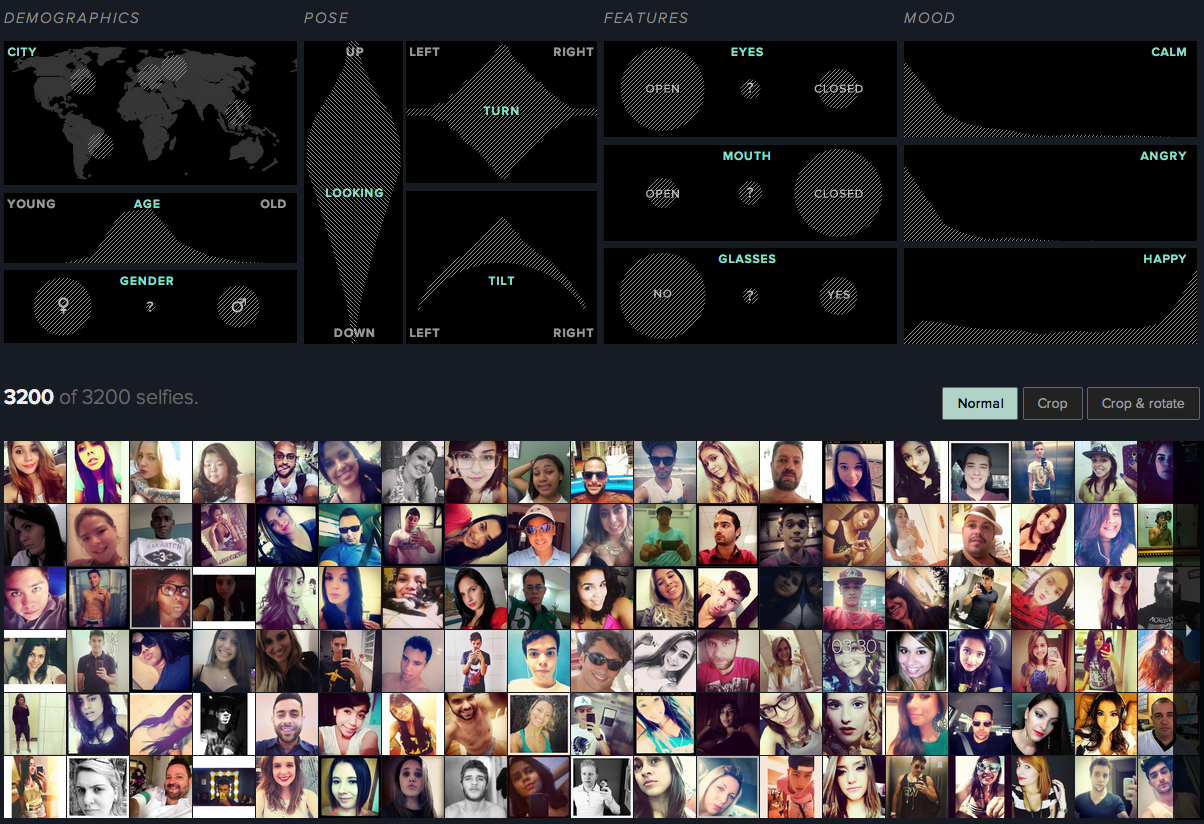 Responsive Infographics
Responsive infographics both have interactive components as well as the ability to look great on all devices, from a large desktop computer to a phone. Marrying functionality for all with interactive elements? Yes, please!
Showing the distance between Earth and Mars as a long, scrolling webpage, this responsive and interactive infographic by David Paliwoda and Jesse Williams examines the huge numbers involved in traveling to our nearest planet.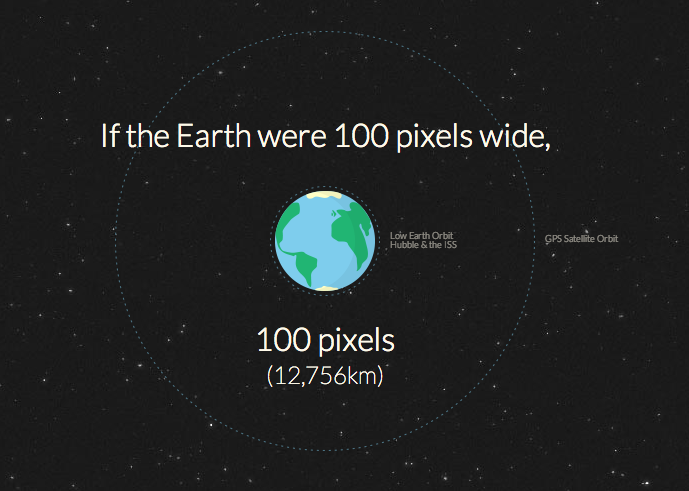 World Cup fans, this one is for you! This bright and responsive infographic by 150UP showcases illustrations of the official World Cup footballs used every four years since 1930 as well as bonus facts about each year.
Rather than having a standard FAQ section or press kit for customers wanting more information on the background of SWISS airlines, they created an interactive brand experience featuring a 3D scrolling experience, films, the SWISS fleet and much more.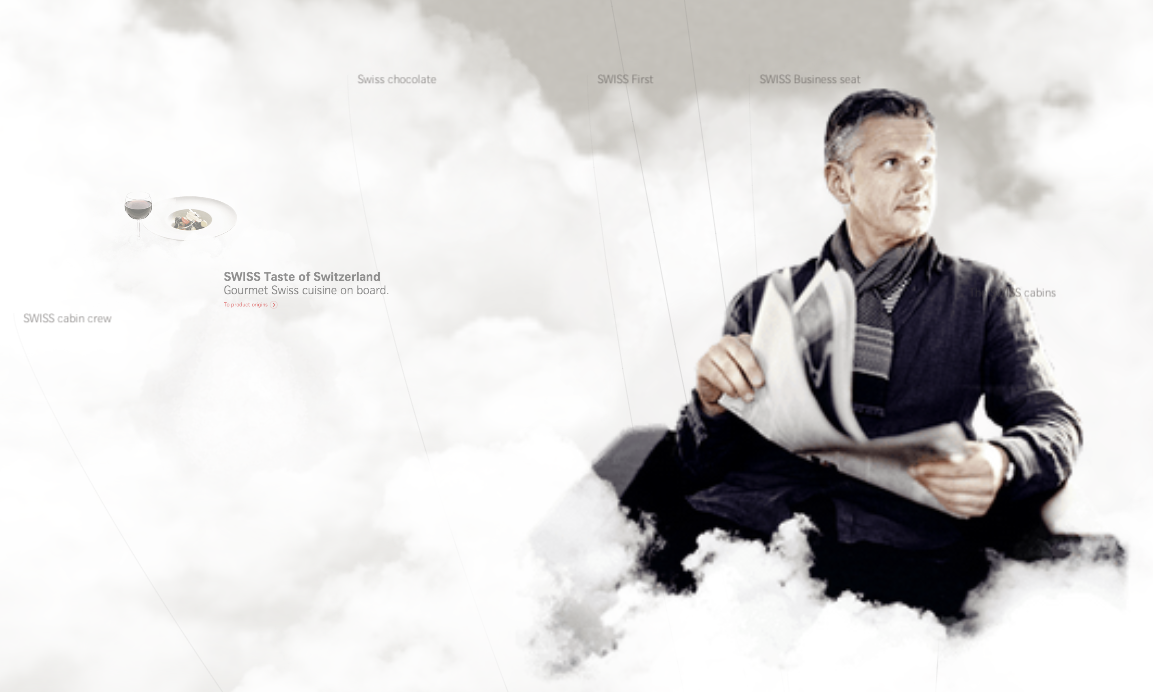 As you can see, 2014 has been a stellar year in infographic content. While this is a sample of the extraordinary pieces of work created this year, it's a robust look into the forms of showing content in a beautiful and visual way.
Want to learn more about interactive infographics? View or download the free ebook, Why Interactive Infographics?