Project management stems from a solid foundation of planning, time management, and good old-fashioned organization, but a lot can go wrong along the way. A study of 10,640 projects from 200 companies in various industries revealed that only 2.5% of the companies successfully completed 100% of their projects.
So why do so many projects fail? Many project managers fall into the same handful of traps that can impede success. Here are the sinkholes to watch out for when managing client projects.
8 Mistakes That
Will

Derail Any Project
1) You don't adequately define each team member's responsibilities at the outset.
By the end of your first project meeting, every single team member at the conference table should have a crystal clear understanding of the following two things:
What exactly they need to contribute to the project as an individual.
How their individual contribution factors into the project's overall goals.
As a project manager, the last thing you want to hear from a team member after the kickoff meeting is "I don't know where to start." Each person needs to know what will be expected of them, and how exactly the work they do as an individual will contribute to completing the project's major milestones. By consistently emphasizing how each contribution is meaningful and vital to success, project managers can keep team members fully engaged and productive.
2) You get bogged down in the details and lose sight of the big picture.
When you find yourself stuck on a task that seems like it's wasting a lot of time, ask yourself a few questions:
Does this task align with the project's main objectives?
Can I clearly explain the bigger purpose of this task to my team?
If the answer to either of these questions is "no," it's time to take a step back and re-evaluate how the work you're doing aligns with the project's overarching goals. Each component of the project should fit neatly into a measurable end result. If you don't know the clear reason behind a particular task, it doesn't deserve your precious time or resources. You either need to find out why (or if) the task is important by checking in with your team, or abandon it in favor of something more productive.
3) You pick a project manager who isn't a good fit.
Project manager role descriptions tend to be vague and littered with buzzwords — "must be a team player," "must be results-oriented," "must have a proven track record." But how exactly does this laundry list of basic skills fit into what your team is actually trying to accomplish?
Project management is not a one-size-fits-all role — someone who served as a successful project manager on a previous project is not necessarily the absolute best fit for another project. Teams should sit down in the first phases of the planning process and write out a list of skills and attributes they think would suit the unique project at hand. This will help you identify a manager who can understand your challenges, strengths, and goals.
4) You don't break the project down into manageable components.
If someone asks you to bake an elaborate 15-tier cake without a recipe, you're likely going to have some issues getting started and managing your progress. To be successful, you need someone to hand you a cookbook that outlines each part of the process — otherwise, things are going to get messy.
The same thing goes for successful project management. If you only look at a project's end result, it's easy to get overwhelmed and start dragging your feet. A good project manager needs to present the project in terms of steps and check points to ensure team members remain on track. Attainable, realistic milestones will help segment a daunting task into manageable parts that can be tackled day-to-day. Include all these steps once they've been approved by the client in a project management tool that makes it easy to collaborate and stay up-to-date on progress.
5) You don't establish a clear communication framework.
Planning a monthly meeting to discuss a project's progress is great, but what happens in between those calendar invites? Your team needs a way to share information and keep everyone updated on their work; otherwise, you risk members veering off course and losing sight of milestones.
To keep everyone on the same page, develop a clearly-defined communication system at your kickoff meeting. Consider creating a shared calendar just for project deadlines or a shared document where team members can post updates. If at any point during a project you're unsure about what your team members are working on, it's time for a check-in. Oversharing is better than under-sharing.
6) You focus too much on negative details and overlook the positives.
Researchers from University of Michigan found that teams work more productively and succeed more when they're characterized by a positive work culture. It's a simple fact that people are more motivated when they feel valued and respected, but many projects fail because leaders focus too much on setbacks. Negativity and fear of failure is ultimately less motivating than positive encouragement, especially in the face of a troubled project. A team that genuinely cares for each of its members' well being and success is more equipped to bounce back from from issues and overcome obstacles in the long run.
A positive culture can start with small steps from leadership: Meet with team members individually, and offer some well-deserved praise for their successes. More often than not, management focuses only on things that team members need to change, rather than calling attention to things about each team member that are already awesome. This simple bolstering exercise can have a significant impact on team morale, and it will lead to a more productive project.
7) You don't update the right stakeholders on progress and setbacks.
Your project inevitably has a long list of stakeholders, and each one is impacted by the project in a unique way. It can be a challenge to know exactly who needs to be updated, what they need to know, and when it needs to take place.
Mindtools recommends using the following chart to prioritize your project's stakeholders according to their power and interest levels.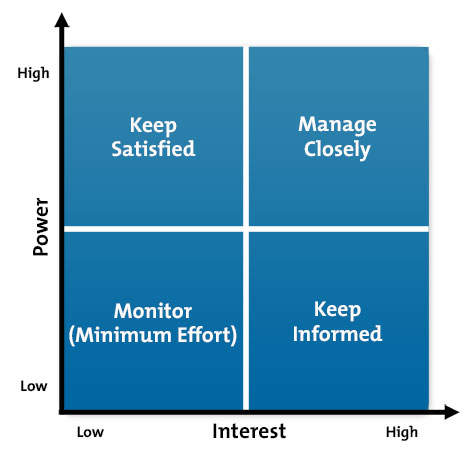 Stakeholders with high-power and high-interest levels should be your top priority; update them regularly, and be as transparent as possible. If a stakeholder has low-interest and low-power, keep them up to date only on major milestones — chances are they'll be annoyed if you send them more frequent updates.
8) You resist change.
Think of your project as a living, breathing thing — not a static agenda. It's important to remain adaptable and graceful when something doesn't go quite as planned and to adjust your strategy accordingly. A strong project manager does not resist new information or data that can change the course of the project for the better. Take the time to evaluate your successes and failures, and see what you can improve moving forward.
This being said, you should avoid big changes that take you away from your project's core purpose. Your team was assembled with a distinct goal in mind; make sure you're setting firm expectations with your stakeholders about the scope of the project.