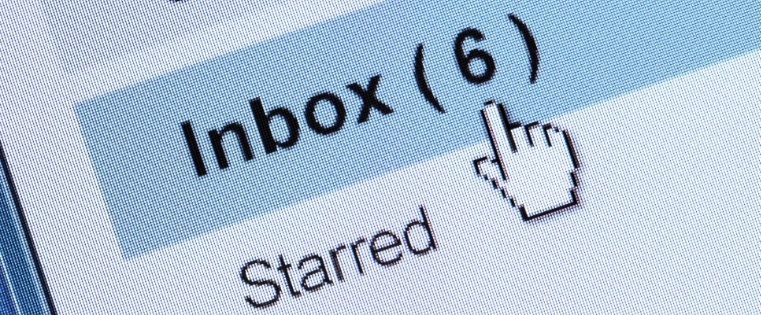 As marketers, the gospel of "value" is drilled into our heads before we write our first blog post. Providing value to site visitors, prospects, and customers is the cornerstone of inbound marketing, but it's easy to forget about transactional emails.

As consumers, we receive transactional emails constantly, and frequently read and interact with them, so why are they ignored by so many inbound marketers? While promotional emails seem to drive the most traffic and results, odds are you are missing out on a great opportunity to improve your transactional emails by making them more personal.
Wait, what are transactional emails?
Most marketing emails are either promotional or transactional. Promotional emails are usually tied to specific campaign goals and are custom built for targeted delivery to promote a specific product or service from your company. For a B2B company, a promotional email could share a new ebook you've written or service you're offering. For B2C ecommerce companies, a promotional email could be announcing a sale or new product line.
Transactional emails are received automatically after certain events through your site. Emails like order confirmations, shipping notifications, password recovery, and event reminders are all examples of transactional emails. We all receive plenty of these types of email, and it's easy to overlook how integral they are to a great user experience and how making them more personal can go a long way towards retaining current customers and gaining new ones.
Shouldn't I spend my time on my promotional emails?
While you may be tempted to focus all your energy on your promotional emails, the fact is that transactional emails are always going to get opened more. From Experian's Transactional Email Report:
"Customers engage with transactional emails such as order, shipping and return/ exchange notifications at a much higher rate than they do with promotional and branding-focused campaigns. It is clear from the total open rates that customers open transactional emails repeatedly. The exceptionally high open and click rates underscore the opportunity for companies to cross-sell products and services to highly engaged customers through transactional emails."
When you order something from Amazon, you might open your confirmation email a dozen times while it's being shipped to check on its progress. Just think about the opportunity that level of open rates and interaction gives you to provide personalized value to the reader.
While promotional emails are great to jumpstart interest in something new from your company, because people are expecting transactional emails after they sign up/order/request something, they are much more likely to open them, giving you a great chance to optimize and improve that experience.
So what are those seven tips to make my transactional email more personal?
1) Actually personalize the email
That means it includes the recipient's name. It'll help your email actually get delivered, and who doesn't like seeing their name? If you're sending an eCommerce email, it's easy to get the name dropped in from the order. If you're sending a B2B automated email, make sure your submission form is capturing the full name and adding it to the email.
If you're sending an ecommerce email, make sure the sender name is your brand, and it's from an email that people can reply to and ask any questions about their order. For a B2B email, send it from a real name and an email address with a real name. People are much more likely to interact with an email that seems like it's from a person than a bland "marketing@abccompany.com" type of email.
2) Provide custom suggestions for next steps
We've all seen this from Amazon, where they suggest other products you might like based on what you just purchased. This is an easier task to accomplish for ecommerce transactional emails, where you have more data on who the purchaser is and what they might also be interested in.
For B2B emails, every single one doesn't have to be uniquely customized but treat each email like your drip campaigns. Give the reader a blog to read and share, give someone a primer if they just signed up for your service, or offer a consultation if they just downloaded some information on your product. This can take some A/B testing to get right, so be willing to revisit your email and tweak it down the road.
3) Make sure the reader knows they can reply to your email
It's always so disappointing to see B2B emails from a "no-reply" where they want you to take extra steps to get in touch with the person or company who sent the email. It's like they don't want your business!
Make sure people have no hoops to jump through if they want to ask you questions or get more information. If you are sending an ecommerce transactional email, it's okay to want to keep those organized and not all replied to, just make sure to provide a nice obvious call-to-action where people can check on their order, read FAQs, or get in contact with customer support.
4) Give people the info they are looking for
You've got access to the traffic certain pages on your website get, so use it! Don't make people search around through your site after they've received an email when you can see what they are likely to want to know.
It's easy to include an email footer with quick links to the pages people are likely to need, or to place big, bold, calls-to-action that address their most likely needs based on the type of email they are receiving. Being proactive and anticipating what your reader is going to need is a great way to provide personalized value.
5) Make it fun
So many transactional emails are very dry and boring, but you can provide a dash of brand personality that will help people connect with your company, product, or service. Don't sacrifice the value you just spent time providing, but you don't want to waste a great opportunity to tell your brand story, even if it's just through your template design and a couple sentences. One of my favorite examples is from Seamless, a staple food delivery app here in New York City: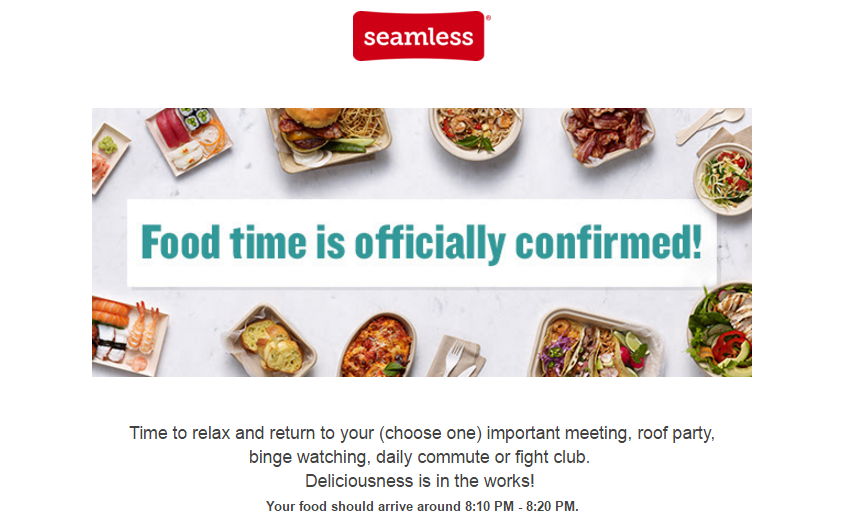 I appreciate that they assume I am doing something interesting and awesome and not just binging House of Cards on Netflix. It's simple but fun and gives you all the information you need while having a little personality.
6) Consider new types of transactional emails
While many transactional emails are passive responses to some interaction a user is making, you should also consider how you can use transactional email to reach people based on what interactions they aren't making. Different user behaviors (or lack thereof) give you the opportunity to reach out to them with a whole new transactional email style, not reacting to anything other than their lack of engagement.
These types of triggered transactional emails can do very well, and it's worth testing out. Obviously, there's a limit to the number of emails you should be sending people, and triggering an email because someone hasn't logged onto your app in a week may say more about your app than their usage. But finding non-intrusive ways to reengage users with quality content that is relevant to what they've been interested in before can be a good personal use of transactional email that can bring people back into the fold.
7) Write right
Sometimes it's easy to think that copywriting is something for advertising and not marketing, but taking a good hard look at what you're saying and how you're saying it in your emails can reap rewards. Consider how your brand is viewed by your customers. Don't make your emails too formal if you are a casual company, and don't use overly familiar copy when you're providing professional services.
This ties back into who you are saying the email is from. If it's from your company, that doesn't mean it has to read like it's from your company, but it should mirror the copy you promote through your other emails, your social media, and your website. If your email says it's from a real person with a real name, experiment with the copy and see if a more relaxed copy style can make it more relatable and create more clicks.
Don't write another robotic email that you yourself wouldn't read. Think about what value you can bring through your copywriting and how you can make your email more personal through the tone and style of your writing.
Okay, so what's a good transactional email look like?
Glad you asked.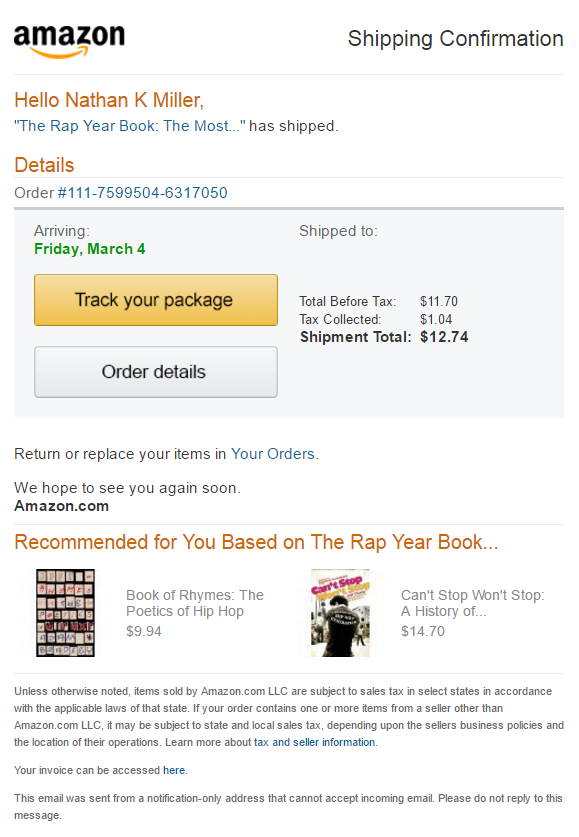 This Amazon email hits almost all the criteria you want in a transactional email: personalized to me, gives me big CTAs to check my shipping and order info, and provides suggestions based on what I ordered. I opened the email and clicked through several times, so by providing a good transactional email, Amazon maximized the potential they had to connect with me.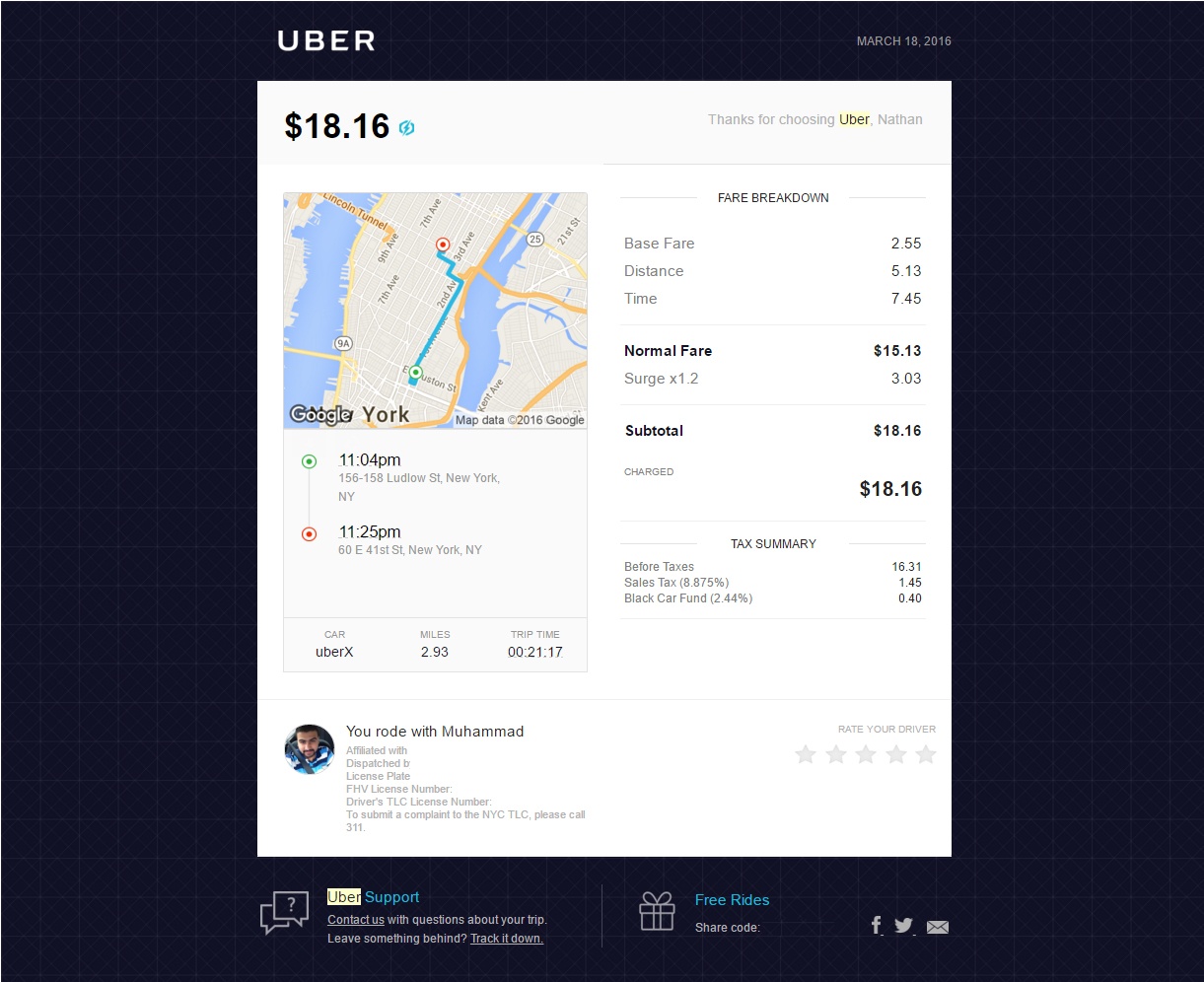 Because you don't know how much your ride-share trip with Uber is going to cost, their transactional emails are incredibly important and specific, breaking down the cost, mileage, route, and total time for you. Asking for a rating could be a little larger, but they ask you to do that before you take your next ride through the app, so that's acceptable.
Anything else?
That's it! I definitely encourage you to dig in on your automated transactional emails with a critical eye and find areas to improve. While marketing automation platforms like HubSpot have great emails to begin with, I guarantee there are ways you can make them more personalized that result in better open rates, more click-throughs, happier customers, and more business. Transactional emails don't get a lot of attention, but by making them more personalized, you'll improve your connection with the reader.