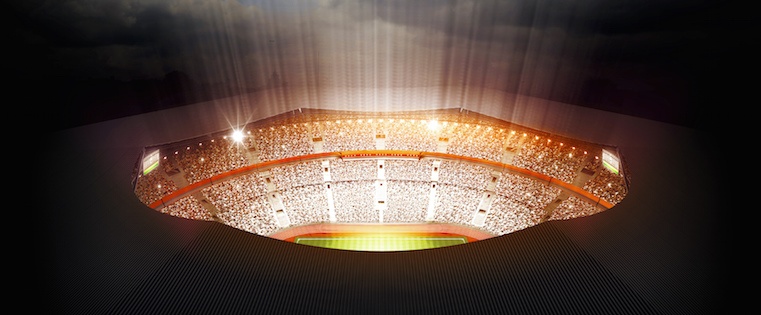 The 2016 Summer Olympics are officially over. But for two weeks, billions of eyes from around the world watched athletes attempt to break records and bring home the gold. What a perfect opportunity for marketers, no?
Many brands jumped on the Olympics bandwagon, leveraging its popularity for their own campaigns. Some of these brands created particularly inspiring campaigns, both to viewers and marketers alike — whether for the emotion they elicit, or for the reminder of exactly how to execute a remarkable ad or marketing campaign.
We rounded up the ones that tugged at our heartstrings as viewers, or inspired us to be better marketers. (Sometimes both.) Check out this list of 11 of the best campaigns from the 2016 Summer Games and what made them so great.
11 of the Best Olympic Marketing Campaigns, Ads, Commercials & Promotions This Year
1) Under Armour: Rule Yourself
The Under Armour brand doesn't just value the success that comes from hard work; it values the hard work and 24/7 dedication that leads to that success. Their emphasis is on self-improvement and self-reliance — which is why they acquired the fitness tracking platform MapMyFitness back in 2014.
Under Armour's ad campaign for the 2016 Summer Olympics perfectly embodies these deep-seeded values. It focuses on the side of athletic achievement that no one sees. For Michael Phelps, that's the ice baths, cupping therapy, and 12,500 calories he has to eat every day. For an ordinary person, it might be taking the stairs, getting a full night's sleep, or tracking your meals using their MyFitnessPal app. But the message is the same, and it's a powerful one: "It's what you do in the dark that puts you in the light."
2) Procter & Gamble: "Thank You Mom"
For the 2012 Summer Olympics, Procter & Gamble created a campaign called "Thank You, Mom" that showed flashbacks of Olympic athletes from all over the world growing up and practicing their sport with support from their mothers. That same campaign is back again this year, featuring athletes and their mothers from this summer's Games.
This year's campaign shows athletes' mothers helping them through times of stress, cheering them along, and supporting them. Notice the clickable link they added to the video that takes viewers to a web page where they can send a personalized thank-you note to their own moms. Take a look … and maybe grab a tissue.
3) Panasonic UK: #Superfans
Cheering on your country is a lot easier when you're the one hosting the Olympics, as Great Britain did in London in Summer 2012. With the Games in Brazil this year, Panasonic, a long-time official partner to the British Olympic Association, wanted to help Great Britain keep up the fan-fueled momentum. So in April 2016, they announced a crowdsourced campaign called #Superfans, which invited fans of Team GB to post pictures on social media using the hashtag to encourage engagement.
"It is a great opportunity for us to share our passion for the Olympics as a company and to connect with consumers on an emotional level," said Managing Director of Panasonic UK Andrew Denham. "This is why Panasonic's heritage as a global Olympic partner is so important to me – it adds some real spark and colour to the brand."
All the fan photos posted with the hashtag #Superfans was posted on a dedicated web page on Team GB's official site, and Panasonic UK offered extra incentives like Twitter contests.
Watching @TeamGB today? Make sure you send your support using #Superfans for a chance to win a TV! pic.twitter.com/KgpbVGuL4W

— Panasonic UK (@PanasonicUK)
August 13, 2016
Here's a sampling of the fan-sourced content on Twitter:
#superfans assemble @_GBHockey @TeamGB GB ON ??? ??? HERE WE GO!!! pic.twitter.com/KAioxrnhWV

— Thomas Mairs (@TomMairs)
August 19, 2016
@PanasonicUK @TeamGB #superfans Go team GB we are cheering you on all the way! pic.twitter.com/VDDJstevCx

— Mazaroo (@stringer_marion)
August 16, 2016
Even the U.K.'s premiere parachute display team got in on the action:
Is it a bird? Is it a plane? No…It's #Superfans!

Thanks @RedDevilsOnline for your incredible support! #Rio2016 pic.twitter.com/nnnWfmHvX7

— Panasonic UK (@PanasonicUK)
August 11, 2016
4) Apple: "The Human Family"
What makes the Olympic Games so special? The elite athletic competition, yes — but also the bringing together of people and cultures from all over the world. And it's that second part that the folks at Apple chose to focus on in their Olympics commercial.
The ad showcases beautiful photos and videos of people all over the world taken using an iPhone, and it's set to Maya Angelou reading excerpts from her poem, "Human Family." What a beautiful message.
5) Coca-Cola: #ThatsGold
Not all of us can be Olympic athletes — but the folks at Coca-Cola make the case that even ordinary people like you and me can experience the feeling of winning gold. To do this, they launched the campaign #ThatsGold, which they first integrated into a TV ad (shown below) with the "Taste the Feeling" campaign they launched in January 2016.
The Olympics commercial tied to the campaign is all about drawing a parallel between the thrill and excitement of winning a gold medal at the Olympics and the thrill and excitement of having a good time with the people in your life. They did a great job of drawing those parallels with compelling quotes and visuals, and nailed the ending with the line, "Gold is a feeling anyone can taste."
In addition to the commercial, they set up a fully operational "real-time marketing" global hub in Rio that monitored the #ThatsGold hashtag during the course of the Olympics and created content around key moments in real time on Twitter, Instagram, Snapchat, and more.
Chasing life and the podium side by side: #THATSGOLD. Congratulations to the Eatons! #Rio2016 pic.twitter.com/0lTwezQoH6

— Coca-Cola (@CocaCola)
August 19, 2016
6) Virgin Media: #BeTheFastest
Virgin Media is all about being fast, advertising their WiFi speed as "fast," "superfast," even "ultrafast." So it comes to no surprise that they chose to pay tribute to Usain Bolt, the fastest man in the world, for their Olympics campaign this year.
Bolt set the World Record for the 100-meter sprint at 9.58 seconds at the 2009 Berlin World Championships in Athletics. To demonstrate what 9.58 seconds feels like, Virgin Media created an advertisement that strung together ten, 9.58-second vignettes that each cast light on a different part of Bolt's life. The purpose? Both to celebrate Bolt's spectacular accomplishment and to emphasize the importance of speed.
7) Airbnb: "Alternative Accommodations" Sponsorship
Back in March of this year, Airbnb became the first official "alternative accommodations" sponsor of the Olympics — the first time the Olympics has ever had an alternative accommodations sponsor, according to local Olympic officials. Why'd they do it? Mashable reports that when Rio won the Olympic bid in 2009, it had just half the 40,000 beds required for the games — so it was definitely a win for the city, the games, and Airbnb.
In exchange for an undisclosed amount to local Olympic organizers, Airbnb was included in the Rio 2016 Olympic Games' ticketing platform by way of a specific landing page where customers were able to rent private homes and apartments in Rio. They also got a link to their site on the official Olympic website, along with calls-to-action encouraging people traveling to Rio for the Olympics to use the service for rentals.
Here they are in the first spot on the official Rio Olympics 2016 website's homepage:
To help promote homes and apartments for rent in Rio, they created Rio-specific videos and content for their larger #StayWithMe campaign, which invites Airbnb hosts to post photos or short videos on social media to showcase their countries. Here's one Airbnb published right before the Olympics started, in June 2016:
8) Chobani: #NoBadStuff
Goodness is a choice you make, claims Chobani with their Olympic-inspired campaign #NoBadStuff. From a literal standpoint, their campaign is about the good, healthy ingredients in Chobani yogurt; metaphorically, it's all about having a positive attitude, working hard, treating others well, and properly fueling your body.
Their campaign has a few moving parts, starting with a page on their website where you can meet the U.S. athletes they've partnered with who embody the positive, hardworking attitude that defines their campaign. Each athlete's story includes an interview about their biggest challenges, how they stay positive, their favorite meal growing up, and so on — along with, of course, a giant picture of them enjoying Chobani yogurt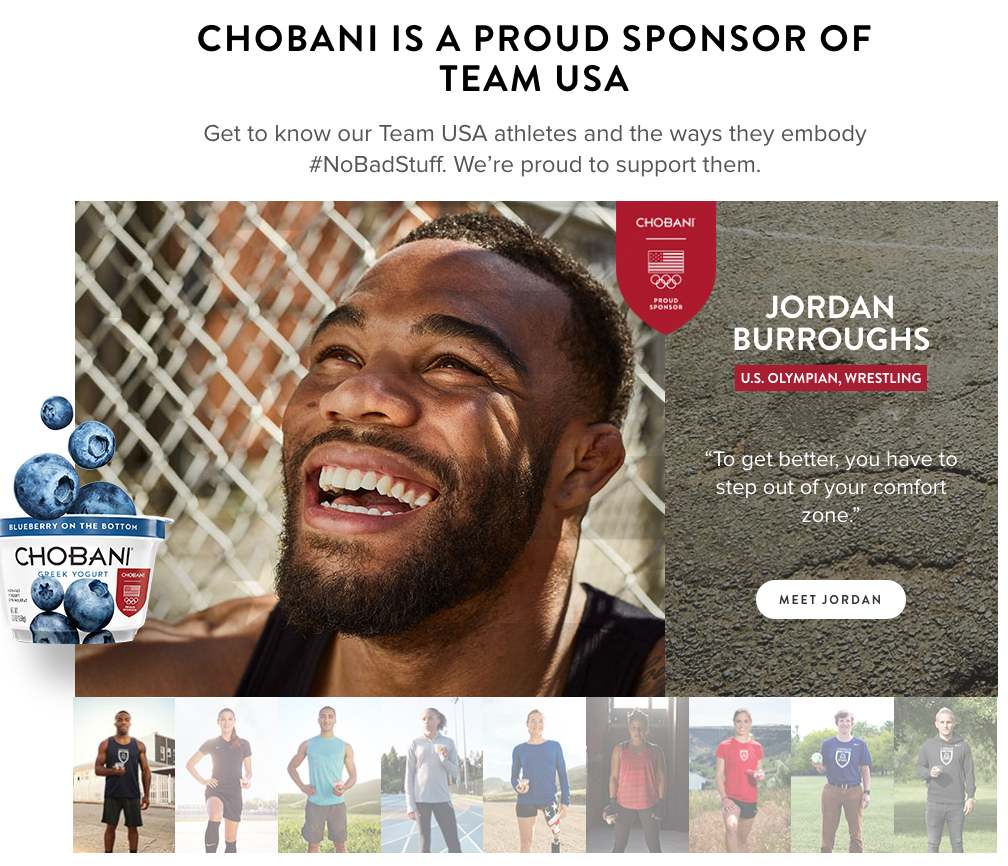 Their campaign also includes a TV ad, content where U.S. athletes give advice on things like how to stay cool under stress, and — my personal favorite — a few limited-edition yogurt flavors inspired by Brazil.
9) Folger's: "Coach"
"Olympic glory doesn't just belong to athletes, and it doesn't just happen every four years. It happens one morning at a time, and one cup at a time." That's the message coffee company Folger leaves us with in their commercial, "Coach."
Instead of focusing on the athletes, the folks at Folgers used their ad time to focus on the coaches that help those athletes get to where they are. Specifically, it follows the relationship between a boy and the coach that helped him through every win, every loss, every injury, and every moment of glory before he was eventually chosen to represent Team USA.
10) NBC & BuzzFeed's Olympic Parternship
NBC is known for doing a thorough job covering the Olympics, from its online live streams to its TV interviews with medalists. But their roots are deep in old-school media like cable, which isn't the most well-used and attractive medium for the younger generation. That's exactly why the folks at NBC decided to partner with BuzzFeed for the Olympics this summer, where they produced special Olympic features and posted them to Instagram, Facebook, Twitter, and Snapchat.
They sent "about a dozen" BuzzFeed staffers to Rio to create social media content, including a daily edition on Snapchat Discover, which is one reason this co-marketing partnership was a win-win for both brands. According to Steven Perlberg of Wall Street Journal, the President of NBC Olympics, Gary Zenkel, "wants to give BuzzFeed free rein to connect with Snapchat's young audience."
What kind of content did they produce? "The U.S. women's gymnastics showed how friends have your back, like when they prevent you from texting your ex or have an extra hair tie," wrote Perlberg. The women's wrestling team destroyed watermelons. Swimmer Natalie Coughlin tested out waterproof makeup. The U.S. men's gymnastics team took off their shirts, and readers were asked to guess the abs."
Here's a screenshot from a Snapchat Story featuring Olympic Swimmer Townley Haas, who showed off some tall people problems:
Image Credit: BuzzFeed/NBCU
11) Budweiser: "America is in Your Hands"
Nothing says "America" like a can of Budweiser — and I mean that literally, thanks to their campaign leading up to both the 2016 Summer Olympics and November's U.S. presidential election. In May, Anheuser-Busch announced it would be replacing the Budweiser logo with "America" on its 12-oz. cans and bottles this summer. The temporary re-packaging was accompanied by their summer campaign, "America is in Your Hands."
The campaign itself has had mixed reviews, with complaints mostly surrounding the brand tapping into the polarized political climate. But the campaign did help increase Budweiser's ad awareness and purchase consideration, at least initially. A week after the campaign began, the company reached its highest purchase consideration level of 2016 (i.e., the number of shoppers 21 and older who said they'd consider Budweiser the next time they bought beer), although that numbers have dropped back down since.
Image Credit: STL Today
There you have it. We hope you found these examples inspiring. What other Olympics campaigns have inspired you, in 2016 or from previous Olympics? Share with us in the comments.
Editor's Note: This post was originally published in August 2012 and has been updated for accuracy and comprehensiveness.